How to use giveaways and contests to increase your email subscribers
Over the past year, we used contests and giveaways to add more than 3000 people to our email list, an increase of 9000%.
In this post, I'm going to break down the process, tools, and tactics we use to manage the giveaways while also interacting regularly with our partners and subscribers.
Setting the Stage
Guides like this are always more effective when you have a bit of context – we are an online business that helps people make informed decisions about teaching English abroad (more info here if you're curious!). In order to teach abroad, many schools require a certification known as a TEFL (teaching English as a foreign language).
These certificates come in all shapes and sizes and range in price from $20 – $2000 – we saw a good opportunity to partner with TEFL providers in order to (1) give away courses to our users while (2) generating leads for use by our partner.
Not every opportunity is as obvious as this, but I'll talk more about how to find products to giveaway down below!
An Overview of the Process
While simple in theory, the process of giving away a product while managing an email list (and often a partner) has a lot of moving parts.
The general idea is that we host a giveaway on our website where we provide a partner's product for free. In order to enter, users give us their emails and we share those (with permission) with our partner so they can remarket to them.
Let's break it down into steps so we can dissect it further later on.
Find a product
Build a lead magnet
Collect emails
Announce winner
Manage emails
Our Stack
Fortunately, there are some great tools out there that make this process relatively easy with a bit of setup – here's what we use:
We use ActiveCampaign to manage all of our emails and email marketing – it allows us to easily segment lists by tags, create automations based on website interactions, and build forms that we can host on our website.
The downside is that it can get expensive as you add more subscribers, but there are plenty of alternatives available if you're willing to sacrifice some features.
We use Thrive Leads to create email opt ins – they are a great WordPress plugin that gives you a drag-and-drop builder to create popups, sidebars, banners, etc. Even better is that it integrates directly into ActiveCampaign so that the emails we collect receive the corresponding tags and get added to the correct list automatically.
There are a few other "supporting actors" that we rely on to help us promote and manage everything (see below) but these two tools do most of the heavy lifting.
The Giveaway Process in Detail
As promised, let's break down each step of the giveaway process so you're able to build and manage your own campaign!
Find a Product
A desirable product is the crux of any successful campaign – if you don't offer something people want then your results are going to suffer.
The easiest solution here is to giveaway one of your own products – for example, if you're a SaaS company then giveaway a subscription, if you're an ecommerce store then giveaway one of your top sellers, etc.
However, if you're a service-based business with no real products (like us), you're going to need a partner and people can be hesitant to give away something for free if you don't have a track record.
To combat this fear, we did the first giveaway on our own dime! We reached out to a potential partner and asked them if we could buy a course for another person. The rest of the giveaway operated as normal, we just footed the bill when it came time to hand over the course.
In return, we got data on how many people entered that we used to pitch future partners in hopes of doing the next contest for free!
If you don't have anyone in your network or industry that you think would offer something for free, don't hesitate to buy something of your own – the only requirement is that it's valuable to your users.
Build a Lead Magnet
Now it's time to call some attention to your giveaway!
We use Thrive Leads to create popups like this:
We also make sure to set the frequency to once per 5 or 7 days so users aren't seeing it every time they visit our site.
There's no wrong way to design a popup and once we found a version that worked for us we usually just duplicate it and adjust the colors/wording as necessary.
Make sure you're clear with what the user can win by entering and when the contest is over – the more details the better (without crowding the popup).
One important thing to note in this step is that you need to be super transparent if you're going to share these emails with another party. Users absolutely need to be made aware of this and we always ask our partners how they would like to word the disclaimer so there is no misunderstanding.
You can achieve this by:
Linking to your terms and conditions page for the giveaway
Adding an opt-in checkbox to the popup
Stating your intentions on the popup (as we did above)
Collect Emails
As mentioned earlier, we use an integration to connect Thrive Leads with ActiveCampaign. This allows us to add users to the correct email list and apply a tag for later sorting.
It's really easy to overcomplicate this and after a bit of trial and error, we settled on the following:
Add all entrants to a dedicated giveaway list (not your main email list!), regardless of the giveaway they entered (you can call this list "Master Giveaway" or similar)
Apply a tag based on the giveaway they entered (you can call this "March Giveaway – Product A")
Doing this not only keeps you organized, but also makes it easy to sort, segment, and share contacts when the contest is over.
Pro tip: If you already have an email list and are sending regular emails, make sure to let them know about the contest! We (try to) email our main list at least once per week and always make sure to add an announcement if we're doing a giveaway – it not only boosts entrants but is also a great way to engage existing subscribers.
Select and Announce Winner
Once the contest is done you want to make sure to follow up with everyone and announce the winner.
However, you need to do 1 important thing first – choose and connect with the winner. We've had 2 winners never respond to our emails which meant we had to select someone new.
Once you have your winner, you can send a series of 3 emails to make sure they (1) are responsive and (2) actually want the product.
We make it clear in all of these emails that if we don't hear back within a certain time period, we will be forced to pick someone else.
Once you finally have your winner, you need to announce them (after all, nobody likes a contest without a clear winner!).
We do this in 2 ways:
Email – we send a congratulatory email to our entire list (regular subscribers and contest entrants).
Social media – we use NapoleonCat to create and schedule a similar announcement that goes out across our social feeds (you can also ask your winner if they want to be tagged).
Manage Emails
t this point you should have run your giveaway, found your winner, and sent out the announcement email. The last thing to do is make sure all the entrant emails are organized in order to either (1) pass to your partner or (2) merge with your master email list.
If you've got a partner, make sure all non-relevant personal info is stripped before you send them the file – this could include IP, location, or other preferences if they are a regular user of your site.
If you're going to keep the emails in house, the only thing left is to merge them with your full list – we do this via ActiveCampaign automation and make sure to keep the same tags, etc, so we have a full history of each user.
How Can You Start?
If you're new to email marketing or lead generation, the giveaway process can seem a bit overwhelming. When just starting out the best advice is to keep it simple – use a basic product, run the contest for a manageable length of time (we use 1 month), and don't worry too much about how the opt in looks.
Staying agile is key and you will quickly build up a process that you can repeat in order to bulk up your email list over time!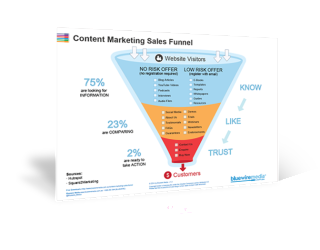 Content Marketing Sales Funnel
Your content marketing sales funnel is all about getting people to know, like and trust you by nurturing them with the right information at the right time.