How to use iMovie to create YouTube videos
Updated on July 8th, 2013
So, my time here at Bluewire as a marketing intern from QUT has been spent editing videos the guys have done with industry leaders and clients on how they use the web to do business.
Why publish videos?
To quote David Meerman Scott, "On the web, you are what you publish"
I must confess i am a Mac advocate, owning an iPod, iPhone and Macbook completing the trifecta of Mac products. So what i have to say may be bias towards iMovie. There are many great products and software out there which are useful for editing and creating movies and video content. Whether you choose to create and publish videos with iMovie or not there are many great benefits publishing videos online can have for your company.
Benefits of YouTube
By publishing to YouTube you can show people that you are credible user and this also ads to your SEO as you can use the content you publish to link to and from your website and also the fact that YouTube is the 2nd largest search engine online makes publishing and having interesting and relevant video content great for marketing and using it to strengthen your online presence.
So the one big thing you need to know first is that iMovie works with files that are MP4 and I had this exact problem early on. The simple fix to this problem is download the software Handbrake which is great and easy to use just ask Sarah McVeigh.
How to use iMovie to create a video
iMovie is a great tool. Simple to use, comes already installed on Macbooks and iMacs and allows you to publish straight from iMovie to YouTube!
Firstly you'll need to add the video into the events section which is great way to organise the videos sort them out and store the videos within iMovie. The events feature is great way to visualise and store all your iMovie footage making it easy to simply drag and drop to videos into projects in the top half of the screen.

After having organised your videos into events you simply drag and drop the videos from events into the top half where they become a project. You can add multiple videos into a single project and also edit and trim within here.

How to start editing with iMovie
Ok so now you are ready to start editing and the best tool to use is the precision editor which breaks the footage right down so you can see exactly where you need to the clip to start or end. After getting through trimming your clip there are various features you can add to enhance your video footage.

Transitions in iMovie
The transition feature is great with over wide range of different styles to suit each individual. Transitions are great way to neatly move from a still image to your live video content or even to move from one piece of video content to another or to end your video content,
Still slides in iMovie
Using still images or slides is another simple and basic feature within imovie which allows you to add a nice touch to your video you are creating. The use of still images also helps to build your brand and can create consistency in the content you are publishing. Just like adding a transition effect adding photos can be done the same way and can be found in the same space as the transitions.  The main thing to remember when using this tool is and imagery you would like to use the image has to be stored in iphoto as this syncs directly with iMovie.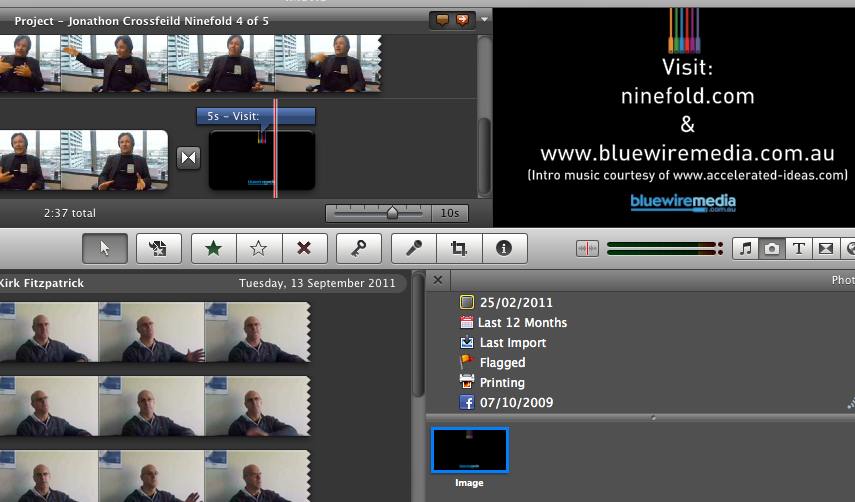 Adding text to still slides and video footage in iMovie
Adding text can enhance your video content whether that's laying the text on a still slide or onto live video footage. When you go to add text it appears in the project as a blue tab above the video reel. To change the length of time you want the text to appear simply select the blue bar drag the text where you want it to start and finish.

Adding audio effects to iMovie
The final useful feature that will enhance and add a professional look to your video content is adding audio effects. audio effects appear beneath the video in the same way that text appears above but only that the audio appears in green. Audio can be added much the same way, iMovie syncs directly with iTunes if you are looking to add a song in aswell as any recorded audio you have in the other Mac app Garageband. There are also basic audio effects within iMovie which can also be used.

Now you have trimmed, edited and added the various features to your video project you are ready to publish directly to YouTube. It's that easy to use iMovie to edit and publish videos.
My tips for iMovie:
Make sure the video files are in MP4 format, if not convert using the software Handbrake which is FREE to download
Have patience when trimming your clip to the exact spot you want
Trial afew different combinations of transitions, still images, music and text you want to use and see what works best for you
Make sure what you decide on you stick with as this will help and serve to build your brand and online presence by creating consistency. we have our outline and we stick to it in all our videos.
if you are looking for more help visit the find out how tutorial site through Apple. I found this very useful when starting out with iMovie
By using a tool such as iMovie to edit and create videos you can add fresh and relevant content linking directly to and from your site making iMovie or any other video editing software a great offline Marketing and SEO tool.
How do you use videos to enhance your online presence? Do you use iMovie or another program?