How we learn
We're living in a world that would've seemed impossible 10 years ago, especially when it comes to learning.
(And marketing has been transformed in the process. More on that below.) 
Back when we started our business over a decade ago, we learned from the best people we could afford.  We attended meet-ups sowe could listen to guest speakers, we bought books and weapproached mentors.
In our first year we even invested $5k+ to see Jay Abraham when he was in Australia.  Whilst it was a sizeable chunk it was worth every cent.  There were other options of course, but we wanted to model what we did on the best people we could find, and Jay was it.
Now I believe learning has become even more accessible again.
Maybe you agree?
Conferences and business seminars will always have their place — absolutely — but now we have hundreds more options. There are thousands of podcasts to listen to on iTunes and many shows give away value that people would definitely have charged for five years ago. There is also an almost overwhelming number of blogs, free downloadable reports and Kindle e-books.  If you want to immerse yourself in learning from your favourite teachers it is a breeze and often free.  We certainly choose to listen to podcasts on a daily basis on topics, like marketing, speaking and productivity.
Plus in the last 5 years there have a been a whole host of people willing to share the very best lessons from their own business and marketing journey in the form of online courses.  This was rare back in 2005 because for starters building your own website with an online learning facility was incredibly cost prohibitive.  It costs ten of thousands of dollars to build a system that met people's basic needs, not to mention the cost of maintenance.
Several years ago we built our first online learning centre for the very first iteration of our social media program and it took close to a year to complete and involved 4 people.  Not cheap or easy.  Yeswe made some mistakes in the process and learnt a lot along the way but at the end of the day we weren't a software development company (nor were we in a rush to keep incurring those expenses!).  We simply wanted to be able to teach people online just like we were teaching clients at in-person consultations and training events.
Fast forward a few years and there are now WordPress plugins that provide the framework for online courses (with minimal development expense).  All you need to do is create the course curriculum which is the fun part. This has been a blessing for online teachers and students alike.  There is now so much high value material being released by genuinely knowledgeable and accomplished experts that you can learn directly from these people whose training material might have been out of budget or unavailable a few years back.
Toby and I have bought many online courses over the years andwe feel so lucky with what we've learned from them.  We've been able to digest the material at our own pace, they've been protected by risk-free guarantees and we've usually received lifetime access so we can revisit it whenever we like.
Way back in the day, in the early 2000s, Tobes and I even graduated from university with degrees that cost comfortably over 5 figures (and if you do an MBA they sometimes cost 6 figures!)
Looking back, when I compare what I've learnt from online courses costing between $200 to over $2000 versus the uni degree, for me, the difference is huge.   When I compare what I've actually implemented from these two different paths, the online training wins hands-down.  It's partly because I am now more passionately invested as a business owner than I was as a uni student, and I have found what I genuinely love doing but even factoring that in, the course material these days can be just so valuable, up to date and straight from the horse's mouth.
Online programs contain the teachers' best thinking and you usually still get the ready-built community of fellow students to learn with.
As you can see there are a whole host of ways that we've enjoyed learning ourselves and we've kept this in mind with the training content that we've created and released.
Over 95 per cent of our material is freely available via our templates, blog articles, podcasts or YouTube videos. Our book contains our best thinking and you can read that for less than thirty dollars. Then you have our premium flagship courses where weteach students exactly what we teach our high fee paying private clients, delivered online and with lifetime access.
We have tried to offer a compelling range of learning options depending on where you are in your marketing journey.  So the lesson here is remember how you yourself have enjoyed learning, how you like to buy and how you like to feel after you've bought something.  Then try to emulate that experience for your own prospects and customers.
To me this is the key to good marketing.  What do you think?
One final note is that as business owners ourselves, it's been really useful when we've been given the option of a payment plan for online courses. This way it can fit into our cash flow better.
One of the things we've been able to do now is offer an easy payment plan for our Social Media That Works Online Course.  If you've been following along and you feel as though you are ready for this 4 module, 8 week program, then we have made it even easier to access.
As of today, we've introduced a payment plan so that you can get started immediately for just $127 USD.  It won't last for long though, just a week.
This was first released on the Bluewire News. Join over 17,000 fellow marketers who get the weekly email and subscribe here (you'll also get our 33 free marketing templates).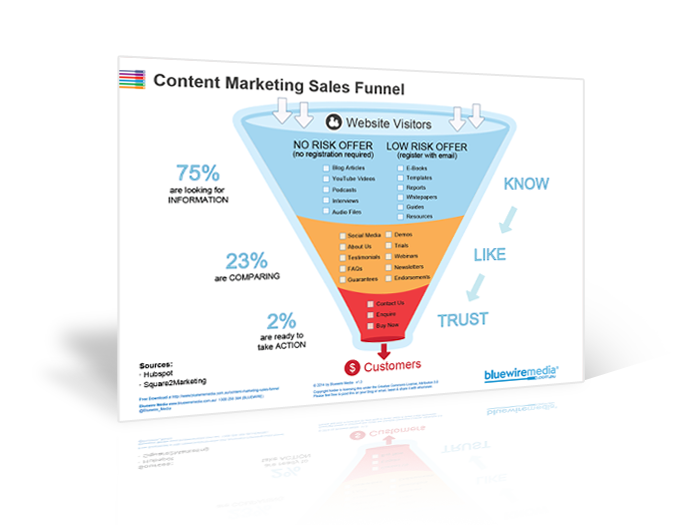 Content Marketing Sales Funnel
Your content marketing sales funnel is all about getting people to know, like and trust you by nurturing them with the right information at the right time.