5 Image Marketing Lessons We Can Learn From #foodporn
This is a guest post  – Dan Slagen is from Crayon. Crayon is the most comprehensive marketing design search engine on the web. It's the new way for marketers to get inspired and get great ideas about what to build.
Welcome Dan…
Marketers and designers understand the importance of imagery in marketing more than most, especially with platforms like Facebook/Pinterest continuing to grow.
As image marketing continues to gain importance, it's time to take a moment to understand why certain images work better than others. For this, we turn to the food industry and the #foodporn movement.
#foodporn stops us in our tracks. Don't believe me? Watch this:
Odds are, you looked at that burger before you started reading this article. The burger is from the team over at Rodeo Burger and is their signature offering.
As marketers and designers, it's our goal to capture the attention of our target market. We work hard to get users to our website, once they arrive it becomes even more important to convince them to stay, look around and engage.
But how do we ensure users stay on our website?
The first step of engagement is to capture attention, and we only have about 8 seconds.
One of the best ways to capture attention is through imagery (strong imagery increases engagement).
But what are the characteristics of "strong" imagery?
We thought, who better to learn from about utilising imagery than the #foodporn movement. It's one of those things that no matter what you're doing, a compelling image of food will stop and make you look.
It almost feels like cheating, like using images of puppies in ads, social media or on your website, but there are 5 lessons we can learn and apply in our image marketing and website design practices.
1. #foodporn is visual
We're talking about images here, they can't be boring!
People love images, and the example above from Fire Stone Grill is a great example of being visually compelling and loud. The eye is instantly drawn to the center of the screen and focuses in on the forward facing slice of avocado.
Users are frozen, even if for a second and then feel compelled to see what else the page has to offer.
In this case, the Fire Stone Grill offers two locations for visitors to learn more about by scrolling over the location options, but the main reason users will engage is because they stayed on the site for long enough, and the reason they stayed was because of the image.
2. #foodporn looks fantastic
You never see a low quality image of delicious looking food, do you? Because it doesn't look delicious if it's low quality.
The same can be said about images you use for your brand. Including images that are "ok" or low quality can actually hurt your brand instead of being perceived as "good enough" by users. So think twice before you put an image live just because your site needs it.
With food, nobody wants a steak that looks "ok," that's not compelling. With your brand, people won't be as apt to engage if you use low quality images, whether it's of your office, employees, software screen shots, physical product…etc. Don't use stock imagery either, take the time for a legitimate photoshoot, it's worth it.
3. #foodporn speaks to human needs
Humans need to eat, hence, they're naturally going to gravitate towards images of food.
In some respects that's why #foodporn is hard to relate to especially if you're in an industry like construction. But the best way to relate your imagery to human needs is to think about the end result of your company/product.
What need does your company/product offer that can be conveyed through imagery?
For instance, if you work for a construction company, then show real images of families enjoying their new home and being together, or companies achieving success in their new office.
Find ways to relate your product and images to a human need, and something people naturally yearn for so that it's instinctual to engage.
4. #foodporn is associated with experiences we want
Most people enjoy eating. Whether it's the taste of food, the experience of going out, cooking in or being with friends/family/loved ones.
People are more inclined to engage with things that make them happy or provide them comfort, so talk to your customers and find out what it is about your brand that makes them happy, and then show that experience visually.
If you're selling a shoe, show people where that shoe can take them. Not just physically but emotionally as well. If you're an accountant, offer people peace of mind to take their time back.
5. #foodporn triggers a feeling inside us, usually desire
One of my favorite quotes from the movie The Beach is about desire, which is: "Anywhere you go, desire is desire. The sun cannot bleach it, nor the ride wash it away."
Images that trigger desire are nearly impossible to ignore. Find out why people want your product, not only why they need it.
Sometimes the reason people need and want your product will be the same but often it won't be, especially with consumer products.
Looking for more visual examples?
To see more examples of #foodporn marketing, check out this collection of 100 websites enticing appetites everywhere! For all your other visual inspiration needs, check out Crayon with over 14 million free web designs!
About Dan
Dan Slagen is from Crayon. Crayon is the most comprehensive marketing design search engine on the web. It's the new way for marketers to get inspired and get great ideas about what to build.
Bonus 33 Free Templates
Download the 33 free templates from Toby and Adam's book.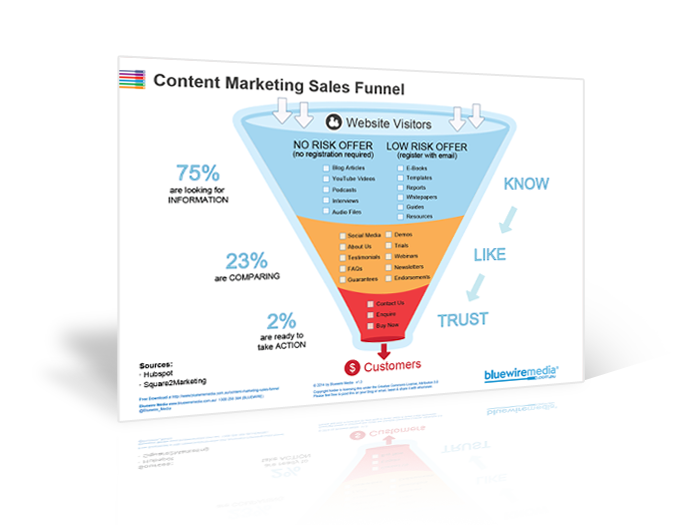 Content Marketing Sales Funnel
Your content marketing sales funnel is all about getting people to know, like and trust you by nurturing them with the right information at the right time.