An Overview Of The Inbound Marketing Methodology (Plus Template)
Updated on March 8th, 2020
Inbound marketing methodology overview
The web marketing industry has seen some significant changes in the last decade, especially with inbound marketing.  Here's an overview of how to use our Inbound marketing methodology template.
We live in a world where any information that we need on a service or product can be found with a few keystrokes. The companies that we purchase from are accessible to us like never before. And we expect them to be, as consumers.
If you're marketing your own business, it's important to remember how your customers want to interact with you.  Consider how they might share information about you, and where they'll go looking for that information.
Times have changed
Just a few decades ago, the consumer environment was different – advertisements were the main form of marketing, with companies delivering the information they wanted their customers to have.
But with this shift, and because of the internet, the traditional way of marketing TO the customer is just not as effective anymore.
"People do business with people", wrote Mike Lieberman of Square 2 Marketing, "so marketing has to be people-centric".
Inbound Marketing Methodology overview
The "Inbound Marketing Methodology" is a modern day marketing strategy that helps you attract strangers, convert visitors, close leads & delight customers; instead of interrupting them with advertising. It was first created by HubSpot, and has been the foundation for how we have built our business here at Bluewire Media. That's why we provide a template depicting how you can use the same methods in our popular 33 Web Marketing Templates – if you don't have a copy you can download one below.
The rest of this article will break down each section of the template so you can start using this inbound marketing overview for your business.
Why Inbound Marketing?
Inbound marketing draws people in and engages them to the point that they want to interact with or purchase from you.
What this means is that we need to start paying attention (as marketers and businesses) to the way in which consumers are getting their information. More listening, less talking. And more getting to know where the consumer is at in their buying journey.
Are they in the beginning stages of researching the product or service, or are they ready to buy TODAY?
Take a quick look at the graphic – I'll dive into each of the four actions (Attract, Convert, Close, Delight) that companies should take throughout their inbound marketing strategy. The actions are noted along the top of the graphic, and along the bottom are the tools that are needed to execute on those actions.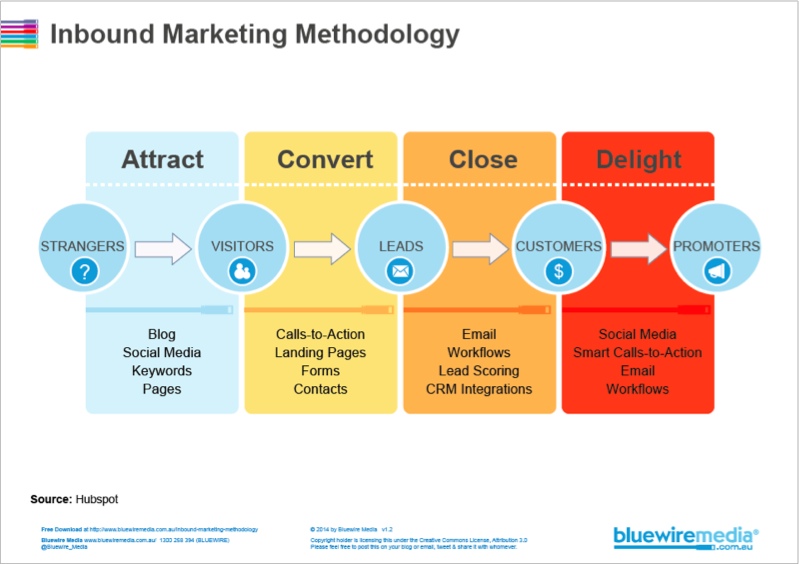 Attract
We all want traffic to our website.  What's the point in building a site, after all, if no one is visiting?
But you also want the right people to visit your site. We determine who those "right" people are by figuring out buyer personas.
Buyer personas determine how your business is built, so this is a pretty crucial step in inbound marketing. Maybe the MOST crucial step!
The personas are an attempt to define what your customers are like.  Their goals, pain points, demographic information, their opinions on products and services.
Attracting these kinds of people to your site, then, is the first step in your inbound marketing plan.
Some tools for attracting these people are:
Blogging: educational content that informs your visitors and answers their questions
Keywords: how your customers find you through search engines, so that you're at the top of their list when they type in specific phrases or keywords in Google (or another search engine)
Website Pages: put your best (virtual) foot forward and appeal to ideal buyers
Social Media: share the valuable information that you've created with your audience, on the networks where your buyer personas spend the most time. Interact with your followers so that they put a face to the brand.
Convert
The next step is converting those site visitors into leads. This means you'll need something *highly* valuable – their contact information.
But you'll want them to give that information to you willingly, which means you'll want to give them something just as valuable in return.
"With content marketing, you're giving valuable information away before asking people to buy anything. Even when you sell a product through content marketing,  your ideal customers will be happy you did, because they feel more valued and understood." ~ Neil Patel.
Some must-haves for converting those visitors into reachable leads:
Calls-to-Action (CTAs): the buttons or links that entice your visitors to click something. The CTAs on Coschedule's home page are a great example – the orange button stands out on the home page, and the text is compelling enough for people to explore further.
Landing pages: when your visitor clicks on a CTA, they should be sent to a landing page on your site. This is where the content that you're offering is made available to them – the visitor submits their information, and becomes a contact.
Forms: where your visitors fill out their contact information. Try to optimise the form so it's as easy as possible for visitors to complete.
Contacts: it's crucial to keep track of every visitor that you're converting. You need a database that's centralised so that you can make sense out of every single interaction with your contacts. This includes email, landing pages, social media, etc.
Close
Turn those leads into paying customers. If you're scratching your head trying to figure out *how* to do this, you're not alone: 79% of marketing leads never convert into sales. This is due to lack of lead nurturing.
So let's take a look at tools we can employ to take advantage of this opportunity:
CRM: your customer relationships need to be managed. What better tool for this than a Customer Relationship Management system? This handy tool keeps track of all of the contacts, leads, and transactions in your pipeline. And it can track what stage of the process your prospects are in.
Closed-loop Reporting and Lead Scoring: where the sales and marketing teams play together (nicely). This kind of reporting tells team members which marketing campaigns bring in the best leads. And if those leads are converting into customers with your sales team.
Email: keep your leads warm. If a visitor clicks a CTA or downloads your e-book, keep them engaged — even when they're not ready to purchase yet.
Workflows/Marketing Automation: tailor your interactions with your leads, based on which stage they are at, and where they are engaging with you. If a visitor downloaded your infographic, you can send them a few emails on a related topic. If they found your company on Twitter and clicked to certain pages on your site, you might tweak the content there so that it's more relevant to them.
Delight
Just because someone completes a purchase doesn't mean you're done interacting with them. In fact, gaining a loyal customer means you have the opportunity for not only a repeat customer, but also a true cheerleader for your cause (or product).
We can delight customers at EVERY stage of their journey.
Here are a few tools to consider at this stage:
Surveys: the best way to get answers is to ask questions. Find out what your customers are excited about, and where they need more.
Social Media: listen! Pay attention to the conversations your customers are having online and draw them in with relevant content.
Smart CTAs: these are dynamic and change according to your user's buyer persona
Workflows/Email: tailor these so that you're keeping customers excited about new products. Or additionally the relevant trending topics, or updated versions of the content you've delivered before.
Go Where Your Buyers Live
This inbound marketing methodology overview is about putting yourself where your prospects and potential customers (and evangelists) are.
"It's time to go where your buyers live: online. If you pride yourself on being where your buyers are, why aren't you online yet?" – Jamie Shanks, CEO of Sales for Life.
This means listening to what they need, providing them with valuable answers (and content). It also means staying up-to-date on the topics that matter to them.
What other tools have you used to attract and delight your prospects and leads? How has this inbound marketing methodology overview helped your bottom line?