8 Easy Ways to Increase Your Click-to-Open Rate
Click-to-Open Rate
As per 2020 email marketing statistics, the average click-to-open rate is at 14.1%. How do you achieve this or increase your click-to-open rate and surpass your competition?
The email click-to-open rate is different from the click-through rate. The click-to-open rate is the percentage of people that open an email by clicking on a link or image within an email. You can consider it as a measure of the instant response rate of an email.
Luckily, there are many simple ways to increase your click-to-open rate.
Here are some easy yet most effective strategies that you can implement to boost up your click-to-open rate: 
1. Personalize your email
Your email campaign audiences are 26% more likely to open your emails when you personalize the subject lines of your email. What's more, open rates for personalized emails average 18.8% compared to 13.1% without personalization.
A good rule of thumb to personalize your emails is to add the first names of your subscribers to your subject line.
You can also add your subscriber's or intended receiver's name in the:
Preheader
In the email body
And/or in the post-script.
Here's an example of a personalized rewards email using the first name:
To get this information, you will have to add a field to include people's first names in your email opt-in forms.
You might want to use double opt-in in the signup confirmations or ask new subscribers to whitelist the emails. All of it will affect open rates later on.
Here's how "Tedium" implements it in their email footer area:
"Geotargeting" is another way to personalize your emails.
For example, a food delivery service in any place can geo-target their promotional emails during bad weather.
Suppose it's raining in NYC and an NYC-based food delivery service realized that since New Yorkers are unlikely to go outside for food during bad weather. Seeing the opportunity, they can send them personalized offers to increase their chances of ordering food from their company.
Here is another great example of a geo-targeted email campaign:
Sending subscribers anniversary offers is another easy and great idea to personalize your emails and boost click-to-open rate.
Even when you only have the email address of your subscribers, you know the date and time they were added to your email list. Go on and create an automated email to celebrate the anniversary of your association with your subscribers.
Another way to personalize email is to send emails from a real person. When HubSpot conducted an A/B test, it was found that sending an email from a real person increased both the email open-rate and the conversion rate.
On occasions where you would rather not send emails from one person, try to keep at least the "from" part of your emails consistent.
Other than this, it's important to optimize your email copy to receive more traction, subscribers, and open-rate. You can either do it in-house or hire a professional to outsource this crucial part of your overall marketing strategy — which includes organic content marketing, SEO, social media, etc.
2. Micro-segment your mailing list to increase click to open rate
When segmenting your email list, it's crucial to approach the right target audience. Make sure to gather all the informational needs of the personas. Open rates are closely linked to how relevant your email content is to the contact.
Micro-segmentation allows you to maintain relevance to the content depending on your contact's personas and the needs that you are aiming to meet.
When you use behavioral data, you will be able to aim more specifically as compared to when you are using demographic data.
While basic information (like your users' gender and demographic) is equally essential, you need more narrowed down information to micro-segment your email list.
Make sure to identify all these details: 
Why do people purchase your products?
Whether your subscribers are using a paid or a free version
How frequently do they open your emails?
Whether they use mobile or desktop more
However, note that all these will be needed when you build a comprehensive buyer persona.
3. Perform split A/B test for each email
It is crucial to split-test every email message you send out so as to easily know what works for your email list and what doesn't.
Most email service providers will conduct split-testing. What's more, they specifically split-test subject lines as they are more impactful than any other type of test.
However, to split-test, you will require a list with at least 1,000 to 2,000 subscribers. If your email list is lesser than that, there will be a large difference between the two test cells.
When you have a small list, what you can do is test the same thing two or three times.
For instance, you can split-test a subject line with and without the first names of the subscribers. Though it is time-consuming and you'll have to test across numerous email campaigns, you will get more reliable results.
4. Craft a short and intriguing subject line
Your subject lines should evoke emotion. As per Copyblogger, the four words "You Are Not Alone" received an average open rate of 90%. There is a natural human desire for community, and so it worked. People feel better when they know that there are others going through the same difficulties as them.
Here are some characteristics to enhance your subject lines:
Your headline should tell your subscribers what to expect. When you play tricks, they might fall into your trap, but they will unsubscribe down the line.
Add numbers in your blog headlines and email subject lines to increase readers' engagement.
As per Mailchimp, the three worst words to include in a subject line are Percent Off, Help, and Reminder. Don't use words that have been overused by spammers.
Don't use all caps and exclamation marks. They trigger a sense of spam.
Keep the length of an email subject line up to 50 characters. Some email programs might reduce the characters. So add the most important words at the start if you are using a longer subject line.
5. Think about the first sentence
Modern email software reveals the beginning few words of the first sentence in the inbox. So consider the first sentence while crafting your email. The first sentence has to pull them in – into reading more of your content.
In other words, the first few words of your email should be able to sell the email. Give the first sentence of your email equal importance as you would give the sub-headline.
Keep this in mind even while designing your email template since your first sentence should be visible and valuable. Also, ensure that those words reflect something that feeds the curiosity created by your subject line.
6. Create eye-catching CTAs
An email CTA will appear in your body as a link or a button. Whether you use a link or a button, you're trying to entice your reader to act. CTAs have a way of drastically transforming an email marketing campaign.
Here are few tips to follow while creating your email CTA:
Keep it above the fold. It should be one of the first things that your readers see when they open an email. As per Marketing Sherpa, typically, a person only reads your email for 15 to 20 seconds. They will miss it if you don't place it above the fold.
Your CTA should also not interrupt the natural flow of reading. Don't place it in the middle of a paragraph. It will disturb the reader.
Limit the words and use powerful, high-converting words instead, such as Upgrade, Start, Save, Off, Free, Join, and Create.
Your email message should align with your call to action button. In the example below, Banana Republic describes a fresh effect. Their CTA also says, "get fresh." Though their CTA button is placed below the fold, it is placed right below a second savings coupon.
Use white space to separate elements that don't go together, to give your email a neat look, and make content appear more legible.
Limit CTA buttons to not more than two to avoid confusing your readers.
Use first-person language to address the target audience.
Use a unique color to make your email call to action stand out. Go for a color that's not widely used. In the example below, De Beers has used a light blue color for the call to action, and it stands out.
7. Ask a question at the end of your email
The best way to get into your subscribers' hearts in email marketing is by showing that you care about their problems. It's equally important to tell them that the entire core of the relationship is about them and not you. This strategy will benefit you with the long-term open rates.
When you ask a question once in a while, you are inviting your readers to interact with you. It will also enhance their overall experience with the services or products that you are offering.
Kissmetrics applied this strategy in their client's emails, and it worked. Their audience engaged better with them.
8. Keep a clean list to increase click to open rate
Keep track of the active subscribers and remove inactive subscribers.
Here are some tips to keep your list clean and increase the percentage of emails ending up in your subscribers' inbox:
Segment the inactive subscribers with the active ones and then come up with a re-engagement campaign.
You can also send a non-HTML personal email inquiring why they aren't opening their emails. You can remove them if they don't engage with you after that.
Wrapping-Up: Increase Click-to-Open Rate
Email marketing can be tough, especially for newbies. But you can get good results and improve your click-to-open rate by leaps. Follow the tips in this article to effectively carry out your email marketing campaign. And be patient. Things may take time, but if you do it right, you can increase your click-to-open rate and improve conversions.
About Tim Ferguson
Tim Ferguson is a writer and editor of Marketing Digest. He helps SEO agencies with link building, content marketing, online reputation management, and blogger outreach.
When he is not writing and editing for Marketing Digest, he spends time on learning more about content marketing and getting better at it.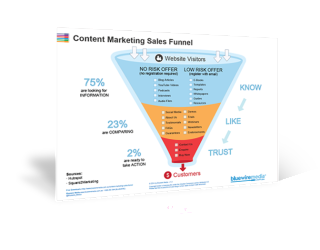 Content Marketing Sales Funnel
Your content marketing sales funnel is all about getting people to know, like and trust you by nurturing them with the right information at the right time.