Increase Ecommerce Conversion Rate: 10 Proven Ways
Updated on March 5th, 2020
How to Increase your eCommerce Conversion Rate
Setting up an online business and expecting that digital citizens will just instantly purchase from your site just because your products look great is a recipe for disappointment.
Nope, it's not as easy as putting up your site and letting it sit until the internet does its job.
You have to work your way through different tactics to get a good conversion rate. And in this digital age where competition is tight and deliberate, you have to be at the top of your game.
If you are after sending your conversion rate through the roof, here are ten proven ways on how to actually do that.
Set Up a Sales Funnel
A customer's purchasing journey goes through a lot of phases. And that's what a sales funnel is for.
You have to understand your own sales funnel to be able to patch holes in it in case there are any. These holes may lead to customers leaving your site completely, thus leaving you with no sale at all.
Go through your own process. Don't expect your site visitors to purchase right away. Some of them might just be browsing, and if you meticulously create a journey for them to follow, then they might reach the end of the funnel and eventually convert.
You have to give your customers a good sight of the product, let's say a free trial or a demo, for them to get a good feel of whether they like the one you are selling or not. Don't pressure them into signing up until you fully have them within your grasp.
Display Social Proof to Increase eCommerce Conversion Rates
Testimonials may sound too cheesy, but they serve a good purpose.
Some of your site visitors, if not most, will certainly be skeptical when they go over your products. There might be questions, doubts, or a pool of confusion.
But when you have a tab of social proof where actual people can attest to the effectiveness of your products, then these visitors will get first-hand recommendations from your past customers.
It's important that you show them that you have a good number of customers who trust your products and services.
Sharpen Your Value Proposition
If there's anything that you should work on the most during your entire ecommerce planning, it is to strengthen your value proposition.
There should be some sort of mutual understanding between you and your visitors so that both parties completely get the whole picture.
Your value as a brand should transcend walls and language, and whoever might see it should be able to understand what you are trying to say about your brand.
An effective value proposition involves a good copy, impressive images, and a hard-to-resist call to action.
Optimize Your Shopping Cart Flow
Overcomplicating your checkout interface will result in customers leaving their shopping carts behind. And that's not how we want it if we aim to improve our conversion rate.
The way to go is to create a shopping cart flow that is as simple as possible. The most important part of the whole customer journey is to make sure they complete the entire process until they reach that "successful purchase" page.
If they exit during the checkout process, it's likely that they got annoyed by the way you set up that part of the journey. And you can't blame them for feeling that way.
Make sure to create a user-friendly flow until the very end of the purchase.
Offer Free Shipping Whenever Possible
If it wouldn't hurt your business, then offer free shipping whenever possible. It's one way to ensure that your visitors will convert.
Have you ever noticed how a small amount of shipping fee changes the way we think about ordering a certain product? It's like staining the whole experience, and in the end, just abandoning the page completely.
It's another spectrum of psychology in buying that you should not take for granted.
Send an Abandoned Shopping Cart Reminder
An abandoned shopping cart is not a complete loss, after all.
Whatever their reason may be for filling their carts and then completely leaving empty-handed, there is still a way to reel them back in where they left off. You can do this by reminding them of their abandoned cart.
Send a notification via email regarding their carts, and they might just find the heart to take that final step and continue on until they reach the actual conversion part.  This will Increase your eCommerce conversion rate.
Speed Up the Website
Internet speed is important to increase eCommerce conversion rates. A buffering page is not a very good place for conversion rates to prosper.
It's important to optimize your page and make sure that it doesn't tolerate any delays. Once a customer sees a page that takes a minute to load, they would instantly leave your website for sure.
So to avoid any of that page walkouts, make sure that you have a reliable web host and that your ecommerce site is loading properly no matter the condition.
It's important to get your visitors to the actual landing page so they could at least try to read or see what you have to say about your products.
Leverage an Email Marketing Plan
Although some consumers may find a random email from different products annoying, it's a good marketing strategy.
It's one way to reach out to your potential market and returning customers and in turn increase your eCommerce conversion rate. You can use it to let them know about promotions and new offerings on your website other than just letting them know that their order is confirmed.
Do A/B Testing
When it comes to ways to increase eCommerce conversion rates, beta testing is the best way to address any forms of risk within your website. It allows you to improve your processes and explore new ways on how you can create a user-friendly shopping experience for your customers.
Don't ever plan on skipping this part as this is a crucial phase in your site development. It's important that you get a glimpse of the actual thing before really setting it out for public consumption.
Anyway, this whole ecommerce realm is a continuous process of improvement. You don't get the perfect pattern until you say so. If you still find some spots where you can improve, nobody's going to stop you from doing so.
Add Different Call-to-Action Buttons
Call-to-action buttons are great converters. These are what you use to tell them to add this certain product on their cart, to download a form or the entire software, or to sign up on a special email program.
Whatever you decide to put on your call to action buttons, make sure they are effective and that they are eye-catchers.
Even a simple but highly effective "Yes" is enough to send them to the end of the sales funnel.
Conclusion – Increase eCommerce Conversion Rate
From the moment they click your site, down to your ecommerce order fulfillment, you have to ensure that each one of your customers will have a sense of contentment at the end of the process. Doing so will encourage them to be a repeat customer.
That's how you can make waves in terms of your conversion rate. You'll be surprised to see how effective these points are once you get to the actual numbers.
Remember, all things must be done in good faith. Build trust among your consumers, and you will surely enjoy the fruits of your labor.
About Jake Rheude
Jake Rheude is the Director of Marketing at Red Stag Fulfillment, an ecommerce fulfilment warehouse that was born out of ecommerce.
He has years of experience in ecommerce and business development. In his free time, Jake enjoys reading about business and sharing his own experience with others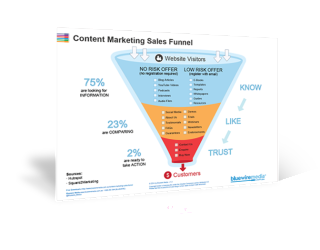 Content Marketing Sales Funnel
Your content marketing sales funnel is all about getting people to know, like and trust you by nurturing them with the right information at the right time.