5 Ways To Increase Your Landing Page Conversions
Updated on February 13th, 2020
Increase Landing Page Conversions
The article contains 5 of the most effective methods to increase the conversions of landing pages. At first glance, my recommendations may seem simple but they can significantly increase the effectiveness of landing pages. This is not the Money button – but doing all five ways will lead to increased leads and sales. This article will be useful for content managers, marketers, small business owners.
All digital brands understand the need to optimize their landing pages. Higher your number of landing pages, higher's the return on your effort to increase conversion rates. Making even the smallest of tweaks on your landing page could exponentially increase your conversion rates. Use your common sense, and leverage your SEO knowledge to optimize landing pages. Here are 5 ways to do so.
1. Personalize Your Landing Pages

Source: neilpatel.com
Your landing page should matter to the user the moment they visit the page. Create your content from the perspective of the user. Information should be clear cut, your user should know why they are there, and most importantly, they should have a clear idea of what they are expected to do.
Effective landing pages perfect the use of all these ingredients – content discovery, performance, utility, and conversion rate optimization. Your page should be designed for a purpose it's supposed to serve –sale, subscription, request for proposals, etc.
The landing page's headlines should be simple, hard-hitting and clear, the flow of text should be compelling and crisp, and keep things prim, proper and as easygoing as possible.
Use high quality, light, and relevant images.
There are no brownie points for gaudy.
Lower the extent of emotional commitment. In other words, make them choose as much less as possible. This is not to be confused with the call to action, which will be discussed later. Consider the act of clicking links to gather more information- an average user on the landing would not like to do too much of it. This calls for prudent content management.
Make your CTA text expressive. For example, changing the text from 'Buy' to 'Buy Now' to 'Continue' has been found to increase the micro-conversions exponentially.
2. Test, Measure and Improve
As time-consuming and inglorious as it is, testing is something that every marketer should do on a regular basis. This includes both A/ B and multivariate testing for answering all the questions that the user would encounter while visiting the landing page. Also, experiment with off page issues like the number of CTAs a page should have, the best position for a CTA button, etc.
Proper and efficient testing can increase conversion rates by at least 300 percent. Finding the right tool for testing can often be the biggest challenge. A/ B testing is the best way of understanding what works best for a particular audience.
Next, test to determine what works best- a long landing page or a short one, what makes people go for faster conversion and the like. Test to find the right balance between advertising text and landing page text.
Ensure that the testing is carried out only after imparting the right information to the user, before setting up of questions. Making users choose an option at the incorrect place and time may make it difficult for them to trust your intentions!
Having a testing culture is a very good way to work better at completing micro and macro goals.
3. Call to Action

Source: chopochom.com
Remember that CTAs (call to action) buttons are the most important element in the landing page; be prepared to invest in them.
A good, if difficult, tactic to increase conversion rates is to include more information to help the user take action sooner upon visiting the landing page. Remember that users do not have much attention space, and very few are going to deal with swathes of text. So strategically designing and placing information near the CTA prompting users to buy is the best way to increase your conversion rates. This content, however, should not be distracting.
Here are a few things to keep in mind regarding CTAs.
Orange, blue and green CTAs have been found to be the most successful to increase landing page conversions.
The size of the CTA button should be compatible with the design of the rest of the page- it should not be so small as to be not noticeable, or so big as to repel visitors.
The message leading up to the CTA is the most important- it should instill a sense of urgency in the user, and make them feel important and included. Especially when it comes to non-profit purposes, users or donors like to feel good after having made a contribution. An effective CTA button is one of the best ways  increase landing page conversions.
4. Be conscious of page loading time

Source: econsultancy.com
Research has proven that even a 1 second delay in the loading of your landing page could cost you 7% of conversions. Goes without saying, a quick loading landing page is the necessity.
Though it's important to make the landing page content rich, don't weigh it down so much so as to make it difficult for the user to load your landing page. This is a mistake even the veterans of digital branding make commonly. Your webpage should be ideally designed to be compatible with all devices and network conditions. At the same time it doesn't matter of which web platform your online business works – it can be already SaaS solutions in the form of website builders or custom development wit open code. The main conation – your website has to be fast.
So even if you go for high definition images, make sure they're optimized to load quickly. Slow landing page speed can be a deal breaker, and all your effort in creating what you believe to be the perfect landing page might go down the drain. Google PageSpeed Insights will give you actionable suggestions to improve loading speeds. So not ignore the issues highlighted by this tool as it would not only help you improve your page speed, but also your SEO ranking.
Here are some more ideas you can explore to reduce landing page loading times.
Google recommends a loading time of 3 seconds for web pages; measure how your landing pages fare, and otimize
Minimize the number of HTTP requests your website makes
Minify and combine your page's JavaScript HTML, and CSS files.
Minimize the Time To First Byte (TFTB); Google suggests you ensure that it's less than 200 ms for your landing page
If shared hosting is causing your webpages to load slowly, consider upgrading to a better host.
5. Work on your forms
In order to optimize conversions, make sure your landing page visitor trust you and the message that you are putting across. And that will not happen unless your forms are efficient. Conversions happen through forms.
Ineffective forms are the kinds that ask a lot of information from the client, including their contact details. Unless you're targeting an enterprise audience, do not go beyond the email address. The contact number should feature only when there is a question of a bigger commitment.
A good way to get users to trust your credentials is going for multi-page forms, which is a mutual win-win for both parties. Once you are done with the explaining bit, you put the option in front of the user or the client of committing further. Only when they agree to it, you ask for their contact information from them.
For instance, the landing page of a lending company would generally ask visitors for the debt amount. Once they do that, the form asks for their contact details.
Also remember that the placement of the form is crucial, as visibility is immensely important for conversion procedures.
Wrap up on how increase landing page conversions
To sum it all up, your forms should ask only for information that is absolutely crucial for your purpose. In case they aren't, make them optional. Ensure that:
All form elements are fully functional
Questions are not too convoluted and unnecessarily long
Details are easy to fill up
The form includes information ensuring the safety of the information provided by the user.
Remember to highlight your value proposition. There are a few more things you could do for better conversion rates:
Using chatbots is an amazing way to communicate with visitors.
Do not expect your buyer to buy straight away. For you, the deal is to ensure that they have the motivation to return in case they leave, and ensure your reputation even if they don't. Nurturing your leads is the key to a successful business.
Keep a track of the micro goals, such as form downloads, the number of video watches, etc.
Make sure that your email leads are not clogged up in the marketing funnel; set up a CRM system for that purpose
Now you know that optimizing a landing page for maximum success is more a matter of dedication than difficulty. It is a trial and error method really, and once you hit the right chord with your visitors, you are set.
About Lesley Haught
I'm a professional writer, web developer and CEO of WebBuildersGuide.com. 9 years I've been working as web interface developer and I have a huge experience in website development. Also, I'm fond of photography and marketing and of course, writing articles.
My works were published in popular online magazines and blogs: 2CheckOut Blog, 3Dcart Blog, Template Monster Blog, Contrastly, Hackread, Hacked, Wploop and many others.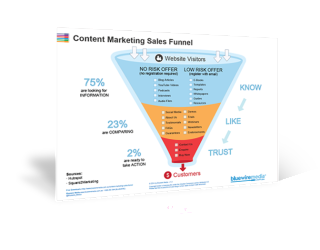 Content Marketing Sales Funnel
Your content marketing sales funnel is all about getting people to know, like and trust you by nurturing them with the right information at the right time.