5 Tips To Increase Lead Magnet Downloads (That ACTUALLY Work)
Updated on January 20th, 2020
Increase lead magnet downloads
Your website traffic is booming.
So your website is a success, right?
Wrong.
If you're not turning that traffic into leads, you're missing out on a proven way to grow your business.
The simplest way to turn your traffic into leads? Lead Magnets.
The lead magnet concept is simple. Give people something for free (the magnet). And all they have to give you in return is their email and permission for you to contact them (the lead).
This strategy works because the power of a 'free' resource is intoxicating. In fact, the concept of lead magnets is based in the psychological principle of 'the norm of reciprocity'. In short, this says your audience will give to you, if you give to them first.
This is lead nurturing 101.
From there you can communicate with your new leads directly. Let people know about your latest products and services. And grow your list of potential clients.
But here's the catch!
Growing your list of subscribers and nurturing leads isn't as simple as throwing together a guide, eBook or cheat sheet. Then adding it to your homepage and waiting for results.
Growing your subscriber's list and nurturing leads only works if you know how to create an irresistible lead magnet that solves a problem and funnels traffic from your website to your mailing list.
Successful lead magnets are focused, direct, value-driven and scientifically tested.   (Btw, here's a collection of free marketing templates)
So stop wasting traffic and letting leads slip through the cracks. Increase your lead magnet downloads with the following 5 tips that ACTUALLY work.
1. Narrow Your Focus to Increase Lead Magnet Downloads
Successful lead magnets are highly targeted.
Offering a generic resource may capture a large number of leads. But these leads aren't likely to be relevant to your business.
For example, if you're a business consultant with a lead magnet titled 'How to increase your Instagram following', your leads aren't likely to be valuable.
Why?
Those people are interested in growing their Instagram followings. They're not interested in your services.
In contrast, a targeted lead magnet like '7 Mistakes ALL entrepreneurs Make (and how to avoid them)' would connect with your audience and deliver leads more likely to respond to you in the future.
You'll also find it easier to solve a problem if your lead magnet is highly targeted. Consider the following lead magnet from OptinMonster. The problem is clearly identified – a high number of abandoning visitors. As well as a clear solution – to convert them into subscribers.
If your focus is too broad, you'll struggle to provide the actionable tips people are looking for. But if you've narrowed your focus and targeted a core problem you'll find it easier to create a problem-solving resource.
Takeaway: Your lead magnet needs to solve a specific problem with a specific solution for a specific audience.
2. Use the 10/5 rule
Your lead magnet should be simple and clear.
The amount of content created and shared each day has created a saturated space. In turn, attention spans have plummeted to less than 8 seconds. To ensure you stand out in this crowded space, your lead magnet should be simple, clear and concise.
Give people the information they need without clutter.
This applies to your copy and your design.
As a good rule of thumb, stick to the 10/5 method. The 10/5 method says that your lead magnet should take less than 10 minutes to consume. And no longer than 5 hours to create.
Don't worry if you don't have access to a professional designer or copywriter. Use tools like Google Trends and Answer The Public to see what type of questions people are asking.
Free writing tools like Hemingway Editor and Grammarly help get your message across.
Then use free design tools like Canva and Stencil for professional, inviting graphics.
Takeaway: Spend time delivering value, not obsessing over your lead magnet design.
3. Create Perceived Value
Your lead magnet should be full of actionable tips and practical help. But no one will know what's inside if they don't download it.
You can convince your visitors to enter their email addresses by convincing them they're about to receive unbeatable value. This is done through creating perceived value.
There are two ways you can create perceived value.
#1 – Visual Value
Remember, just because a lead magnet is free doesn't mean it should look cheap.
Using professional graphics and emotive imagery can help you increase your opt-in rate and create a sense of financial value in the minds of your audience.
Along with your lead magnet's title, your design will make or break your success.
#2 – Bundled Value
You can also create perceived value by creating lead magnet bundles.
With the majority of your competitors also offering free guides and eBooks, you can gain the edge by offering multiple resources in one download.
Amazon #1 bestseller, Adam Franklin, uses this to great effect. The bundled value of his book – Web Marketing That Works: Confessions from the Marketing Trenches, is clear. Along with the book itself, subscribers get access to a bonus 33 free templates.
Takeaway: When you create perceived value, you'll drive actual conversions. Make sure your lead magnet looks inviting with bright colours and graphics. Consider adding bundles to stand out from the crowd.
4. Use Templates
We all need a helping hand sometimes.
Templates help by allowing business owners to plug their vision into an existing framework.
Think of it this way, which of these is more valuable…
Spending hours researching what ingredients and steps are needed to bake a cake?
Or…
Being given a recipe with all the ingredients and steps needed?
Templates are recipes to your success.
Lead magnet templates provide clear value. Your site visitors can simply plug their business into your pre-existing templates to get the help they need.
Templates are also an effective lead magnet as they provide highly tactical help while helping you differentiate yourself from the countless eBooks and guides available online.
Win-win.
That's not to say eBooks aren't a valuable resource. But with your audience looking for quick solutions to the problems they're facing, you should experiment with other lead generating formats to see what works, including:
cheat sheets
swipe files
checklists
case studies
templates
Interested in more free business building templates?
5. A/B Test
Even the most successful lead magnets will eventually become obsolete.
As consumer behaviour evolves and data changes, lead magnets can expire.
To avoid going stale, stay in the habit of A/B testing your lead magnets. Even if your lead magnet is delivering a high number of leads, you may be able to optimise it to be even more successful.
For example, if 20% more people download a template than an eBook, you can start to focus more on creating valuable templates.
Consider the following A/B testing strategies for your lead magnet:
Test sidebar lead magnets against pop-up lead magnets
Experiment with a lead magnet graphic against a lead magnet graphic with excerpt
Test a standalone lead magnet against a bundled lead magnet
BONUS TIP: Add a lead magnet to your site's best performing pages
Sydney SEO expert Clarinda Cheon recommends researching which page is attracting the most traffic. Then adding a lead magnet to take advantage of those visitors. She explains "by finding your top pages you'll know where your lead magnets can be most effective. Use SEO driven organic traffic with timed or exit-driven pop ups to capture even more leads."
Remember, there's no right or wrong way to manage your site's lead magnets. But by testing to see what your audience prefers, you'll be able to demonstrate value and build trust.
By staying focused, being clear with your value, and experimenting with different formats, you'll start seeing your lead magnet downloads increase.
Do you have any secrets that helped supercharge your lead magnet downloads?
Let us know in the comments!
About the author
Alexander J Porter is Head of Copy for Search It Local – Sydney's digital marketing agency with bold visions.
With extensive experience as a content writer he is passionate about SEO, Conversion Rate Optimisation, and Content Marketing, and is constantly driven to explore the way language can strike consumers like lightning.'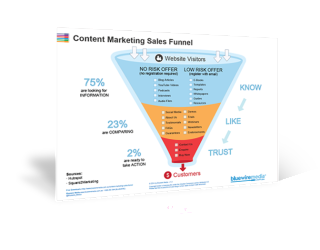 Content Marketing Sales Funnel
Your content marketing sales funnel is all about getting people to know, like and trust you by nurturing them with the right information at the right time.