[Infographic] 15 Things You Should Know Before Blogging in 2020
Blogging in 2020
Blogging as evolved quite a bit over the past 10 years, and search engines and users alike are starting to place far more value on quality long-form content.
This infographic shows just how immense the blogging landscape is, from the sheer volume of posts published every day. It shows the intricacies behind what makes for a successful article.
Blogging Infographic
Whether you're currently a blogger or marketer, or are considering starting a site of your own, this infographic will give you a good idea on the competition out there, what it takes to succeed, and the importance of blogging.
A little information can go a long way, especially for a brand new blogger.
Knowing how many words your articles should be, the benefits of having a blog, the importance of images in your content, and understanding your competition are critical to your success.

Blogging in 2020
Let us know what you think of this graphic in the comments below!
About the author
James Parsons is the Founder and CEO of Content Powered.  He is an entrepreneur, marketer, web designer, growth hacker and Apple fanboy.
When he's not writing at his blog, he's working on his next big project.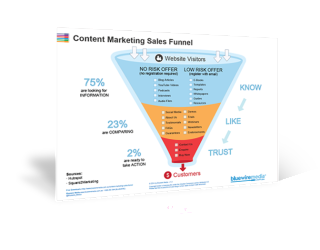 Content Marketing Sales Funnel
Your content marketing sales funnel is all about getting people to know, like and trust you by nurturing them with the right information at the right time.