How to Integrate Your Traditional and Digital Marketing Strategies
Updated on October 13th, 2019
In the digital age, we have a wealth of technology at our finger-tips, which can help to transform our marketing efforts. However, in our shift to digital marketing, many businesses appear to be leaving behind some of the more tried and tested methods.
In this article, I discuss whether we should be focussing all of our attention on newer marketing trends, or if traditional and digital marketing methods can work together effectively.
What is traditional marketing and is it still relevant?
We're all familiar with newspaper ads, TV commercials, radio advertising, direct mail, billboards, and print advertising (such as leaflets and flyers). They are marketing methods that have been around for many years and have provided businesses with excellent results.
However, just because it's an older form of marketing, this doesn't mean that it's now obsolete. Consider these pros and cons of traditional marketing techniques:
Advantages of traditional marketing
High success rate – Traditional marketing is a tried-and-tested marketing method and historically, has provided extremely beneficial results for businesses. It may therefore not be reasonable to completely remove traditional marketing techniques from your business, just because something newer has come along.
Reach a wide audience – Although you can run ads online and have a website, this doesn't mean that someone is instantly going to see them. Having a leaflet in a shop, or a billboard that people see when they are walking down the street can help you reach people that may not otherwise see you. In fact, you may even be able to reach customers who didn't even know they were interested in your business until they saw your offline advertising.
Not everyone is online – Although there are a staggering number of people online, this doesn't mean your target audience are. For example, if your product is for older generations, or perhaps retirees, traditional marketing may be able to help you reach these people better than digital marketing.
Be more personal – In some instances, offline marketing can be more personal. Of course, a billboard or leaflet is very generic, but nothing can beat a face-to-face conversation with a customer, such as at a business event, or networking evening.
Provide a lasting memory – Online, a customer can bring up your website, but a second later, close the site and move onto something else. With traditional marketing, your business doesn't just instantly disappear. A business card for example is something that a potential customer can take away with them and think about, or a leaflet can be stored away until a later point.
Disadvantages of traditional marketing
Not targeted – If you want to reach a specific audience, this can sometimes be difficult to do via traditional marketing methods. For example, if you put an ad in a magazine, you can't guarantee who reads the magazine and therefore whether your ad is getting in front of the right or wrong audience. This is especially hard if your business has quite a niche customer base.
Can be expensive – Traditional marketing is known to be quite expensive, especially if you are advertising to a large market. A TV ad for example can cost anywhere from thousands to millions, depending on its reach. Direct mail can also be expensive, as you not only have design costs, but also have print costs as well as expenses for postage. Although larger businesses may be able to afford this, it can be difficult for smaller businesses, who will have much smaller marketing budgets.
Difficult to track – When it comes to putting an advert in a newspaper, you may be able to know how many people bought the newspaper, but it's impossible to tell how many people actually read your ad. This is the same for other marketing methods such as billboards and TV ads.
What is digital marketing and how is it impacting businesses?
As technology develops, there are an increasing number of digital marketing methods to use. Not long ago, websites were the exciting new phenomenon, but we now have emails, online ads, social media, blogs, search engine optimisation and much more.
Image Source: Twitter
However, as with traditional marketing, there are a number of pros and cons to consider:
Advantages of digital marketing
Up-to-date – In a fast-paced world, information can easily change. With traditional marketing, such as a flyer, information can become incorrect, unless the business pays for leaflets to be recreated, reprinted, and redistributed. The great thing about digital marketing is that marketers can be much more reactive, and can update information easily and instantly, for little or no cost.
Reach a wider audience – Digital marketing helps businesses reach a much wider pool of people, from all around the world.
Easily accessible – With traditional marketing such as TV ads, billboards or leaflets, smaller businesses may not have the expertise or budget to carry these out. However, with technology becoming even more accessible and easy to use, any marketer, with any budget can use it. This can help to level the playing field slightly between large corporations and SMBs.
Measurable results – Through digital marketing methods, it becomes much easier to track results. For example, you can see the type of people that engaged with your content on social media, see how many people visited your website and even monitor how long they spent reading a specific page.
Gather data on your customers – As well as being able to track the numbers, you also have a lot of useful data at your fingertips. For example, on social media, you can find out much more about your followers, such as their age, gender, location, and interests. This can then help you when run future campaigns.

Image Source: Twitter Analytics
Targeted marketing – If you want to reach a specific audience, then it's easy to do. Facebook advertising for example allows you to send messages to very broad, or very specific target groups. However, you can also take this one step further. Instead of sending one blanket message to all of your customers, you can create multiple messages for each of your different audiences.
Image Source: Facebook Ads
Not as intrusive – Instead of having a leaflet just turn up at your house, sites such as Twitter are much less intrusive. The consumer can decide whether they see your posts. If they get annoyed with your content, they can choose to unfollow you.
Two-way conversation – With a billboard or TV ad, you are just shouting out your message to consumers. However, with digital marketing, you can create a two-way conversation. This can help you build a relationship with them, get their feedback instantly and understand them better.
Disadvantages of digital marketing
Can get left behind – Because of the pace that technology changes, it's easy to get left behind. If your business doesn't have a website, or isn't on all the latest social media channels, you can miss opportunities that your competitors may already be taking advantage of. It's therefore important to be aware of all the latest developments and try to keep up.
Hard to be heard – Whilst with traditional marketing you pay for a billboard where there is just one ad showing, with digital media, you have 1000's of brands shouting about their business all at the same time. There is therefore a lot of competition and it can sometimes be difficult to be heard above all the noise.
Can be time-consuming – Although digital marketing can help businesses do things that we couldn't have even dreamt of 20 years ago, it does take up a lot of time. Content needs to be created on a regular basis, customers need to be responded to throughout the day and sites must be amended regularly to ensure the most up-to-date information appears.
Open to public comment – Whilst it is good you can have a two-way conversation, this does open brands up to negative comments and criticism. For example, if a customer is unhappy with their service, they can instantly go on social media to complain, in public.
7 ways traditional and digital marketing can work together
Whilst digital marketing provides many benefits, we shouldn't completely replace more traditional methods. Instead, we should be looking at ways that we can incorporate both traditional and digital methods into the marketing mix. After all, digital and traditional methods both have pros, but also their cons. So, by using them together, you can enhance their advantages and compensate for their weaknesses.
To get started…
Here are 7 suggestions your business could consider:
If you're trying to promote your business, a product or service, you could run a printed ad in a magazine or a direct mailer. Complement this by running an email campaign using your existing email database, as well as running a competition on social media. Make sure you have a suitable SEO strategy in place too, to make it even easier for customers to find you via search engines.
Promote your digital marketing channels such as your social media accounts via all your printed collaterals, such as business cards, leaflets, and posters.
Running a TV ad to get more brand awareness? A customer may only see this for 30 seconds, but you can extend the experience by encouraging them to visit your dedicated campaign landing page. By adding a digital call-to-action, you can keep customers engaged and share additional information with them, encourage them to opt into future communications and much more.
Although there is a shift towards buying online, for some customers and some products, people may prefer to buy in-store. You could therefore run geo-targeted paid ads to help customers become aware of your store. You could even provide them with an offer that they can redeem in store, to encourage them to visit you over a near-by competitor
If you have gated content on your website, where customers need to complete a simple form, what do you do with this information afterwards? Instead of just storing this information away, you could turn to traditional marketing and get your sales team to follow up with a simple phone call.
If you're running a physical event, have you considered your digital strategy? Social media for example can help to encourage people to attend, keep people up-to-date during the event and can be a useful platform for staying in touch with connections afterwards. Some events even have Twitter walls, which show live tweets associated with the event hashtag, to encourage people to get more involved.
If you have a static billboard, why not get people engaged? For example, you could ask them to submit user-generated content, opt into your email communications, or encourage them to buy online for a special, one-time offer.
Conclusion
We hope this information has helped you to understand the key differences between traditional and digital marketing. However, we hope it has also shown how both forms are still relevant today and how they can work best when used together.
In your business, have you integrated your traditional and digital marketing strategies, or do they work separately, in silos?  Have you engaged a digital marketing consultant to run their eye over what you are doing?
We'd love to hear about your experience and any tips you might have for making them work together, to achieve the best results! Leave us a comment in the box below.
About Elizabeth
Elizabeth Harmon is a Social Media Consultant with a number of years' experience in the field. She has worked with a growing list of clients around the world, helping to build successful social media strategies, create effective content and much more. Follow her on Twitter @Liz_Harmon.
Bonus 33 Free Templates
Download the 33 free templates from Toby and Adam's book.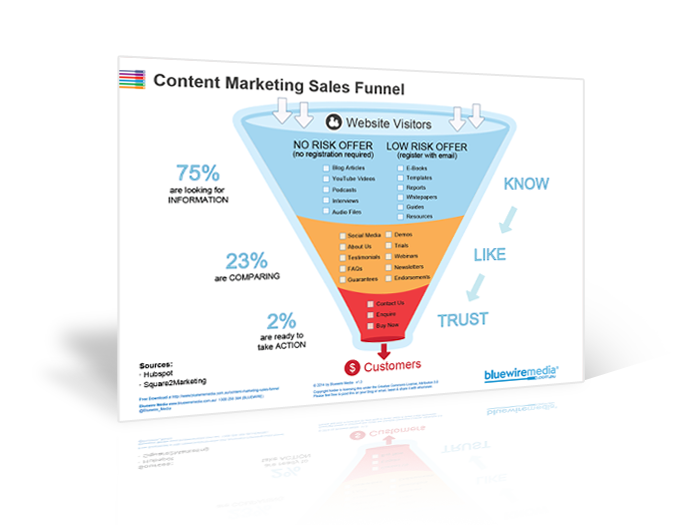 Content Marketing Sales Funnel
Your content marketing sales funnel is all about getting people to know, like and trust you by nurturing them with the right information at the right time.