5 Best Practices for Integrating UX and SEO
Integrating UX and SEO
User experience (UX) revolves around the concept of crafting a perfect experience for a website visitor. It's something that will draw them in, captivate them, and then gently coax them towards a solution, no matter their reason for being on your site.
Search engine optimization (SEO) has dominated the online marketing realm for over a decade. As Google's ever-evolving algorithms have continued to improve, the SEO community has developed more and more elaborate solutions to help websites rank on that coveted first search engine results page or SERP.
The problem is, UX and SEO are often treated as mutually exclusive yet equally important entities in a company's digital marketing strategy. However, when this happens, both tend to vie for attention and resources. Fortunately, there are many areas where the two overlap, thus allowing business owners to create a "two birds with one stone" strategy that addresses both essential items in the process.
UX and SEO: Closely Connected, Yet Inherently Different
Design, search engine marketing, and user experience are all critical modern marketing skills in the digitally-driven 21st-century. However, at first glance, they can seem to be focused on completely different things, and in some senses, they are.
On the one hand, UX — which incorporates both design and user experience skills —  is, not surprisingly, all about the user. It focuses on providing a functional, usable website that delivers an enrapturing experience for the end-user.
On the other hand, SEO is all about search engines. It obsesses over the likelihood of an end-user finding and engaging with a site via a search engine through things like page ranking and the algorithmic placement of content.
And yet, in spite of their differing audiences, both UX and SEO generally share the same goals: providing end-users with content that answers their questions, encourages their engagement, and ultimately, converts their behaviour into a revenue stream or some other objective for the website owner.
These common objectives mean there are several areas where the two website strategies can work together in a semi-reciprocal relationship.
Bringing UX and SEO Together
While user experience and SEO tend to overlap in many different ways, they don't automatically work together. Like most imbricated subjects, they require active integration on your part as the website owner to ensure that they work together to form synergistic results.
Here are 5 ways that you can impact UX and SEO at the same time to perform minimal tasks and still get the most out of your website building efforts.
1. Boost Dwell Time By Perfecting Your Content
User experience isn't just about a site's usability — it's also about dwell time — which is a critical factor for SEO as well.
Dwell time consists of the amount of time that the average person spends on each page of your website. A low dwell time means people are arriving on your site and quickly leaving without engaging with your content.
In order to increase your dwell time, you need to optimize your content for your readers. You can do this by:
Analyzing keywords, searcher language, and searcher intent from your target audience to understand what they're looking for.
Taking the time to develop genuinely authoritative, quality content that can resonate with readers and offer solutions to their problems, as well as a carefully designed website that makes navigating content easy.
Completing metadata such as meta descriptions, alt image tags, and title tags to help search engines better understand your content and include it in the correct SERPs.
Include calls to action (CTAs) that encourage readers to engage with your content and stay on your site longer.
The best part is, all of these actions can improve both your UX and your SEO at the same time.
2. Spruce Up Loading Speed and Navigation
A quarter of your website visitors will abandon your site if it takes more than 4 seconds to load. Why? Because you're providing poor user experience.
In the same vein, if a visitor is hooked by your content but has no idea how to take the next step to pursue your products or services, they'll likely become confused and look elsewhere for a solution.
Interestingly, search engines like Google look at how people use your site and factor that into how you rank in search engines. For instance, if they find that your site has a high bounce rate — that is, visitors are arriving and then leaving within seconds — it will negatively affect your SEO.
With that said, it's important that you spend time optimizing your site's loading speed and combing over your navigation. For the latter, in particular, make sure to put yourself in your customer's shoes. Tailor menus, page layouts, and content structure for your audience.
3. Encourage Sharing and Engagement
Another excellent way to hit both UX and SEO at the same time comes through sharing and engagement. If your site's content is regularly receiving traffic, getting clicks, and being shared, it reflects two things:
Your content is providing a quality user experience that encourages individuals to engage and interact.
You're receiving more traffic and backlinks as a result of sharing and engagement, both of which boost your SEO.
If you optimize your content in order to encourage readers to click through to other areas of your site, return to your site in the future, and share content with others, you can offer a consistent user experience that simultaneously boosts your SEO in the process.
As you set up strategies to encourage sharing and engagement, consider using the HEART framework and the Goals-Signals-Metrics process to measure how well your efforts are working.
4. Be Personal
Emphasizing a personal element on your site is beneficial to both your UX and your SEO. The simple act of engaging with your customers in a personal manner can help to build trust and comfort.
Along with simply being personal, you can also boost your SEO and UX through personalization, which encourages longer dwell time and perfects the content for each user. Using the 4I approach for personalization, you can:
Identify: Find essential information about your audience.
Integrate: Aggregate your data into information that can be analyzed.
Intent: Look for patterns of behavior and crucial information.
Imply: Use your gathered information to evolve your design system into a modular and component-based system that is flexible and able to adapt to shifting customer demographics and interests.
By personalizing how your site works depending on the demographic of each member of your audience, you can deliver a high-quality user experience that simultaneously increases your site's SEO effectiveness.
5. Cater to Mobile
In 2009, less than 1% of Google's search traffic came from mobile devices. In 2018 over 50% of the traffic was mobile.
The trend is clear. Mobile devices are here to stay. As such, it's important that your site is mobile-friendly, and, once again, this is a concern that can simultaneously impact your site's UX and SEO.
When it comes to SEO, if your site isn't mobile-friendly, it will genuinely hurt your search engine rankings. As far as UX is concerned, if your content can't adapt to the device that someone is using, it will naturally cause frustration.
Fortunately, you can address the issue by building your site with a responsive design format that will naturally reorient the same information in order to fit the device of the user.
Integrating UX and SEO Together
While UX and SEO have their differences, it's worth building a strategy that considers how they can work together. From mobile-friendly optimization to perfecting and personalizing content, boosting dwell time, improving page loading speeds, and encouraging engagement, there are many ways that you can address both at the same time.
In other words, it's important to build a website that cyclically:
Uses SEO to attract users.
Provides a high-quality user experience for them.
Benefits from that UX to boost SEO.
If you can manage to set this cycle into motion, you can reap the reward of proper UX and SEO in the most effective way possible.
About Frankie Wallace
Frankie Wallace is a freelance writer from the Pacific Northwest.
She writes about a variety of topics including business and marketing.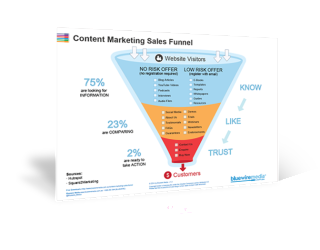 Content Marketing Sales Funnel
Your content marketing sales funnel is all about getting people to know, like and trust you by nurturing them with the right information at the right time.