Invisible Organization by Mitch Russo
Updated on October 21st, 2015
I've been reading a new book called The Invisible Organization by Mitch Russo.
I bought it recently and loved it because it shows how companies, large and small, can go 'virtual' and thrive. You learn how you can allow employees to work anywhere in the world and attract talent anywhere. In doing so you'll obliterate your overheads like rent and boost productivity by eliminating soul crushing daily commutes.
Toby and I completed our journey to being an 'invisible, virtual business' in 2013 when we finally took the plunge and relinquished our office in Brisbane. It was scary but we haven't looked back. Our team can work from wherever they like and everything we do is in the cloud.
Is this book for you….?
If you're a seasoned, but cynical CEO, skim the first few chapters as Mitch addresses your fears.
If you're starting out, follow Mitch's blueprint for creating a virtual organisation from scratch.
If you are already on the journey to going virtual, this book will accelerate your progress.
If you're employed and want to educate your boss about the virtues of going virtual, this book is your ticket!
The Invisible Organization: How Ingenious CEOs are Creating Thriving, Virtual Companies.
Download Invisible Organization on Kindle.
Some of the software and tools mentioned:
Dropbox — file storage in the cloud
Google Drive — for all your Docs, spreadsheets etc
Infusionsoft — CRM (customer relationship manager)
TimeTrade — for booking appointments. We use ScheduleOnce.com
My favourite part is chapter 8 on Marketing Strategies
Some tips:
host weekly webinars to educate your clients
organise an event where you share your secrets
have a weekly "Ask the CEO" where you answer questions on a live call.
record all calls, events and webinars and package them as products or bonuses.
Favourite quote
Remember marketing is the art of building a relationship with your prospects and then your customers.
The author
Mitch Russo has worked directly as CEO with some of our virtual marketing mentors, like Jay Abraham and the late Chet Holmes.
This book is an insight into how they run their business.  I hope you like it.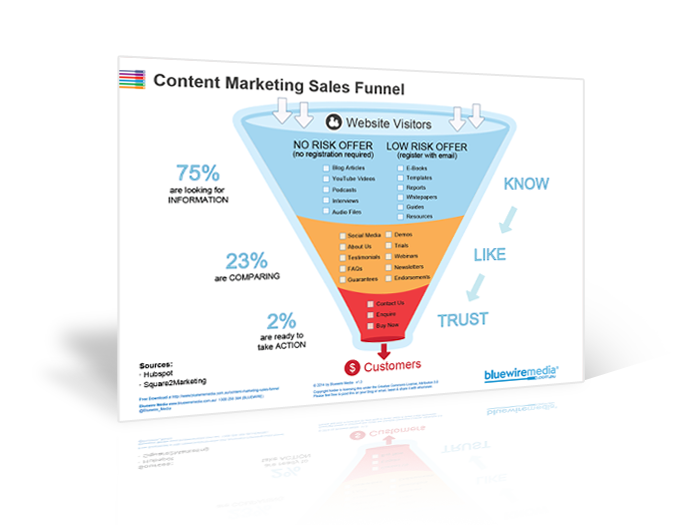 Content Marketing Sales Funnel
Your content marketing sales funnel is all about getting people to know, like and trust you by nurturing them with the right information at the right time.