Is Online Advertising Too Complicated?
This is a guest post  – Tuan Nguyen is an entrepreneur, web design, marketing and advertising expert. He founded 20dollarbanners to help thousands of people grow their business with the help of creative banner designs. Tuan is also the founder of Aplusmedia, a marketing and web development agency. 
Welcome Tuan…
Is online advertising becoming more complex every year?
Yes, it is.
In fact, advertising complexity is rising about 20 percent each year, especially among the top 10 percent of advertisers, according to Sizmek's (formerly Media Mind) study called the Complexity Index. And it doesn't look like it's going to stop anytime soon.
The complexity index is basically a holistic calculation used to measure something of a particularly large scale. In advertising terms, the complexity index shows how difficult it is to run an advertising campaign.
In recent years, online advertising has been evolving at a lightning rate, granting advertisers with an endless choice (Cost per Click (CPC), Cost per Action (CPA), Cost per Thousand Impressions (CPM), behavioral ads, contextual ads, etc.) of campaigns resulting in increased complexity.
With tons of advertising agencies and digital analytics technologies emerging every day, the number of third party tags – which are basically used to track any interactions with your ads, measure your brand's impact and also provide information that you can use to better optimize your campaign – and outgoing links have been increasing like crazy.
In just three years, the number of ads using more than one tag increased more than 3.5 times, thus increasing the overall percentage of those tags by 5% (which is huge if you consider the overall industry).
An ad tag is a piece of code inserted into the HTML of your website in the spot where you want your ad to be seen by visitors. A separate ad tag has to be created for every ad on your website. When visitors scroll by that spot, the tag retrieves the ad from the visitor's browser and brings it on their screen.
The more tags you have per ad, the more places you can put your ad. A high number of tags also make it difficult to track and measure your advertising efforts.
The number of tags was so massive, that ads featuring five or more third party tags jumped almost six times between 2011 and 2013. That's 19 times more than ads with one tag attached. Two tags per ad are already considered pretty hard, FIVE is insane.
Some of the most sophisticated advertisers have really been pushing the limits of ad complexity to provide the most targeted ads possible to their potential buyers. The study indicates that the top 10 percent of advertisers were getting very far away from the average ad complexity in the industry.
In 2010, the complexity level was four times higher than the average, leaping to almost six times higher in 2013. What's more, the complexity was high for not just one type of ad, but all of them, including text ads, banner ads, video and interactive ads, etc.
The trend still continues today and based on the study we can estimate that the complexity level is about 7.5 times higher than the average.
Understanding conversion tracking
Another key component of advertising campaigns, conversion tracking (conversion tags), is not lagging behind the alarmingly increasing numbers of tags and events tracked. Conversion tracking shows the number of tags used, combined with the number of events tracked by advertisers.
An event may refer to any action taken by a visitor to become a lead or customer like downloading an e-book or making a purchase. The number of events is set by the advertiser to track any kind of interaction with the ad like a click, form submission, email sign up, etc.
The idea of conversion tags is to combine all the data from ads to determine the real value delivered to the business.
Instead of analyzing each landing page, CTA or a purchase separately, conversion tags look at those as one big data piece to determine whether the campaign is delivering results.
While one particular email sign up or landing page submission may be irrelevant to one client, the number of CTA clicks may be what he or she is most interested in. So it makes much more sense to look at those combined together, than dig into each one's analytics separately.
The study shows that the average number of tags used, along with the average number of events tracked increased by 37 percent and 277 percent respectively, and for the top 10 percent advertisers these numbers go as high as 49 percent and, a huge, 460 percent respectively.
The scary point is, this is all just the beginning. There are a number of other factors that need to be analyzed to show the real levels of complexity of advertising campaigns, as if all of this is not bad enough.
Adding more and more sophistication and technological enhancements to your ad campaigns may seem like a good idea at first, but it might backfire if you don't stop. There is a certain point at which the time and resources invested into a digital campaign start to out weigh the benefits, and this is where everything starts falling apart.
While the "boiling point" is different for each advertiser and campaign, one thing is very clear: Advertisers have almost reached the brink with creating more and more complex ads, and need to find an alternative to avoid failure.
Ads need simplicity
But with so much time, effort and resources invested into increasing the number of tags and creating much more complex targeting technologies, is it really worth it? Does advertising have to be this complex?
Complexity of the campaign doesn't ensure happy clients, positive ROI, increased engagement or reach. A study by Forester unveiled that while 74 percent of online companies worldwide have a digital strategy, only a shocking 33 percent believe that it's a good strategy, and 21 percent – or one in four – believe they have the right people doing the job.
Technology is here to make our lives easier and online advertising shouldn't be an exception. But as time goes by, we keep getting the opposite results, having online ads soak up so much time and resources that executives are slowly getting faced with a choice between advertising and running their business.
Focus on strategy and research
Instead of focusing on the advertising algorithms and making them more and more complex, you should invest more time and resources into strategy and research. What do your consumers really want? What kind of banners will capture their attention? Where should you place the banners? Maybe they need more video content?
By answering questions like these and pushing your consumer understanding even further, you will have a much easier time of reaching out and getting them interested in your offers.
Starting from scratch
A good way to try and simplify the complexity is to put aside the reports from previous years and start from scratch every time. Consumer behavior is changing very fast – what used to work a year ago, is most probably useless now. People always want something new.
This approach will allow businesses to take their minds off the past year's budgeting and focus on what is really important: reconstructing their brand in a way that fits the ever-evolving, consumer dominated market.
New measurement metrics
Investing in discovering better measurement metrics for online ads is a solid idea to start with. Backing up the point above, advertisers are continuously lagging behind consumers, because they try to evaluate their success based on past experience.
What you need, are success metrics that give information on the spot, right there and then. If this can be achieved, there will be no need to add six or seven third party tags per ad, because you will be able to make the ads work with just one tag, using real time information.
We are living in an era where the consumers dominate the media and whether you like it or not, you have to adapt. The digital age is already here (and has been for a good 10 years now), it's time to go toe to toe with it and reconsider our advertising tactics.
About Tuan
Tuan Nguyen is an entrepreneur, web design, marketing and advertising expert. He founded 20dollarbanners to help thousands of people grow their business with the help of creative banner designs. Tuan is also the founder of Aplusmedia, a marketing and web development agency.
Bonus 33 Free Templates
Download the 33 free templates from Toby and Adam's book.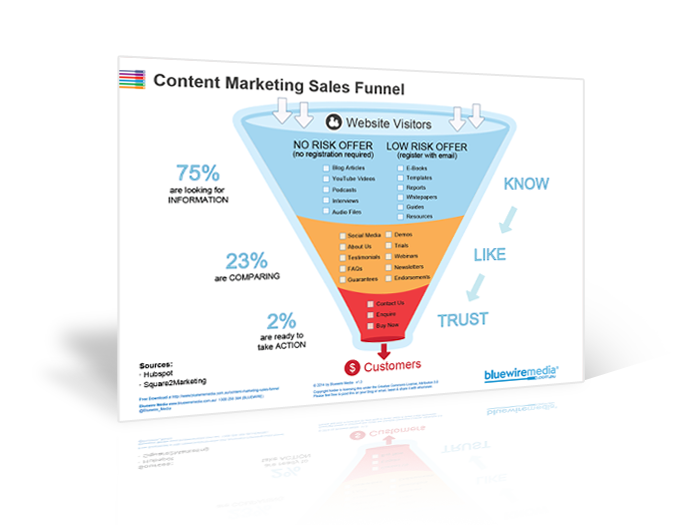 Content Marketing Sales Funnel
Your content marketing sales funnel is all about getting people to know, like and trust you by nurturing them with the right information at the right time.