WMTW 081: James Schramko from Superfast Business [podcast]
Podcast: Play in new window | Download
Subscribe: RSS
"Be customer focused and build your website around your customer." James Schramko (Tweet this)
Adam Franklin chats to James about content marketing, why it's good for traditional businesses and tips for getting started.
Show-notes:
Key points
James is owner of SuperfastBusiness and is the host of the Podcast SuperFast Business with James Schramko
Has done more than 500 podcasts including guesting and used his podcast as the main marketing instrument for his business.
Knowing the target audience and creating relevant information is the key for accelerated marketing.
Difference between content marketing an online business and a traditional corporate business:

More options online
Faster results online
Track, test and measure in real time online.

Pre-education reduces fear and anxiety.
Tips to become on top of your market

Have your own website
Proper email
Have your contact number and address on your website
Deliver quality content
People mentioned
Links mentioned
Get in touch with James
Did you like this podcast?
If you liked this podcast, please click to tweet this show >>
Subscribe
We would love you to subscribe to Web Marketing That Works and please leave your honest reviews via:
Stitcher radio
iTunes
SoundCloud
Bonus 33 Free Templates
Download the 33 free templates from our new book.
Or order the book online: Web Marketing That Works: Confessions from the Marketing Trenches (Wiley 2014).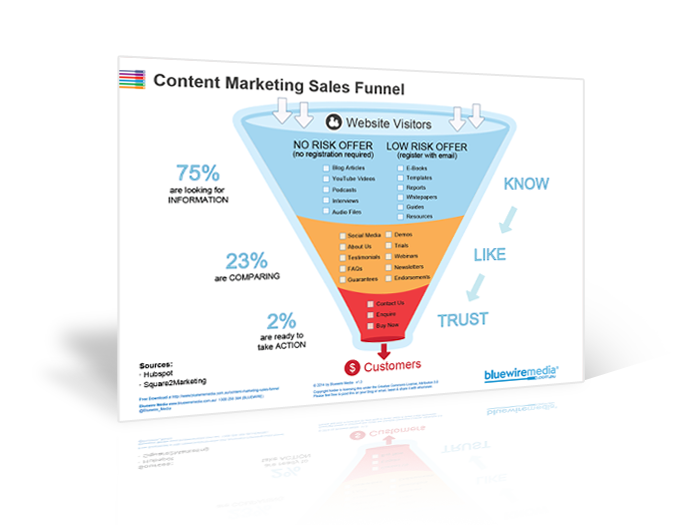 Content Marketing Sales Funnel
Your content marketing sales funnel is all about getting people to know, like and trust you by nurturing them with the right information at the right time.