WMTW 105: Josh Denning, the Tropical Entrepreneur [Podcast]
Podcast: Play in new window | Download
Subscribe: RSS
Updated on October 31st, 2015
"There's a lot of work that goes into getting ranking and growing traffic." Josh Denning (Tweet this)
In this episode I chat to Josh Denning about SEO and some of the things to look out for! Plus what you can be doing yourself as a marketer.
Show-notes:
Key points
Josh is the host of the "Tropical Entrepreneur Podcast". 
He offers SEO marketing packages to online entrepreneurs at a price that is affordable.
Collaboration is important between the company and the customer.
Use technology to leverage and gain the edge over competitors.
Basic SEO

Use an agency if you are a medium sized enterprise; build an SEO team if you are a large one.
Have a good website that loads fast
Create content that solves the client's problems
Create a good user experience

Buy a domain, build it and link it back to your site.
SEO companies "Guarantees" should be realistic.
Guaranteed no 1 ranking is a red flag.
Cheap SEO is usually a scam.
People mentioned
Links mentioned
Get in touch with Josh
Did you like this podcast?
If you liked this podcast, please click to tweet this show >>
Subscribe
We would love you to subscribe to Web Marketing That Works and please leave your honest reviews via:
Stitcher radio
iTunes
SoundCloud
Bonus 33 Free Templates
Download the 33 free templates from our new book.
Or order the book online: Web Marketing That Works: Confessions from the Marketing Trenches (Wiley 2014).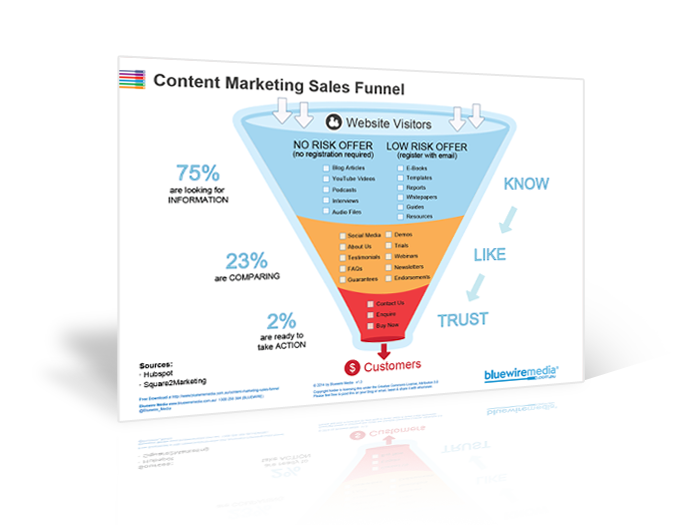 Content Marketing Sales Funnel
Your content marketing sales funnel is all about getting people to know, like and trust you by nurturing them with the right information at the right time.