Time Management and Productivity Hacks of Billionaires & Olympians [Podcast]
Podcast: Play in new window | Download
Subscribe: RSS
Updated on November 20th, 2015
"Life is about making an impact, not an income." Kevin Kruse (Tweet this)
As I mentioned in my Olympic story, I wanted to share the 2 pieces of advice that I've put into practice from Kevin Kruse's new book: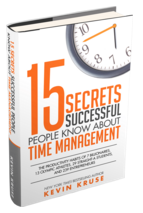 15 Secrets Successful People Know About Time Management: The Productivity Habits of 7 Billionaires, 13 Olympic Athletes, 29 Straight-A Students, and 239 Entrepreneurs (click the link to access Kevin's free book offer – you only need to pay the shipping)
These are some of my favourite topics, so I was stoked to be included in the book.
My favourite, counterintuitive tip in the book came from the legendary former CEO of Intel, Andy Groves:
"There will always be more to do, always more that should be done and always more than can be done."
In other words, work will never stop unless I make the decision to stop, to organise and to prioritise not just my work tasks, but my personal time too – like spending time with my wife Luce and daughter Bea, exercise, learning and downtime.
The other piece of advice that I've really put into practice since reading the book is this:
"Plan your work, then work your plan."
This was the kick I needed to get organised and it's already made this week one of my most productive in a long time!
So I asked Kevin to come on our podcast. It was awesome. We spent an hour diving deep into the key lessons he learned in his research including:

His favourite productivity tip of them all and which ones he's put into practice

Why to do lists are ineffective and what the top performers do instead

How to use death as a motivating and guiding force

and of course a whole lot more.
If this tickles your fancy (like it does for me), then I'd love you to check out the podcast.
Kevin Kruse's bio:
Inc 500 serial entrepreneur
New York Times bestselling author
Top 100 Business Thought Leader by Trust Across America
Over the last 20 years Kevin has started or co-founded several multi-million dollar companies which have won awards for both fast growth as well as employee engagement
Kevin has worked with Fortune 500 CEOs, startup founders, US Marine Corps officers and non-profit leaders
Show-notes:
Key points
Marketing your business with books
Why a book that took him 3 days to write has far outperformed one that took him a year!
Latest project: time management and extreme productivity hacks where he interviewed billionaires, entrepreneurs, olympic athletes and straight 'A' students
How to use the prospect of death to drive productivity
Why "to-do lists" are so ineffective
Counter intuitive advice from Intel's founding CEO Andy Groves
And much more…
Links mentioned
Get in touch with Kevin
Did you like this podcast?
If you liked this podcast, please click to tweet this show >>
Subscribe
We would love you to subscribe to Web Marketing That Works and please leave your honest reviews via:
Stitcher radio 
iTunes
SoundCloud
Bonus 33 Free Templates
Download the 33 free templates from our new book.
Or order the book online: Web Marketing That Works: Confessions from the Marketing Trenches (Wiley 2014).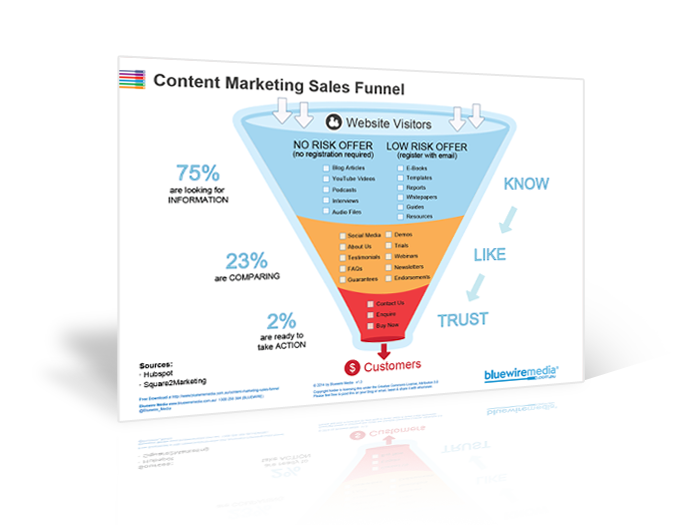 Content Marketing Sales Funnel
Your content marketing sales funnel is all about getting people to know, like and trust you by nurturing them with the right information at the right time.