Kicking business goals with Google Maps
Updated on February 29th, 2020
A free company listing on Google Maps can be a great way to fast track your business to the first page of Google.
Just as you used to let your fingers do the walking with Yellow Pages in the years B.G. (before Google), most people these days go directly to the ubiquitous search bar & type in their query + their location.
eg. If you're sick, you might search:  doctors clayfield
eg. If you're going to dinner:  steak restaurant brisbane
eg. When its tax time: accountant gold coast
Google Maps search results
When these terms are searched, Google will list local business results first (above the organic results).  In fact
SEO experts
like Reload Media's Llew Jury estimate it's probably 50:50 in terms of people going off local business results or organic results.
Firstly, go to
Google Maps
and click
put your business on Google Maps
.    You'll have to login to your Google account (or
set one up for free
if you don't have one). If you have multiple stores, you can add a different listing for each location.  It will be fairly straight forward from there but below are a couple of tips.
Tip 1: After your business name, add what you do & your location. This will help you appear for the best keywords.
eg.  Handwash Cafe – Car Wash Brisbane
eg.  Smile Artistry – Cosmetic Dentist Brisbane
Tip 2: Add up to five (5) custom categories to your listing that are relevant to your business
eg. If you are a GP, you could add:
General Practice Brisbane
GP Brisbane
Doctors Brisbane
Surgery Brisbane
Medical Centre Brisbane
[NB.  If it's appropriate, you can be more specific and use suburbs rather than a city when targeting geographical areas.]
Tip 3: Add photos, videos & invite people to leave reviews.  You will have a more compelling listing, if people can see a photo of your office or watch a video about your company.
Like many of Google's products, this service is completely free & easy.  Here's a video that Google made to show you how to do it.
Web Design Brisbane:
For further advice on SEO or web strategy contact Bluewire Media on 1300 258 394.  Good luck!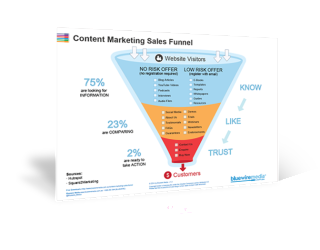 Content Marketing Sales Funnel
Your content marketing sales funnel is all about getting people to know, like and trust you by nurturing them with the right information at the right time.