LinkedIn Accelerator workshop overview [video #16]
Updated on December 1st, 2021
[Ithaca Pool, Paddington, Queensland, Australia]
My LinkedIn workshops are coming to cities around Australia. Here's what to expect.
VIDEO
TRANSCRIPT
Hey guys, it's Adam Franklin and today I just want to talk you through what I'm going to be covering in my LinkedIn accelerator events. Now I'm going to be running them in person over in Perth and also down in South Australia in Adelaide and Port Lincoln. I'm also actually going to do an online version of it, so it'll be a two to two, and a half hours Zoom workshop, the same content, the same activities, but delivered online so that people in other states or countries can participate as well. So what I like to do in my LinkedIn accelerator, there's really not only show attendees the high level power of it, and in a nutshell, you've got all these decision makers and business owners and professionals and virtually everybody in your target market, particularly if you're a B to B business owner. You've got all these people on LinkedIn and I show you how to identify them, how to reach out to them, how to nurture people from being a contact all the way through to being a high value client.
By the end of the day, you'll have an action plan to actually grow your pipeline of opportunities so that you can work your way through nurturing those people and closing those deals in the next 90 days. Those that like it, there is always the option of joining my coaching programme at the end of it, or even my online course or courses. But the key focus of the day is to walk away with an action plan, to know how to use the tools, to follow my scripts and processes and see examples of other people just like you who have achieved success with LinkedIn. And do it, and who have done it in a way that sits comfortably with them and it's elegant. So if that sounds like you, let me know in the comments and I'll send you more information. Cheers.
100 videos in 100 days. Want more?
This is part of my 100 videos in 100 days challenge.
For all my videos, join my Facebook page
For more videos and tip, let's connect on LinkedIn:
Or subscribe via my website and download my popular Web Strategy Planning Template.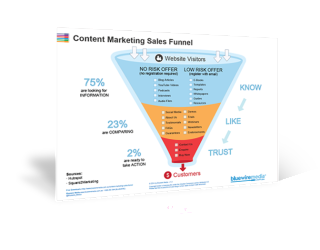 Content Marketing Sales Funnel
Your content marketing sales funnel is all about getting people to know, like and trust you by nurturing them with the right information at the right time.