The Truth About Your LinkedIn SSI Score
Updated on September 3rd, 2019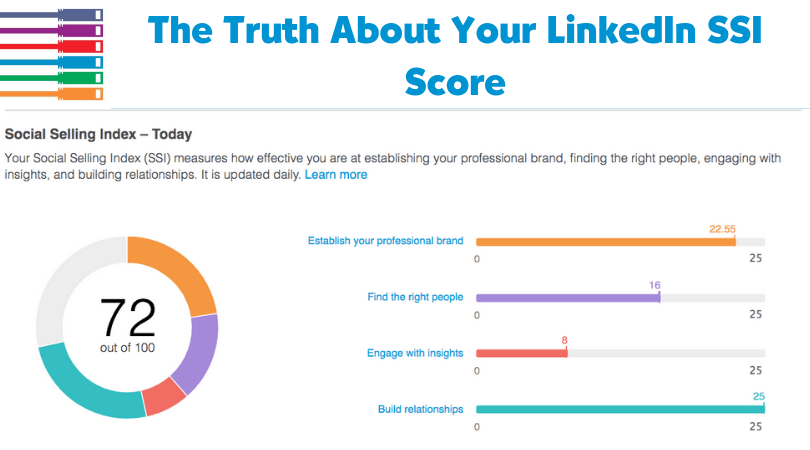 Last post I shared my personal LinkedIn score of 72 and you got to calculate your own, using the LinkedIn Social Selling Index SSI
We had some interesting chats when you wrote back to share your score with me, thanks.
It was a fun exercise and it is a useful tool because it brings our attention to how we could be more effective on LinkedIn.
That said, the truth of the matter is that it's also a tool to promote their paid Sales Navigator product, so I'm a little sceptical whether you could reach 100/100 without paying for it..!
Even so, it is a tool that I will be revisiting it weekly to see where I can improve.
It re-enforced to me again, that "knowing" Linked is not the same as "doing" LinkedIn, properly.
It's a bit like exercise for me.
I pretty much know exactly what I should be doing (running, swimming, sit ups etc) and I possess the skills, but if I am not deliberate about it, it often doesn't happen.
Once I'm in the routine, it's all good, but it often requires a push to get started, a plan of attack, and some coaching.
The good news, as you know, is you can acquire the LinkedIn "skills" in less a week.
After that, you only need 10 minutes per day to implement your daily plan of attack. Simply put it in your calendar and apply your new skill — and stick to the plan.
A simple 10 minute plan of attack with a "batched" approach would look like this:
Day 1: Connect
Day 2: Message (DMs)
Day 3: Comment
Day 4: Reply
Day 5: Publish
Notice how almost all of these activities can allow you to be "under the radar" rather than "put yourself out there" publicly.
Being effective on LinkedIn doesn't have to mean publishing heaps of content — but it will require you to build a network, gradually nurture relationships and to get into a routine.
I'm here to help when you need me!
MY MARKETING METHODOLOGY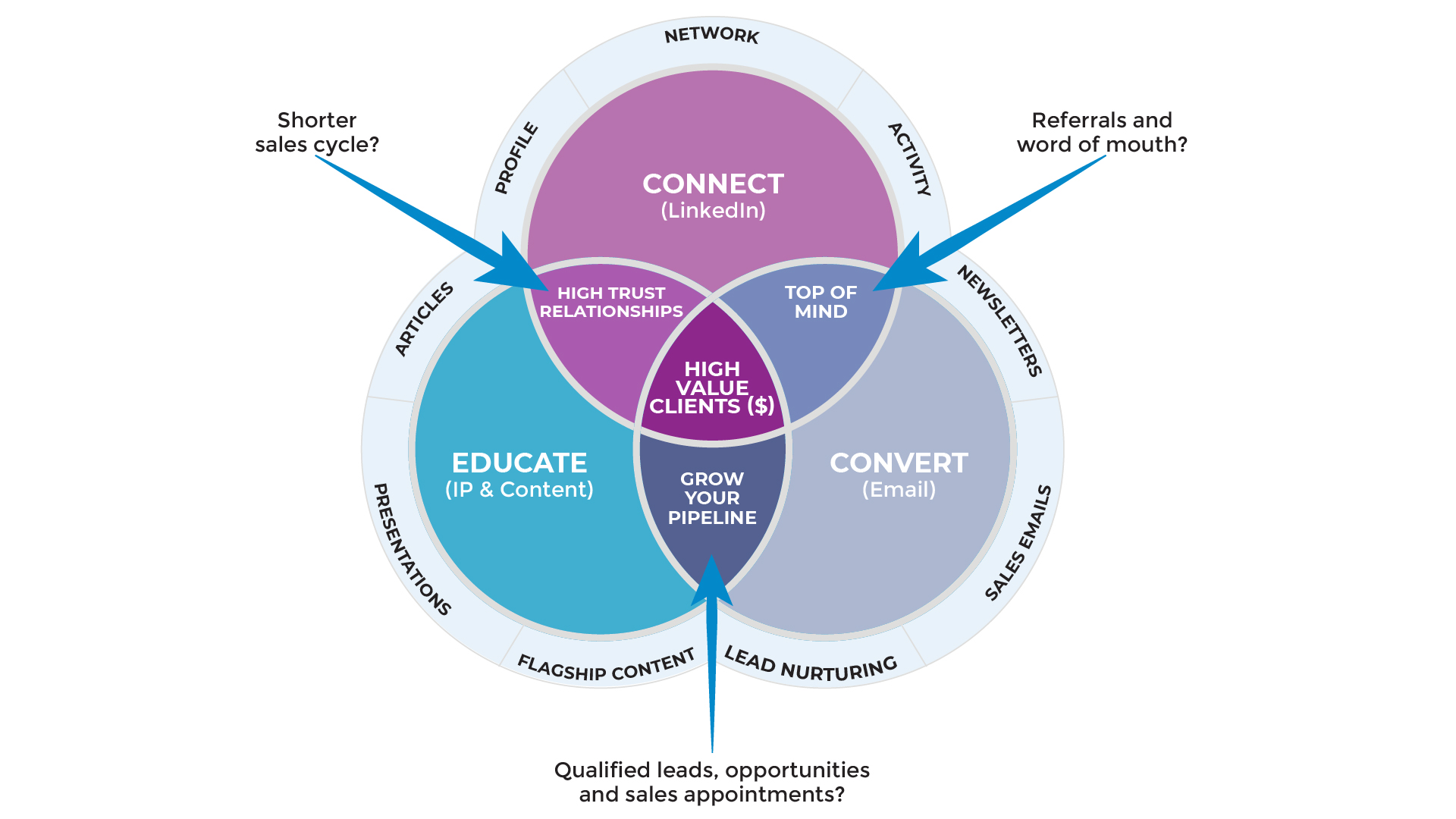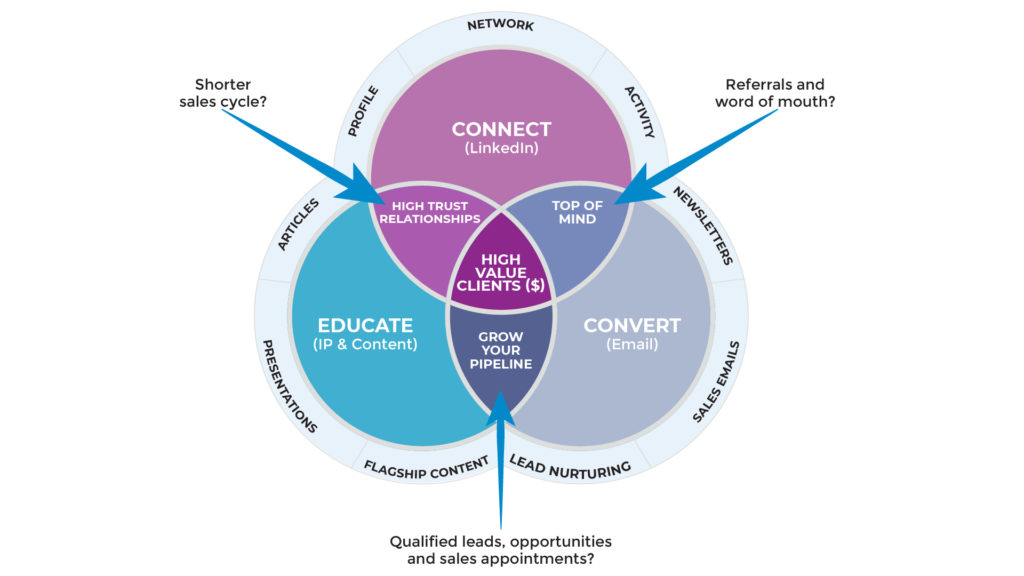 PS. When you're ready, here are 6 ways we help
consultants & advisors

grow:

1. Web Strategy Planning Template (PDF). Our flagship 1-page tool we co-created with David Meerman Scott. It's been downloaded over 1 million times and featured on Forbes.

2. Read a free chapter from our book. Web Marketing That Works --- an Amazon #1 best seller.

3. Join the private group on Facebook. Access free training resources, and hang out with 2,300+ peers.

4. Discover your marketing score. Take the 40 point Marketing Scorecard (in < 6mins) and get a customised report.

5. DIY for $7. Get the Complete 50+ Script Library for connecting with people to winning clients.

6. Let's brainstorm how to fill your marketing funnel.

DM the word "INTERESTED"

via Messenger

 or 

book a 20 min slot to talk

 on Zoom.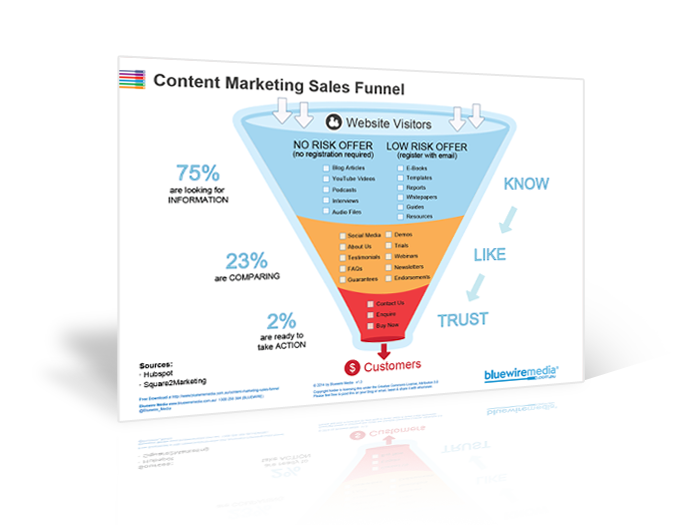 Content Marketing Sales Funnel
Your content marketing sales funnel is all about getting people to know, like and trust you by nurturing them with the right information at the right time.