Is LinkedIn's organic reach declining? [#34]
Updated on May 4th, 2019
[Eagle Bay, Margaret River, Western Australia]
A question I've been asked lately is: "Is LinkedIn's organic reach decreasing?"
Here is my response:
VIDEO
TRANSCRIPT
G'day. It's Adam Franklin here in the Margaret River at a place called Eagle Bay.
Now, the question that I'm going to talk about today is really to … Well, the question is, is LinkedIn decreasing its organic reach with the videos? Now I have read a few reports suggesting this. I've seen evidence on some of my videos that this is the case, but I have, of course, over the 18 months or so of doing LinkedIn videos seen some perform really well, like hundreds of thousands of views and thousands of comments, and others with a few thousand views and maybe just a few dozen comments. And in the past, I've always thought it's not so much algorithm, it's more about the offer and the content in the video. But that said, maybe the organic reach is dropping a little bit. I'll probably have more of my own, I guess, evidence, or my own anecdotal feedback on that soon.
But even if it is a decrease in reach with the algorithm, it doesn't really matter so much. I still think it's important … It's still important to remember the fundamental things which is have insightful videos, share what you … Share your take on things, have a generous offer, and just keep top of mind and stay in contact with your network. And if LinkedIn does decrease the reach a little bit, doesn't really matter because that's outside our control. What we can control is sharing interesting stuff and useful stuff with our network and staying top of mind.
So that's it for me. I would love to hear what you think in the comments, take care. Talk to you in the next video. Bye.
100 videos in 100 days. Want more?
This is part of my 100 videos in 100 days challenge.
For all my videos, join my Facebook page
For more videos and tip, let's connect on LinkedIn:
Or subscribe via my website and download my popular Web Strategy Planning Template.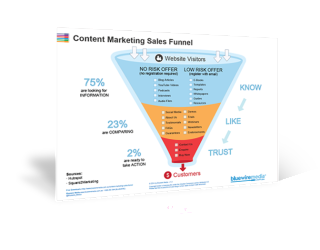 Content Marketing Sales Funnel
Your content marketing sales funnel is all about getting people to know, like and trust you by nurturing them with the right information at the right time.