The magic of marketing templates
Here is an excerpt on the magic of marketing templates from the Productivity Success Summit hosted by Liam Austin.
Transcript
The other thing to keep in mind is that because we've tested so many different things, like I've written hundred of blog articles and have subsequently released dozen of templates and I just find that they templates work so well. And you know a blog post takes a fair while to create and people have got to click on it and get to the bottom of it and follow call to action to download something.
What I've found with marketing templates is that because people are in a active frame of mind, if they're looking for a template, they're looking for something they can download and hopefully put into practise and take action on.
What we've found is that people are finding it directly on Google and there's a much higher conversion rate because they're in the active searching frame of mind as opposed to when they're reading a blog or browsing Facebook, when they're much more passive but is consuming information and something takes their fancy maybe they'll click on it, maybe they'll download it. In Google, people are searching, they're looking for stuff.
We've found basically if we can create something first thing valuable, secondly that really helps the your prospect or helps your buyer solve the problem or help them achieve a goal and that it's very approachable, concise, consumable. The name of the game is to help somebody get a little victory. Taking that first baby step of their journey.
How do we actually do that?
What we've found is that keyword research can be very specific, and effective. What you can actually do is look to see what key word phrases people are searching for so you know there's some demand. That you can create content, you can create pages that not only deliver people what they want but gets indexed in Google when people are typing in popular search phrases.
Download our 33 free marketing templates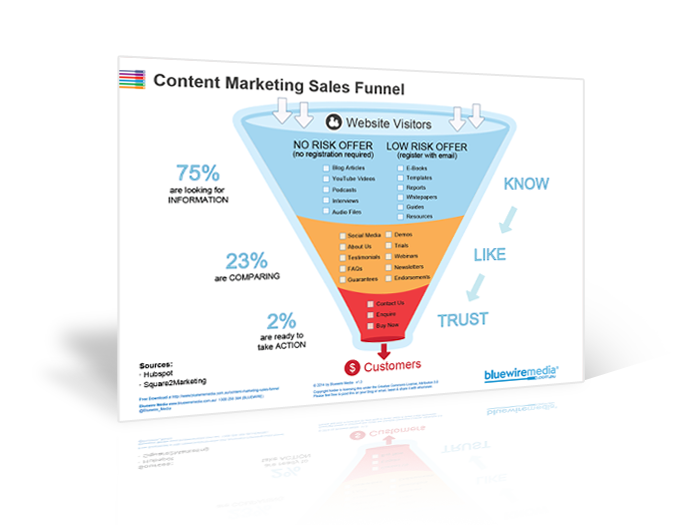 Content Marketing Sales Funnel
Your content marketing sales funnel is all about getting people to know, like and trust you by nurturing them with the right information at the right time.