Marc Lehmann Interview – How Saasu use the web for their business
Updated on December 3rd, 2019
Marc Lehmann – Saasu insights.
Over the last few years, we've moved our business tools away from software and increasingly into the cloud.
I love the idea of the cloud:
accessing information from anywhere
allowing our workforce to be mobile
all the data backed up.
The ease of use and simplicity of design that typifies these applications is the icing on the cake. As is the ability to share data across them.
The search and constant involvement with the web eventually lead us to discovering Saasu which we now use as our web based accounting tool, along with a bunch of others. Since they are a web based application business themselves, I was intrigued to find out more about how else they use the web in their business.
Marc Lehmann is the CEO and founder of Saasu
He was kind enough to share some insights here that might help you to use the web and the tools available. (transcript below)
Marc Lehmann (Saasu) Transcript:
We've always looked at the web as a very leveraged environment. You can have one relationship with someone on line, but in effect you have a second degree of separation relationship with all of the other people behind that person as well. If you look after one person well, in an online way, then all of the other people start becoming potential candidates to look at your product.

We've always looked at it like that – it's a knock on effect. How many people can you influence and keep happy in a close sense? Then the people behind them starting hearing about you from them. So they become your sales team. People call it word of web, word of mouth, but for us we look at it like there are relationships there that we have online.

We do a limited amount of email because we don't want to burn people's attention. We don't want to constantly send emails out, 1or 2 every few days, like a lot of accounting products do, but people's attention starts to fall off. It might be important for the software company to send them those emails, but for them, their important thing is getting products sold and they don't want us harassing them every 5 minutes.

We spend more time trying to find content for our blog, and when we do an email, it's really relevant to creating time savings for the business owner. We'll do an email out when we have a feature like automated statements being realised because we know that's a job that someone has to do every month. Always make the content really high quality. Same goes for our approach with Facebook and Twitter and all the other mechanisms – we're very careful about how we use people's attention.
Community
We spend a lot of time in community, business related events, accounting related events and tech events. We find that's a great way to meet people and when you've met someone, the marketing power is an order of magnitude higher.

[Side note: Keith Ferrazzi definitely agrees]

If they know you they are so much more likely to talk about you. And it helps scale too because they are digitally connected. They'll talk about us and generate that organic growth that we're after. And that's just us spending our time and money on building our product not on marketing and the old economy ways of doing it.
Recruitment
We use a product called Grad Connection for recruiting graduates. It's more of a dating service for recruitment where you find out what the grad is looking for in a company and we get to look at what we need. We mightn't want a graduate that doesn't have a blog – we want everyone to be a blogger!

Then we use Campaign Monitor and Marketo for email marketing. And lots of great products out there – LinkedIn, Facebook and so on. And everything we do is pretty much online. We don't really buy software, we just use online applications. Store our data in quite a few different locations in the US, Asia and Australia. That's how you create safety in the cloud as we call it. Go with providers/web applications that do that. We spend very little money around maintaining our business around what applications we use, it's really about picking the right application and spending the time researching the one you're after. When we were investigating email systems, we spent a lot of time looking around.

Occasionally you have to buy a bit of software because not everything has been webified yet. We still use Microsoft Excel and Microsoft have some great products. We use Apple computers in our business – it's probably 50/50. There are dozens of tech related ones we use.
Thanks Marc Lehmann.
MARKETING METHODOLOGY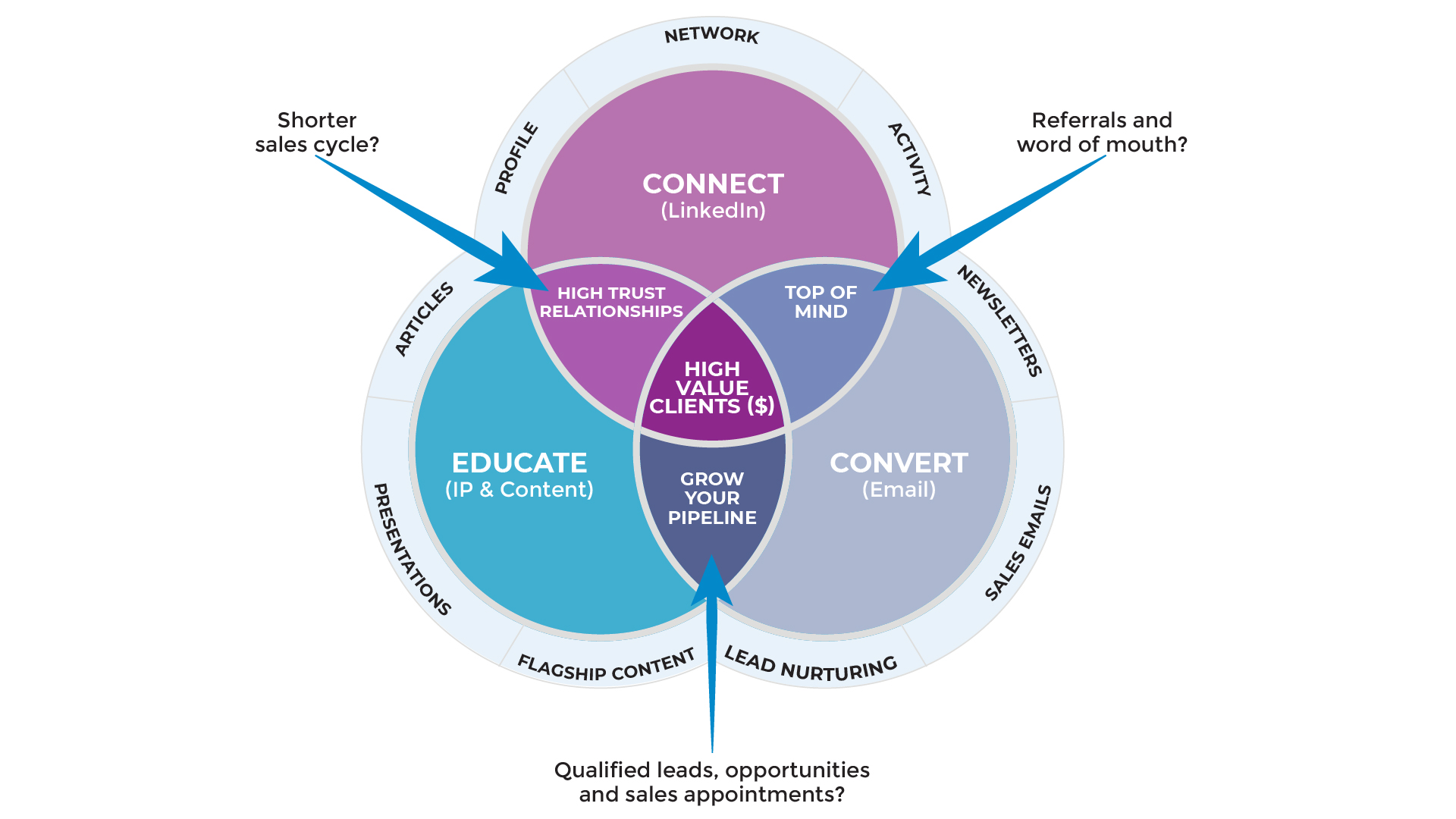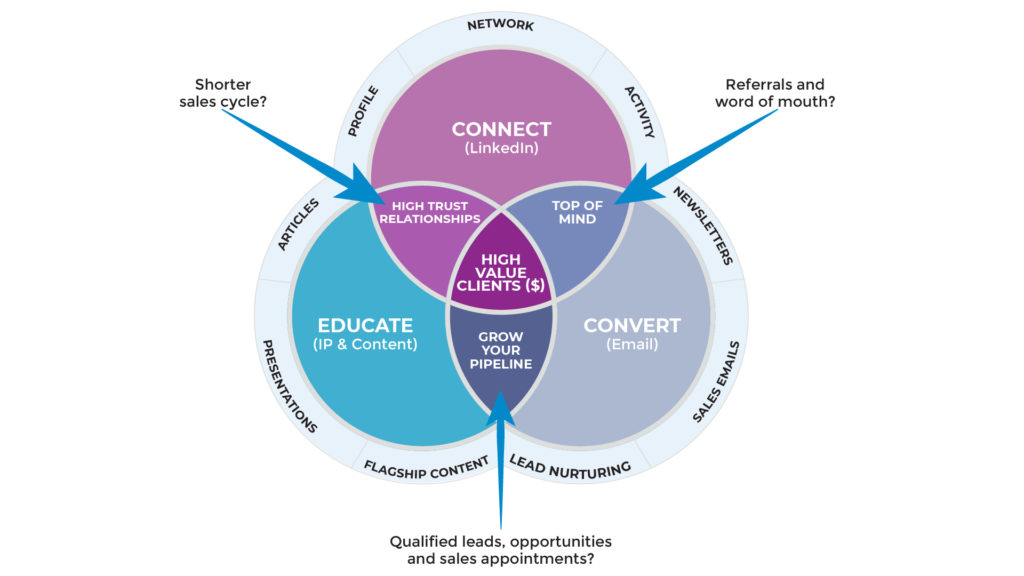 PS. When you're ready, here are 6 ways we help
consultants & advisors

grow:

1. Web Strategy Planning Template (PDF). Our flagship 1-page tool we co-created with David Meerman Scott. It's been downloaded over 1 million times and featured on Forbes.

2. Read a free chapter from our book. Web Marketing That Works --- an Amazon #1 best seller.

3. Join the private group on Facebook. Access free training resources, and hang out with 2,300+ peers.

4. Discover your marketing score. Take the 40 point Marketing Scorecard (in < 6mins) and get a customised report.

5. DIY for $7. Get the Complete 50+ Script Library for connecting with people to winning clients.

6. Let's brainstorm how to fill your marketing funnel.

DM the word "INTERESTED"

via Messenger

 or 

book a 20 min slot to talk

 on Zoom.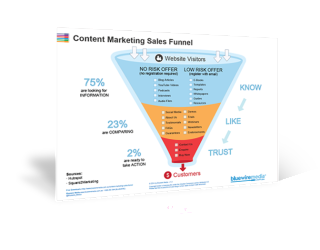 Content Marketing Sales Funnel
Your content marketing sales funnel is all about getting people to know, like and trust you by nurturing them with the right information at the right time.