Marketing experiments: Email Subject Lines That Get Opened
Updated on September 12th, 2019
Since I began sending weekly Bluewire News emails at the start of the year, I've been experimenting with 'Subject Lines' and 'From Names' to see what gets the best open rates.
I usually run each of the A/B tests on a sample size of about 1,000 contacts each, for between 1-2 hours, and then send the 'winner' to the remainder of the database.
Here's what I've learnt from the A/B split testing I've conducted.
Test 1: From Name
Version A:  Adam Franklin & Toby Jenkins
Version B:  Bluewire Media
The winner:  Version B by 10.3% 6.9% and 31.4%
The first time I did this I got the unexpected result of the company name outperforming our personal names by 10.3%.
Just in case this was an aberration I re-tested in subsequent weeks and 'Bluewire Media' won again (by 6.9%) and again (by 31.4%).
Whilst this was an ego-shattering result for Toby and me, this was a good sign for the business as more people are familiar with the company name rather than its founders.
When I tested this assumption back in 2006, the results were well and truly in favour of leaving our personal names in the 'From Name'.  This makes sense since Bluewire Media was just starting out (and hence unknown) and our database was pretty much all our friends (who knew us).
Test 2: CAPITALS vs Normal case
Version A: Bluewire News – Most popular e-book, content marketing tips & Twitter guide
Version B: BLUEWIRE NEWS – Most popular e-book, content marketing tips & Twitter guide
Winner: Version B by 13%.  This doesn't surprise me since the title stands out clearly on the subject line.
Test 3: Follow up send subject line
Version A: Bluewire News on Sunday | Why telling stories is important + marketing e-book + more social media training
Version B: Did you miss Feb's Bluewire News…? [inbound marketing e-book + social media training]
Winner: Version A by 20.8%.  The reason for this result is that Version A uses a subject line that sounds fresh and specific to that day. Version B on the other hand sounds like it is just an old email that has been re-sent.  Of course it is the same email that was send earlier in the week, but only to people who did not open the first one.
Test 4: INVITE on the Subject Line
Version A: INVITE: LinkedIn Masterclass – Early bird tickets close at 6pm today (Tues 19th March)
Version B: LinkedIn Masterclass Early bird tickets close at 6pm today (Tues 19th March)
Winner: Version A by 27%.   This doesn't surprise me since it states clearly what the email is about and the word INVITE stands out in the subject.
A Fantastic Subject Line Collection
Our friends at SendX have put together this comprehensive collection of email subject lines for you to try. I'd bookmark this post!
Email Subject Lines: 295+ Best Performing (The Biggest Swipe File On The Internet) [Updated 2019].
Coming soon
At the recent National Growth Summit Dan Pink suggested that the two types of email subject lines that got the best open rates either:
1. directly affected the person's work (Utility), or
2. had moderate levels of uncertainty and intrigue (Curiosity)
I will test these claims out and report back with the results of my marketing experiments!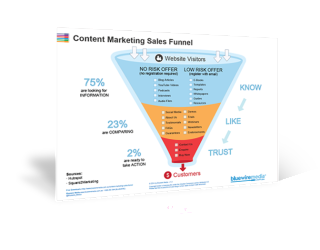 Content Marketing Sales Funnel
Your content marketing sales funnel is all about getting people to know, like and trust you by nurturing them with the right information at the right time.