Marketing Tips for 2018
My first video for the New Year has just had 4,000 views and 100+ comments on LinkedIn alone. I shot it here in Bondi last week and I shared my marketing tips for 2018.
(The great thing about these 4k+ views and 100+ comments is that 80% have come from people in my 2nd or 3rd degree networks, meaning they are discovering our material for the first time! I encourage you to try short 3-4 minute videos on LinkedIn and Facebook.)
Click here to check out the 4 min video over on LinkedIn (or watch below).
If you're interested, type "yes" in the comments to get an advance copy of the 2018 Web Strategy Planning Template.

(*If we aren't LinkedIn connections yet, please connect with me first so I can send you the PDF).
What's new in 2018
Toby and I co-created the planning template with David Meerman Scott back in 2010, and in this revised 2018 version, we've removed Google+ and replaced it with Snapchat. We've also added new types of digital PR, like newsjacking, influencer marketing, messenger bots and more. Watch the 4 minute video for the full run down.
Upcoming events
The following workshops are lined up for February 2018. Students told us they love our 1 Day Doing Workshops because they get more done in 1 day than in the last 6 months. Get the year off to a flying start by getting your marketing implemented at our workshops.
Please click the links below to find out more and to register.
Digital Marketing 1 Day "Doing" Workshop – SYDNEY — Tue 13th Feb 2018
Social Media 1 Day "Doing" Workshop – SYDNEY — Wed 14th Feb 2018
Digital Marketing 1 Day "Doing" Workshop – BRISBANE — Wed 21st Feb 2018
Social Media 1 Day "Doing" Workshop – BRISBANE — Thurs 22nd Feb 2018
General tickets are $597 AUD inc GST but enter the promotional code "13th" to save $50. (It was Bluewire's 13th birthday last week!)
If you need to convince your boss, here are two email templates you can use to explain what you'll achieve on the day.
If you're in the Hunter Valley/Newscastle/Merewether region then this half day social media workshop on 9th Feb may be suitable too.
Please let me know if I can help with anything.
Cheers,
Adam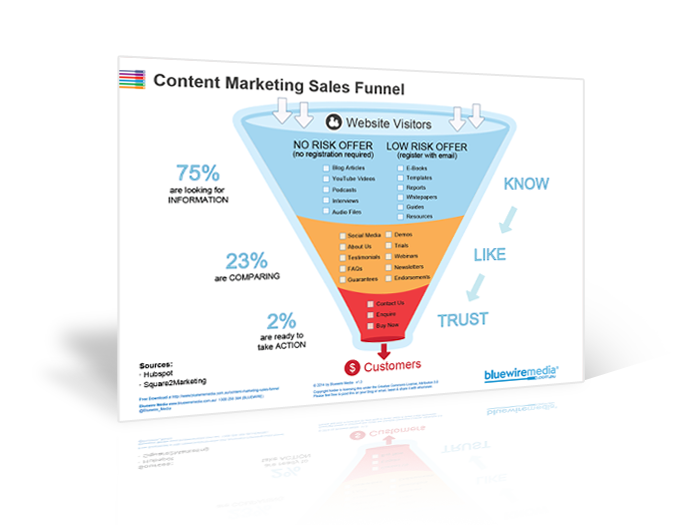 Content Marketing Sales Funnel
Your content marketing sales funnel is all about getting people to know, like and trust you by nurturing them with the right information at the right time.