My 2 favourite SEO Tools [video #18]
Updated on May 30th, 2019
My two favourite SEO tools are:
1. Keyword research — Ubersuggest.
2. Backlink checking — Moz Link Explorer;
VIDEO
TRANSCRIPT
Good day, it's Adam Franklin here and this is my dog Bella. So look today I want to talk you through a little bit about SEO and there's two really useful free tools that I want to share with you. But look at a high level SEO is all about your content and about the number of backlinks and the quality of those backlinks to your site.
1. Content
So let's basically talk about the content on your website. It's all about having the right keywords and understanding what keywords people are searching for so that you can actually create content based on where there's demand.
So the tool that I like to use for this is called Ubersuggest. It's a free tool, look it up and type in either keywords or, sorry topics that you specialise in and it will give you suggestions. Or just type in your domain name and it will actually give you a whole bunch of keyword suggestions based on difficulty, based on competition, all that sort of stuff.
2. Backlinks & Authority
Now the second component of SEO is the number and quality of authority links coming into your website. So there's a really great tool that I've been using for a long time. It's called Moz and it tells you how many links you've got pointing to your site, the authority of those sites and if you want to use that tool just look up Moz Link Explorer.
And I think you might have to register for free to use it, but once you've got it you can then find out the domain authority, the pages that are attracting the most links and all sorts of useful data.
So to recap Ubersuggest and Moz Link Explorer, that will tell you the keywords you want to be including in your content and giving you suggestions. And secondly Moz Link Explorer will tell you the quality and volume of links you've got coming into your site.
So right that's it from me and Bella down here and we'll see you on the next video. Take care.
Related sites:
For dog lovers:
For SEO lovers:
My friend Jim Stewart is a brilliant SEO speaker whom I highly recommend.
100 videos in 100 days. Want more?
This is part of my 100 videos in 100 days challenge.
For all my videos, join my Facebook page
For more videos and tip, let's connect on LinkedIn:
Or subscribe via my website and download my popular Web Strategy Planning Template.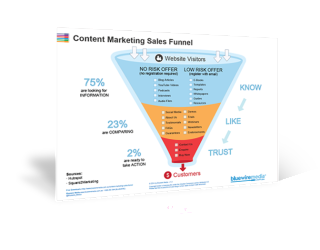 Content Marketing Sales Funnel
Your content marketing sales funnel is all about getting people to know, like and trust you by nurturing them with the right information at the right time.