Navigate the next 90 days [#125]
What consultants can do to navigate the next 90 days
[Brisbane, QLD, Australia]
VIDEO: Navigate The Next 90 Days
TRANSCRIPT: Navigate next 90 days
I've just finished recording a live stream for my Bluewire community and it's all about how to navigate the next 90 days.
As a consultant over the next 90 days, there's a lot of uncertainty but there's also a lot of things that you can be doing to lay the foundation so that you can accelerate out of the bend.
Accelerate out of the bend
Now that's a racing metaphor or racing analogy. When we hit, when we're about to approach a bend or a corner, we put on the brakes, but then once we've got control, we accelerate out of the bend. So that's what I was talking about on the Zoom session today.
A lot of us have spent the last two weeks putting on the brakes, assessing what expenditure we don't need in the business and working out a plan to accelerate once the new normal comes back.

Hat tip to Simon Bowen for his models framework
3 dangers facing consultants right now
As a consultant, there's three main dangers that I guess we need to address right now.
#1. We can't meet in person
The first is that we can't meet in person anymore. So virtual sales, marketing and delivery is something we really need to embrace quite quickly in our consulting practises, whether that's adapting to Zoom for client delivery, whether it's getting much better at phone sales instead of face to face sales, and thirdly, having a lead generation system online that we can rely on to have a steady pipeline of work.
#2. Our marketing message from a few weeks ago is off-tone
Now the second danger is that our marketing message from a couple of weeks ago is now redundant. It's on the shelf. We might use it later but right now, it feels off-tone, inappropriate and we need to tweak that so that it is actually joining, our marketing message is joining the conversations that our prospects are already having in their heads. So that's one of the big shifts we need to do and reframing that marketing so that it's aligned to what people are already thinking.
#3. Our clients are scared.
The third danger is that our clients are scared. They are fearful with all this uncertainty and so they're stalling, they're cancelling or they're ghosting on us. So what we need to do as consultants is lead the way and shift that fear into confidence and we can do that by helping our clients have a plan by having one-on-one conversations with our clients to listen to them, to understand where they're at. Then if we can help, let's provide that plan and give and also tailor our offer so that is relevant to their needs because clients do still need our help. They need it more than ever right now. If we can be the consultants that guide our clients on the journey, then we should be very capable of laying this foundation now so we can accelerate out of the bend with the new normal.
Final point: Create, don't consume
The final point is to shift the mindset from consuming all the news, all the media, all the scary stuff out there and shifting to a creation mindset. So instead of consuming content, create content, create your new… Create the world that you want. If you can do that, I think that's a very strong, stable path forward.
If you want to see the full 60-minute masterclass that I ran (register here) or I can send you a link  Take care.
MY MARKETING METHODOLOGY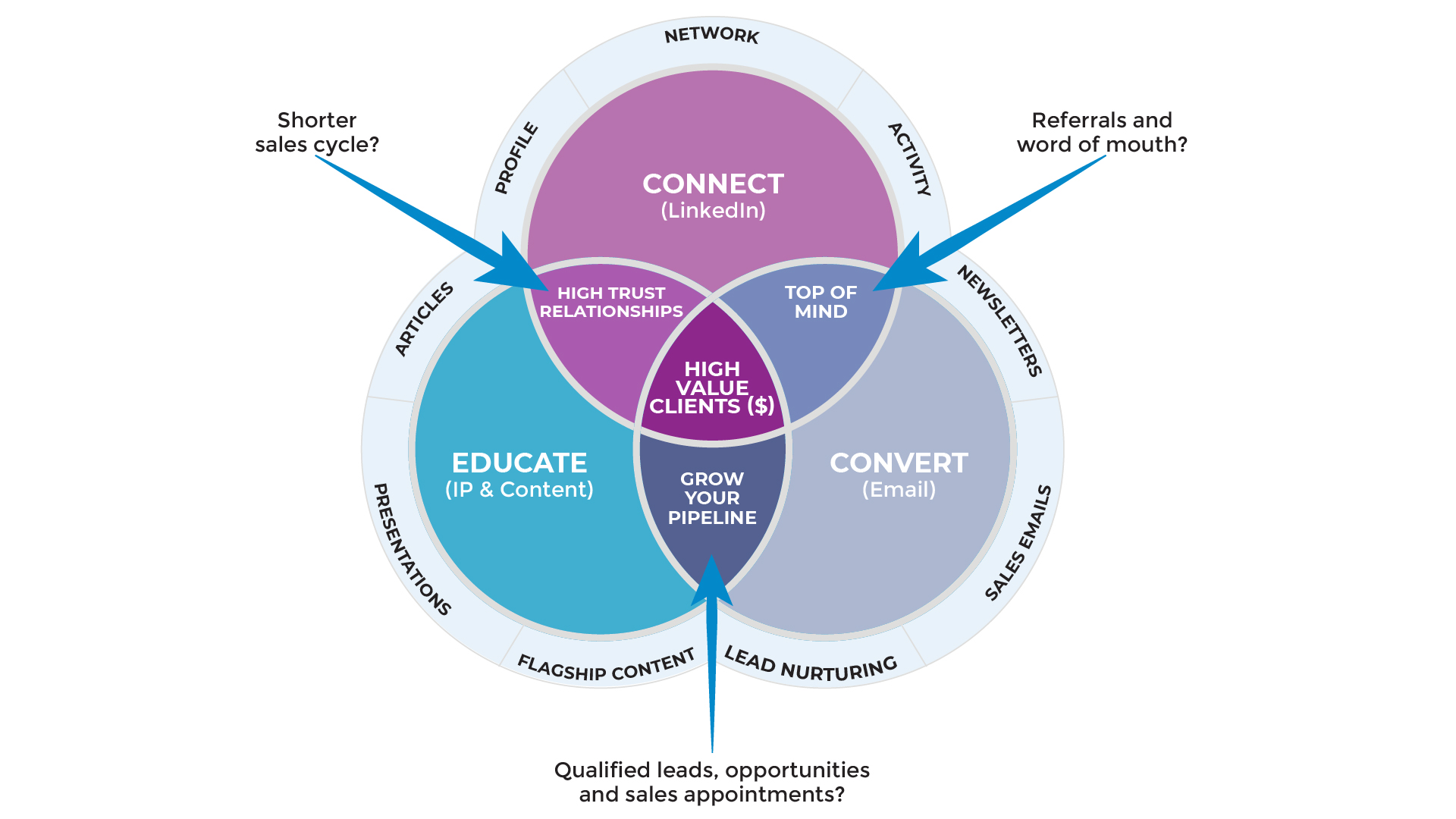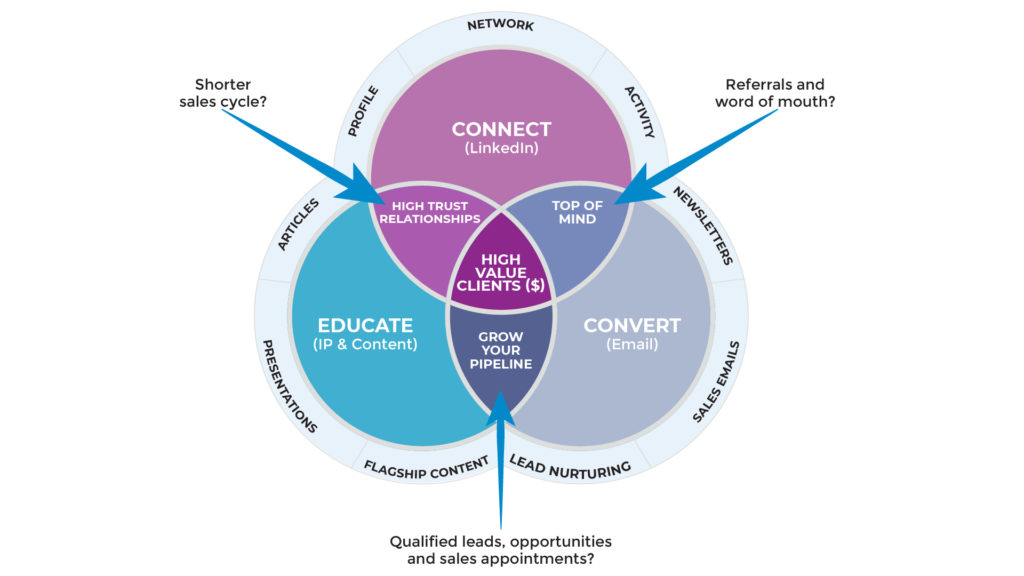 PS. When you're ready, here are 6 ways we help
consultants & advisors

grow:

1. Web Strategy Planning Template (PDF). Our flagship 1-page tool we co-created with David Meerman Scott. It's been downloaded over 1 million times and featured on Forbes.

2. Read a free chapter from our book. Web Marketing That Works --- an Amazon #1 best seller.

3. Join the private group on Facebook. Access free training resources, and hang out with 2,300+ peers.

4. Discover your marketing score. Take the 40 point Marketing Scorecard (in < 6mins) and get a customised report.

5. DIY for $7. Get the Complete 50+ Script Library for connecting with people to winning clients.

6. Let's brainstorm how to fill your marketing funnel.

DM the word "INTERESTED"

via Messenger

 or 

book a 20 min slot to talk

 on Zoom.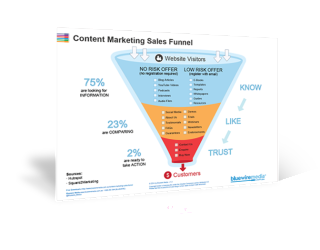 Content Marketing Sales Funnel
Your content marketing sales funnel is all about getting people to know, like and trust you by nurturing them with the right information at the right time.