I'm nervous
I'm nervous but more on that below.
I was chuffed with many readers' supportive response to me pulling out of the City2Surf on the weekend due to a cold.  Thank you ;) My mates all ran well and it would've been fun to be have run alongside them, but as I mentioned, these things happen, and it's only made me more keen to train for the next event, which is most likely the Blackmore's Sydney 10K or half marathon (I haven't decided yet) in September.
Anyway, on this end I'm about to kick off two months of speaking engagements — 7 in the next 8 weeks. It starts next week with The Advisor Digital Marketing Bootcamp roadshow for mortgage brokers, followed by a trip to the US for Content Marketing World in Cleveland.
I'm a bit nervous about this one because it will be first large scale speech in America with a very advanced audience. But I've prepared most of my content and still have plenty more time to practice. I've been interviewing some of the smartest content marketers I've come across and I've put the best tips into this presentation.  I've always tried to follow the mantra that "discomfort is your compass for growth."  Well, I certainly feel the discomfort and nerves at the moment!
A highlight from the last week was watching Jerry Seinfeld do his live stand up comedy performance in the new Sydney Convention Centre.  I've never seen 8,000 packed into a theatre to see just one person with a mic.  There were no props, no music, no band, no sidekicks — just Jerry, a mic and a water bottle on a stool.  The story goes that someone asked Jerry what the secret to writing good jokes was and he said the secret was that he practices writing jokes for at least 45 minutes every single day.  Did you know it took him two years to write his pop tart joke?  He's now 63, and I was watching a YouTube video of his first televised stand up performance back in 1980.  That's nearly 4 decades of mastering his craft. I've watched nearly every single episode of Seinfeld and to see him live was very inspiring, and hilarious!
Ok, back to marketing…  Yesterday morning I was interviewed for the upcoming Author Success Summit.  I talked about how we used social media, a podcast and email marketing to drive book sales for Web Marketing That Works. You can watch the presentation for free if you register today.  Otherwise it will become paid content for people who buy the all-access pass or students in our online program.

Aside from my session, this Author Success Summit has brought together some great entrepreneurs and authors to share what has worked for them. In the opening presentation, you'll learn step by step how Amazon's algorithm works, and how you can use it to scale your book sales up quickly.
Then the rest of the speaker sessions have been broken down into 3 easy to follow steps which will play each day.
In the first step you'll learn how to get your book finished, and how to write faster with improved quality. All from the world's top experts who will share their tricks and secrets on effective writing.
In the second step you'll learn the book launch secrets of some of the world's top authors and entrepreneurs.
In the third step you'll learn creative ways to grow and scale your income up with various marketing and brand techniques. You'll also learn how to get the reviews you need quickly, how to maximize your brand, get your physical books in stores, and so much more.
Needless to say, you'll literally learn everything you need to know to have a successful career as an author, and continue to grow and scale no matter what stage you're at.
Yes, I am one of the speakers, and I share all the things I learned on my journey of having our book Web Marketing That Works become an Amazon #1 best seller.
You can secure your free ticket here.
1 Day Doing Workshop – tickets on sale
Just a quick heads-up to let you know that the super early bird tickets have just gone on sale for our Digital Marketing 1 Day "Doing" Workshop in Brisbane on 5th October 2017.
Super early bird tickets are only $397 (inc GST). Check out the page for everything you can expect.  There are only 20 seats available and 5 have already gone.  Please be quick if you'd like to come along.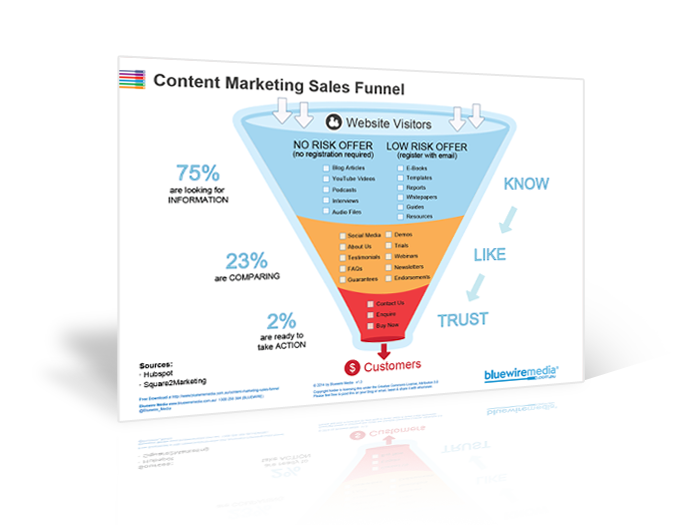 Content Marketing Sales Funnel
Your content marketing sales funnel is all about getting people to know, like and trust you by nurturing them with the right information at the right time.