It's officially out. Web Marketing That Works.
Updated on May 2nd, 2014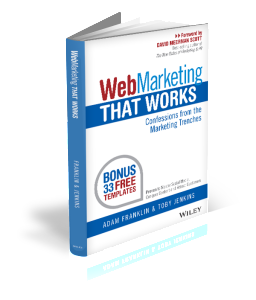 After 3 years of prep work, 2 months of doing the book proposal, 3 months of writing the manuscript, 1 month of editing and 4 months of pre-marketing, we are pleased to announce that today is the official launch day for Web Marketing That Works.
If you purchase it before Thursday 8th May (that is within its first week of release), then we have some huge land rush bonuses worth $370,092 to reward you!
Thank to Tom Poland and Key Person of Influence for helping spread the word today. And thanks in advance to all the bloggers and podcasters who have written articles, accepted guest blog posts or interviewed us on their podcast.