Online Logo Design Software will see Huge Growth by 2023
Online Logo Design Software
You might not realize it, but the use of online logo design software is on the verge of exploding over the next few years. By 2023, online logo design software is expected to see massive growth during this time.
Why is this about to happen?
Well, if you haven't noticed, the world is in massive upheaval right now. No one knows when the United States and other countries around the world will be able to reopen their economy. No one knows when the devastating deaths caused by the coronavirus will slow enough to once again turn on the financial engine that runs the greatest nation in the world, the United States of America.
For now, many people are experiencing fear of the unknown. And companies are being devastated by this virus because they can no longer function the way they once could. They can no longer allow large crowds to gather to enjoy their products and services, and this is causing major problems for many businesses.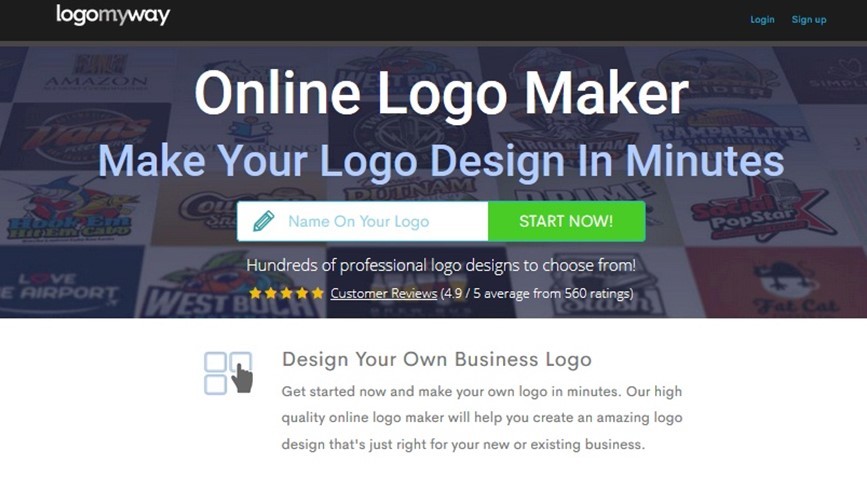 The Impact of the Coronavirus & Potential New Businesses
Guess what? They say a Phoenix will rise from the ashes. Do you know what else? Many new businesses will rise in the wake of the coronavirus. It's inevitable because we'll need new products and services due to this destructive disease.
Think about the many new products that have already cropped up in the wake of this destruction. People are now wearing facemasks every day. They are wearing rubber gloves when they go to the store. And they are buying sanitary wipes, toilet paper, and other cleaning products in droves.
More companies are needed to handle the demand for these products. New businesses will spring up to create fashionable face masks, attractive rubber gloves, and other necessary items needed to survive and thrive in a post coronavirus world.
And that's only one avenue of potential new business created by the chaos left in the wake of the coronavirus. Other companies will spring up totally unrelated to this issue because America is a country that thrives on ingenuity, creativity, and the ability to overcome any obstacle placed in our path.
7 Reasons Online Logo Design Software Will Grow by Leaps and Bounds by 2023
As you are about to learn, there are seven reasons why logo design software is about to make massive strides over the next three years. If you aren't convinced this is about to happen, please keep reading to discover the truth.
1. Do-It-Yourself is Becoming More Popular
Do you know what else the coronavirus is creating? It's creating a measure of personal responsibility that we haven't seen in many years in America. People are now solving their own problems when they would previously hire companies or service providers to take care of certain issues for them.
How about this? When a business enters the market, will they automatically hire a graphic designer to create a logo for their company? Or will they turn to logo design software with exciting templates, beautiful fonts, vibrant colors, and more to create their own logo?
In the wake of this devastating disease, you can bet that many people are going to take the do-it-yourself route from here on out. They are currently forced to take care of things on their own now since many companies have shuttered their doors. This self-respect and personal responsibility will carry over into the New World that we live in once the coronavirus is no longer a dangerous threat.
2. Ease of Use Means More Business Owners Will Take the Reins on Logo Creation
Some people are graphically challenged and no matter how hard they try, they just cannot get a feel for graphic design. They'd rather hire someone to create a logo for their business because it makes sense.
Other people have the design bug deep inside their heart. They want to create a beautiful design and they're willing to take time to learn how to use software to help them create a gorgeous design for their business.
With companies downsizing and businesses trying to save every penny they can get their hands on, you can bet that many business owners will design their own company logos using logo design software in the future. It's easy to use, simple to manipulate a template, and faster than ever to design a brand-new logo for your business.
3. Designing a Logo Yourself is Easier than Ever with Logo Design Software
As technology improves, logo design software becomes easier to use. This is critical to the success of this mission. Because if logo design software remains complicated and hard to understand, it isn't going to experience the huge growth that we expect. But logo design software creators realized they needed to create less complicated software, which is exactly what they did.
4. Instant Downloads Mean Instant Logos at the Push of a Button
Would you love to have your logo instantly available at the push of a button? This is more than possible using the latest iterations of logo design software. In fact, it's one of the biggest draws to using software of this nature.
When you hire a designer to create your logo, you may have to wait days or even weeks before you finally see a few examples of your potential logo. This takes too much time that business owners would rather not waste. With software that designs a logo for you, you can see examples of your new logo in a matter of minutes, which is truly astounding and something many business owners really appreciate.
5. Designing Your Logo Is More Affordable Than Ever with This Software
Sometimes business owners base their decisions on available finances. It isn't always feasible for a company to hire an expensive graphic designer to create their company logo. And even more important, it isn't always necessary to hire an overpriced designer to create a logo for their business.
Before now, it was very difficult for companies to create their own logo. They either had to know graphic design or they had to know somebody that could create their logo cheaply. Otherwise they'd find it nearly impossible to have a high quality, well thought out logo to represent their business.
Today things are much different. Right now, it's easy for business owners to log onto their favorite logo design software, scroll through templates that perfectly match their industry, and customize a simple logo to beautifully represent their company, their brand, and their mission statement.
6. Business Owners Will Have Every File Needed to Print Their Logo
The exciting thing about logo design software is the many options available in various file types and sizes. If you want to print a logo for your business on letterhead, stationery, or anything else, you'll have the necessary files needed to print your design quickly and efficiently without needing outside help from a third-party vendor.
For business owners, this is very exhilarating. They get to be more self-sufficient this way and no longer need to hire an expensive printer to create business cards, letterhead, and other forms of company stationery.
7. A Recession Will Spark New Businesses That Need Logos
Unfortunately, the United States and many countries in the world are currently facing a devastating recession. Tens of millions of Americans are now out of work and currently filing for unemployment. This is sad news for a once thriving economy that was forced to slow down because of a deadly virus.
But all hope isn't lost. This recession will create many new businesses. There are companies springing up right now that need new logos for their organization. They are providing vital products and services to help Americans heal and stay safe from this deadly virus. And logo design software makes it possible for these budding organizations to create unique, exciting, and brand friendly logos to perfectly represent their business during this time of mourning, crisis, and economic depression.
About Joe Daley
Joe Daley is CEO of LogoMyWay and writes about anything business or design related.
His company has featured in Entrepreneur Magazine, Business First, Lima News, Columbus Dispatch, CNBC, AOL, Huffington Post.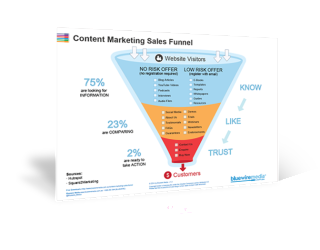 Content Marketing Sales Funnel
Your content marketing sales funnel is all about getting people to know, like and trust you by nurturing them with the right information at the right time.