Online Marketing Vs Offline Marketing: Where to Focus in 2016
Updated on April 18th, 2016
The revenue of a company is based on what the customer is enticed to buy.
In the past, it was always offline marketing that drew these customers in. And that is still true with a lot of businesses who just have no interest in technology. They leverage the newspaper, magazine, and coupons or flyers that come by mail. And for all these years, offline marketing has worked to the advantage of many businesses.
However, as everyone knows, there's no holding back the advancement of technology in their lives. Online marketing has opened the doors to reaching an unlimited amount of people everywhere. There are no boundaries as to how far this marketing can go, and the fact is, the costs are far less than offline.
Marketers continue to defend the advantages of using one or the other. Now they are asking themselves if the two can be combined for 2016. First of all, they need to consider what will be most useful in their business by asking themselves;
What is the least expensive way?
What strategy has the greatest reach?
Which one delivers the best return on effort?
So the question is, what is right for you – traditional offline marketing or new-age digital marketing?
The answer is to integrate, professionally, both off and online tactics and make sure they complement each other.
Now, we're going to go over why it's important to separate the options and then integrate both into a cohesive strategy.
The goal is to take several different ways of marketing and combine them to reach the most amount of ideal customers.
The outcome will be unimaginable. Most companies are now promoting their business through social media, and this is an avenue that needs to be strongly assessed.
Digital marketing covers an extensive range of marketing through search engines, social media, branding, PR, and content. It's extremely efficient and unlike offline marketing, it's very flexible because it can get out to your audience quicker.
Measuring ROI (Return on investment)
It's now possible for a company to uncover their ROI by measuring the behaviours of their users, and digital marketing has enabled that. It is a far more intelligent way to discover what is working and what is not.
By using Google Analytics, or other platforms you can learn how to refine your strategy and improve it over time.
Through a digital campaign, it's far easier to follow and gauge particular goals of your efforts by;
Measuring traffic to your website
Tracking engagement on social media
Recording qualified leads, and eventually sales
Being user-friendly
The way consumers now access media and content has changed with the appearance of notebooks and smartphones and the accessibility it provides.
Over 80% of users make purchases online
Over 60% of users take notice of ads on social media
Mobile advertising ranks #1 in terms of digital consumption
The use of mobile devices is the primary method, worldwide, in which to reach out to consumers wherever they may be and to do it immediately.
Most likely, your customers are screaming out for a digital marketing interaction with your brand.
Reducing your costs
Digital marketing (to a large extent) cuts out the overheads of an offline marketing campaign on a huge scale. The money you save can then be reinvested to talented employees needed to implement your digital strategy, and the costs will be much lower.
But your online content needs to add value to draw in your ideal customers, and it needs to be congruent with your brand with professional design and development.
Traditional marketers now understand that it's impossible to compete with the cost and effectiveness of the Internet.
Since most businesses now have a website, some don't even think about marketing offline at the same time. This type of promotion should at no time be ignored or dismissed.
If you ignore traditional marketing techniques, you may be missing a big opportunity to reach your customers. It's a matter of using every option that's available to get the word out and create an interest for the products or services you offer.
Offline marketing tactics
Many people still like to have the information, right in their hand, when considering a purchase. This is why direct mail still has a place in your marketing mix, because it puts this ad right in front of the people you are targeting.
This is an excellent way to get your message to repeat customers who are happy with their previous purchase.
Also, flyers are a good way to advertise and can be very inexpensive to produce. These can be put on the windshields of cars, handed out personally, or dropped off in a mailbox. They can offer a discount or coupon which will bring in more customers.
Billboards, neon signs, and banners are also good to advertise a special "sale" month – but the ROI is very hard to track.
If a newspaper advertisement is well-timed, it can cause every phone line to light up! Within a particular demographic, newspaper ads allow a company to spread their reach and bring in new customers.
What Online Marketing Offers In 2016
Online marketing opens up the entire world to an endless opportunity for reaching audiences anywhere. There are no specific territories, no particular post codes, and no restrictions on countries that will hold your business back. If a company is clever, they can reach out and draw more customers in to buy their products and services from around the world.
It's a whole new marketplace that can be tapped through the company website, social media, and blogs. By using PayPal, debit and credit cards, or wire transfers, customers can purchase from anywhere. There are endless ways to market online, and every marketer needs to get on board the digital train!
Every company should have a page on Facebook and continue asking other business in the area for a review.
Do guest blogs for other websites linking back to your company's site.
Do regular email campaigns or newsletters to your client base offering special discounts, coupons, or updates on new products.
What Offline Marketing Offers In 2016
Some business owners are hidden behind their computers and not giving a thought to the traditional ways of marketing their business. The owners, who only work with digital marketing, view their clients as a statistic because they have no direct contact with them. It's great to market in this way, but you still need to go to your offline customers and create a more personal contact.
The traditional way of contacting clients and prospects is the best way to get to know people and find out their needs. It allows a business owner to become familiar with competitive brands, meet other business owners, and learn how others do their marketing. Then you can put some of this information to use in your online marketing campaigns.
Here are some ways to go traditional with your marketing efforts;
Pay students to distribute flyers in a shopping mall
Ask local newspapers to include a flyer in their weekly mail outs
Design and print a small catalog showing the services of your company to be sent out to those interested in what is offered.
The truth is, one way of marketing can't replace the other one. Marketing online continues to evolve at a very brisk rate. The beauty of it is that it gives a direct response to your business. The company knows, at any given moment, what works and what doesn't by analysing the data. With traditional marketing it's not as easy to track who read an ad in the morning newspaper or how many people read the mail piece that was sent to them.
But don't rule out how the traditional way of advertising can support the efforts of your digital media. Whenever an offline ad is placed, include the company's URL and a call to action. This should also be included in every postcard, flyer, leaflet, and brochures used.
By combing online and offline ways of marketing, the chances of being at the right place at the right time increases.Your company is forefront when a purchase decision is made. Nowadays, your market is everywhere, and every way you market will help lead to success.
About Diana
Diana Beyer is an experienced creative director while a beginner in guest-blogging. Nevertheless, writing is her passion. Diana's purpose is to share some value among interested people. Apart from work, she likes traveling and reading. You can contact her through Twitter or read her educational blog.
Bonus 33 Free Templates
Download the 33 free templates from Toby and Adam's book.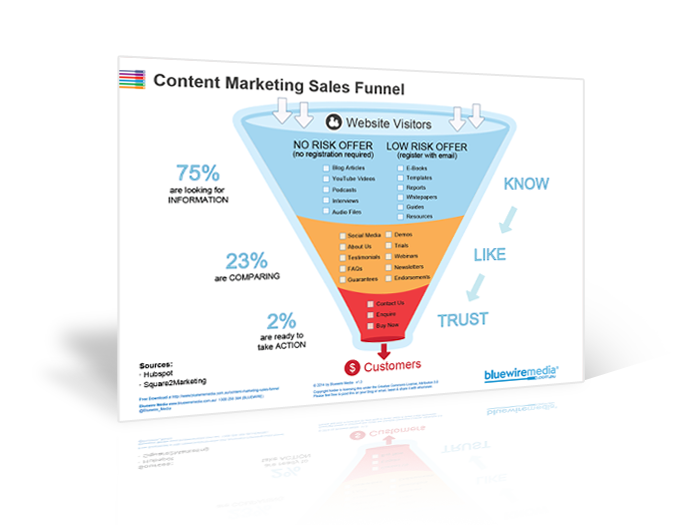 Content Marketing Sales Funnel
Your content marketing sales funnel is all about getting people to know, like and trust you by nurturing them with the right information at the right time.