Open vs. Closed Office Plans – Which Works For Your Business?
Updated on September 3rd, 2019
If you're planning on designing a new office space, one of the first questions you'll likely ask yourself is whether to use an open or closed office plan. This is a debate that had been raging on with people firmly in one camp or the other. There is no one perfect answer to which is better, but depending on your business or organisation needs, one layout may reign supreme over another.
Client meetings should be a major consideration depending on the size of the office space, clients may be able to see staff desks in open plan offices, which could come across as unprofessional. In contrast, closed office plans would free up larger meeting rooms for client meetings since smaller internal meetings could simply be held in someone's office.
Remote or home offices also take a large consideration when choosing an office layout, do you make your office closed off from your living space or open plan? A lot of the same principles from larger offices can be used when designing a home or remote office.
We at Empire Office Furniture have listed a few of the pros and cons of both open and closed office plans to help make your decision a bit easier.
Closed Plan Offices
Pros:
Privacy and security:  

Closed offices are king when it comes to privacy – employees can enjoy complete privacy to take phone calls and conduct meetings without worry of being disturbed or overheard. Having your own space can also provide a sense of security as you no longer have to be concerned with people looking over your shoulder at your work.
Noise reduction & focus:

closed office plans facilitate concentration by removing distractions, having fewer interruptions and reducing the surrounding noise. Having a closed office space also reduces noise for others if you have to take a call or have a meeting, whereas in open offices everyone can hear you.
Space: 

closed offices often offer a larger work area for individual employees, which is crucial for productivity. Employees each get a space that is their own without fear of being crowded in by their neighbours.
Cons:
Space consumption & cost:

significantly more space is required for each employee to have their own closed space. This, along with increased electricity use, more walls and construction required, costs the company more money. This is especially the case if the office space is in a large city where prices are much higher.
Low communication:

closed offices do not encourage the same types of informal communication that open offices do, such as impromptu brainstorms, comfortable group conversations, and unexpected run-ins

.
Isolation: 

employees can easily feel isolated in a closed office environment and feel like they are the subject of external/outside company discussions.
Open Plan Offices
Pros:
Facilitates communication and collaboration

: this is one of the biggest benefits of an open office space, the absence of walls encourages employees to interact regularly in an informal setting, increases collaboration, establish relationships with colleagues and can also lead to more innovative ideas for your business

Culture

: open office plans provide employees with a greater sense of being a part of a larger community, which has been shown to improve staff morale and productivity.

Open offices tend to break down leadership hierarchies and invigorate a collaborative culture in the office

Cost Effective

: an open office floor plan is significantly more cost-effective regarding initial set-up, but also for heating, cooling, and cleaning. In addition to this, more employees can be accommodated in less space which gives the company better value for their money
Cons:
More distractions

: open offices can get quite noisy which can obviously impede concentration and increase stress levels if you have a lot of work to get done. Open offices also provide more opportunities to get distracted by what others around you are doing or talking about

Lack of privacy:

 when an entire office is open, so is your private space. Things like your computer screen are easily seen, and conversations are easily overheard, which can make some people very uncomfortable.
More and more workplaces are opting for open plan designs, but there are still clear advantages of going with a closed plan. The best solution for any company is one where employees are happy and productive – which can be the case in either of these designs. For more great office tips and advice, visit Empire Office Furniture today.
About Daniel
From adventurous weekends to crafting articles, Daniel Paull is always up for a challenge. He has been working with Empire Office Furniture since late 2016 helping them put their thoughts and skills into articles to help educate businessmen and women and bring life to office articles.
Bonus 33 Free Templates
Download the 33 free templates from Toby and Adam's book.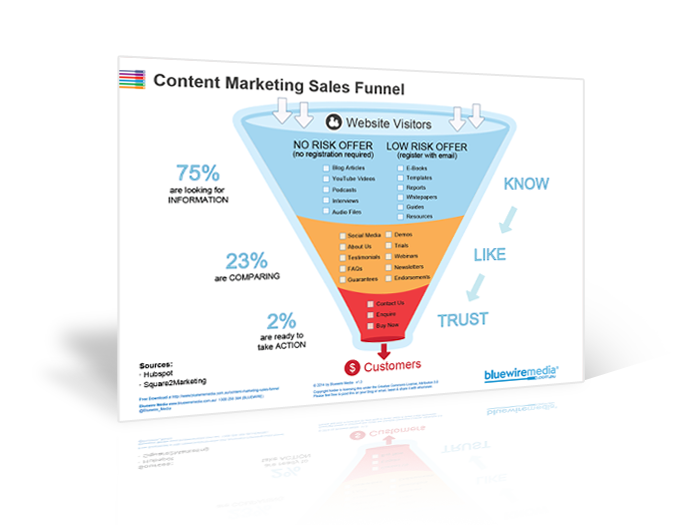 Content Marketing Sales Funnel
Your content marketing sales funnel is all about getting people to know, like and trust you by nurturing them with the right information at the right time.