Organic SEO vs Paid ads – can they live together?
Updated on June 15th, 2016
This is a guest post by Anna O'Toole.
Anna is a Senior Digital Media Analyst at seoWorks. She takes a great interest in anything social and digital media.
Follow Anna on Twitter @AnnaO_T
Welcome Anna
Marketers often seem to be caught at a crossroads. Should they focus on SEO and try to grow traffic organically, or are paid ads for targeted keywords a more efficient way to increase visitor numbers? SEO and paid ads operate in quite different ways. SEO attempts to bring traffic to a website through organic searches. Google sorts out a list of pages using an algorithm in response to a user's query. The algorithm then assigns each page a value in regard to multiple parameters linked to its relevance, pertinence and usefulness to the query; and then ranks all pages accordingly, and the top 5 rankings of the Google search results are highly coveted.
To get your ads displayed, on the other hand, a fee must be paid each time someone clicks on your listing. The amount charged per click is determined by the listing position, the popularity and volume of the keyword phrase and other factors. Here are some comments in response to the conundrum as to whether SEO and paid ads make good bedfellows.
SEO can produce sustainable results
Marketers have less control over SEO than they do over paid ads. From time to time, Google changes its algorithm and results get shuffled around. However, once a page has achieved a high enough rank, consistent waves of traffic keep it afloat and its continued success on Google is more or less guaranteed at no cost.

Paid ads provide the control that SEO cannot
On the other hand, pay per click users have complete control over the ads they place. Copy, target, destination page and where and when ads should be displayed are customisable, and marketers can play around until they find a formula that has the highest possible conversion rate. You pay only for clicks, and can set a limit as to how much you want to pay. However, once your budget expires, ads cease to appear and traffic from this avenue stops.
The power of two
Both SEO and paid ads have their own advantages and shortcomings. Combining the two methods can be a great way to obtain a sustainable flow of traffic at a cost that can be kept low. Targeted campaigns can be a good way to help a site win its first visitors, especially when organic traffic is not high enough to coast on. In the meantime, working on SEO will ensure that as traffic increases, your page's visibility will follow accordingly and eventually have its own self-sustaining stream of traffic. While your SEO advisors should always be working on improving your page's ranking and increasing your visibility, paid ads will make the lead generation process much quicker and enable you to get conversions early on in the game.
More traffic data to analyse
Another advantage of using both SEO and paid ads to boost traffic is that data obtained from both SEO and paid ads can be combined and used to determine the next steps in your bid to increase traffic and your conversion rate. For instance, paid ads can help to determine which keywords yield good conversion rates even if you have not yet managed to get good rankings for those keywords; while SEO will give you information on what your current potential customers are looking for when they surf into your site.
Paid ads can be used on and off
In the long run, with successful implementation of SEO you should have good organic rankings and a steady flow of traffic. This doesn't mean there is no longer a place for paid ads in your online marketing strategy, however. Paid ads can be used periodically at a calculated cost to boost seasonal or event-related traffic. For instance, if you have an online shopping site, paid ads can boost traffic during holiday sales and the Christmas season.
When you consider that SEO strategies serve businesses better in the long run while paid ads can obtain targeted seasonal traffic, it becomes clear how the two strategies can be used in tandem. In addition to having a more well-rounded strategy, using paid ads alongside SEO can help you gather more complete data on the success, failure and volume of various keywords, information that can later be parlayed into the effectiveness of your SEO campaign. At the start when traffic is slow, it can be difficult to know which techniques work best, and putting all your eggs into one basket by relying on a single method can delay the success of your site. Experience is needed in order to interpret the data from one campaign in a way that makes it useful for the other, so it is crucial to engage an agency with both SEO and pay per click specialists or at least to ensure that you hire two agencies that can work together on both aspects of your marketing campaign.
Read a 2016 version on how to do SEO for your website here.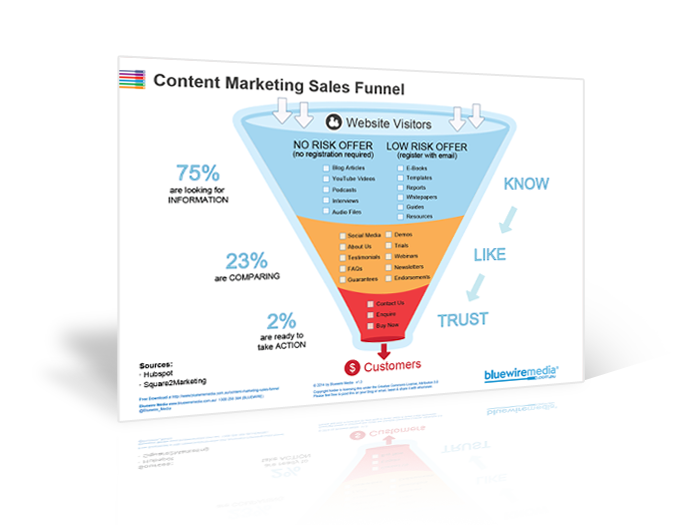 Content Marketing Sales Funnel
Your content marketing sales funnel is all about getting people to know, like and trust you by nurturing them with the right information at the right time.