Permission to proceed [#32]
Updated on May 4th, 2019
[Voyager Estate, Margaret River, Western Australia]
Asking "permission to proceed" is one of the most important factors to incorporate into your sales and marketing. Doing so will transition you more consistently to a trusted relationship with your network.
VIDEO
TRANSCRIPT
G'day, it's Adam again. Part two of this series, mainly because this venue is just so spectacular at Voyager Estate, is to go beyond how we can hopefully get the right people to like us through our social media posts and our interaction by taking that next step to them trusting us, which is often the part where we get most stuck or undone, because we want to be helpful, but we want to do it in the right way. Oftentimes when we shove stuff down people's throat, it can come across as a bit pushy and then actually in fact it repels people away.
I know that e-books and books and lead magnets and all that are super valuable, and I advocate for them a lot, but the key to doing it properly, in my experience, as in sharing that knowledge with people that you want to form a deeper relationship with, the key is to ask for permission to proceed. So, rather than saying, "Hey, Adam. Here's my 15 page e-book on wine, wineries or whatever," and sending it to me, say, "Adam, I've got this 15 page eBook on vineyards or wineries, would you like it?" In doing so, you're actually getting permission to proceed. If they don't reply or if they say no, you don't send it to them.
But when, normally when, but if or when they say yes, you send it to them, they have actually opted in… not opted in in an email sense, but they've given you permission to send it to them, so they're going to be much more likely to read it and consume it, which is the most important part. The real key to the trust component if you are sending eBooks or lead magnets or flagship content or the like, is the concept of get permission to proceed. Hope that helps, from Voyager Estate in Margaret River. I'll see you next video. See you.
100 videos in 100 days. Want more?
This is part of my 100 videos in 100 days challenge.
For all my videos, join my Facebook page
For more videos and tip, let's connect on LinkedIn:
Or subscribe via my website and download my popular Web Strategy Planning Template.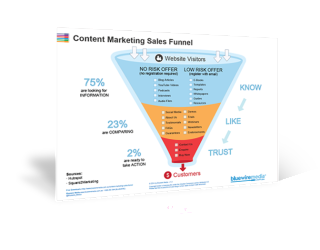 Content Marketing Sales Funnel
Your content marketing sales funnel is all about getting people to know, like and trust you by nurturing them with the right information at the right time.