Power of Personal Touch with Digital Marketing [#31]
Updated on May 4th, 2019
[Voyager Estate, Margaret River, Western Australia]
In this digital age of automation, the power of a sincere personal touch is huge.
VIDEO
TRANSCRIPT
G'day guys. It's Adam Franklin, and I'm actually here in the Margaret River at the Voyager Winery, and the question that I'm going to address today is what are some of the things you can do to progress from knowing who you are to actually liking who you are. On the last video, I discussed that doing sort of these behind the scenes videos, and I'm doing 100 in a 100 days, gives people the opportunity to sort of know who you are and get a feel for you and obviously part of that next progression is hopefully people liking you, trusting you, and then hopefully eventually buying from you.
So, some of the things that I found really useful include things like just actually reaching out to people with a personal message, who either maybe joined your Facebook group, or who joined your email newsletter or connections on LinkedIn. Just a personal touch to say either, "Thanks for subscribing. Nice to connect with you on LinkedIn. What are you working on? What sort of clients do you like best to work with? Can I help you facilitate an introduction with somebody in my network?" But, any of those sorts of things, where there's a personal touch, that is really what I find the best bet. It transforms things from being … I guess, it transforms you from wanting to take stuff, to being generous. If you can help them, if you can stand out from everybody else by being different in a good way, but being helpful and valuable, then to me that's the fastest way for people to like you, especially in an online setting.
Other really good ways to do this is to actually take an interest in the people who've taken interest in you. So, if you're connected on LinkedIn, look at an article they've written and comment on it. If there's somebody that you've engaged over email, look up their website. Find something to congratulate them on and let them know what you admire about their work. If you do those things, people are much more likely to gravitate to you because you're taking the time to be generous and to be sincere and to do something nice for them.
So, I hope that helps. I'll have more videos for you from the Margaret River, I am sure. But, that's it for this one. See you later.
100 videos in 100 days. Want more?
This is part of my 100 videos in 100 days challenge.
For all my videos, join my Facebook page
For more videos and tip, let's connect on LinkedIn:
Or subscribe via my website and download my popular Web Strategy Planning Template.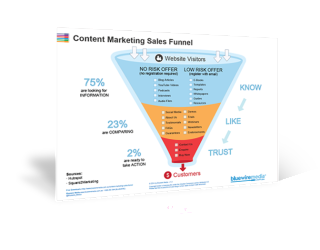 Content Marketing Sales Funnel
Your content marketing sales funnel is all about getting people to know, like and trust you by nurturing them with the right information at the right time.