Perspective: Decades vs Minutes
Today I want to talk about perspective.
Double Leads on LinkedIn from Adam Franklin on Vimeo.
As high-trust relationship-based professionals and business owners, here's what many of us do with great success.
Acquire subject matter expertise
We spend years, and often decades building up our knowledge and IP and this helps position us as a reputable and trustworthy professional.
Build a business network
We spend years and often decades building a strong professional network. People know who we are, what we do and we get referrals and good word of mouth.
Business meetings and calls
We share our expertise with prospects and clients in meetings, and also on phone calls and via email. We actually take many meetings and phone calls without a second thought because we love the opportunity to share our expertise and help people. After all the more we can help people, the more likely they are to become clients, refer us and spread the word. This is fantastic, and no doubt a big part of your career success! Please keep it up.
But let's take a quick look at how you can throw fuel on the fire and amplify this success using social media… Because I often hear that "TIME is my biggest challenge..!"
So let's address this with a bit of perspective.
Developing subject matter knowledge and a professional network. Investment of time: Years or decades.
Sharing some of this expertise with your existing network via social media. Investment of time: 30 minutes.
Let me show you 2 easy ways to do this with maximum impact and I'll compare it to the regular 'real-life' way of doing it.
Technique #1: Leverage your emails
Successful real-life business:
We send dozens of very useful emails to individuals each day. (Time: 10 minutes per email. Reach: 1-2 people).
Successful business that leverages social media:
Take the insight from one of these emails in your sent items, and post it to LinkedIn so your extended network can benefit (and amplify your impact by 10X). (Time: 15 minutes. Reach: 100+ people).
Technique #2: Leverage your conversations
Successful real-life business:
Meet with a handful clients and prospects each day and help them by answering their questions and sharing your subject matter expertise. (Time: 45 minutes per meeting. Reach: 1-2 people).
Successful business that leverages social media:
Recall one valuable conversation you had and take out your phone to record a short 1-3 minute video recapping the advice you shared in the face-to-face meeting. Post this straight to LinkedIn and tag a few clients, prospects or friends who would benefit from the insight. (Time: 15 mins. Reach: 100+ people).
Does that make sense and sound achievable?
You are sitting on a gold mine of opportunity, with LinkedIn alone. Your professional network is one click away, and you can positively impact them instantly.
You've already got the IP and insights sitting in your "sent items" and in your head.
You've already got the "audience" of your professional network sitting on LinkedIn.
You just need to join the dots and connect your valuable IP with your LinkedIn audience.
My challenge (if you're up for it):
Take 15 minutes to post an insight to LinkedIn! Simple as that.
This is where the magic happens and it doesn't take long.
Some students who attended my live online workshop on Monday implemented these tips and got new leads within a day. It does work and as I said you've already got the ingredients sitting there!
With less effort you can help more people because of the scale and connection that social media provides. This approach leverages your time well because your valuable insights are helping more people than you could possibly assist 1-on-1. It can even have an impact long after you've published it.
The more people in your network who you stay front of mind with, the more 'word of mouth' and leads you will get.
I hope that helps give social media and digital marketing some perspective ;)
To learn more, please consider investing in our flagship program Double My Leads which is currently open for enrolment. It includes a ticket to one of my live digital marketing workshops in Feb 2018.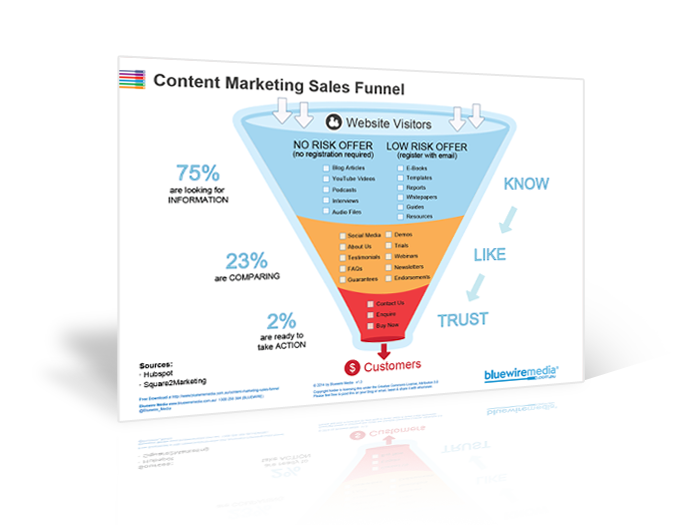 Content Marketing Sales Funnel
Your content marketing sales funnel is all about getting people to know, like and trust you by nurturing them with the right information at the right time.