How to Plan the Content Creation Process for 2021
Updated on June 9th, 2021
Content Creation Process
Photo by LinkedIn Sales Navigator on Unsplash
Businesses know that content creation is the lifeblood of marketing strategies. Almost everything related to marketing has to do with content.
Blogs are content. Social media posts are content. Videos, live streams, guides, and behind-the-scenes sneak peeks? These are all content.
When marketers aren't creating content, they're planning it. But how does the content creation process work? That's what this guide will explain.
Content Creation Process Defined
What is digital content creation? It is the process of combining text and visuals to share meaningful messages with a brand's target audience.
You can find your ideal audience through user research, as illustrated in the graphic below.
Source: Venngage
The intent is everything when planning and designing content. Content should address the target consumers' pain points.
Additionally, content should be created according to the goals of the organization. Without a goal, the content will have no discernible impact on the company.
Why is a Content Creation Process Important?
Anyone who has designed content knows how labor-intensive it is. Such a necessary part of marketing needs to have a structured process to help prioritize projects.
Without a strategy and guidelines to follow, marketers won't be able to write high-performing blog posts or design a good infographic like this one.
Source: Social Strategies
There are only so many working hours in a day. But there is so much content that brands are competing against. Marketing teams need to streamline the content process to keep up.
How does one design a strategy and process that will make it easier and faster for marketers to produce quality content? We explain below.
How Can You Design a Content Creation Strategy?
Before you begin writing blogs or designing graphics, you need to have a content creation strategy in place. This will help guide you through the process and yield results.
We share an outline for creating a strategy. All the below steps are necessary to make the process more efficient.
1. Content Creation Goal-Setting
We've mentioned how important it is to have goals before creating any content. Your strategy should include SMART goals and metrics so the marketing team has something to aim for.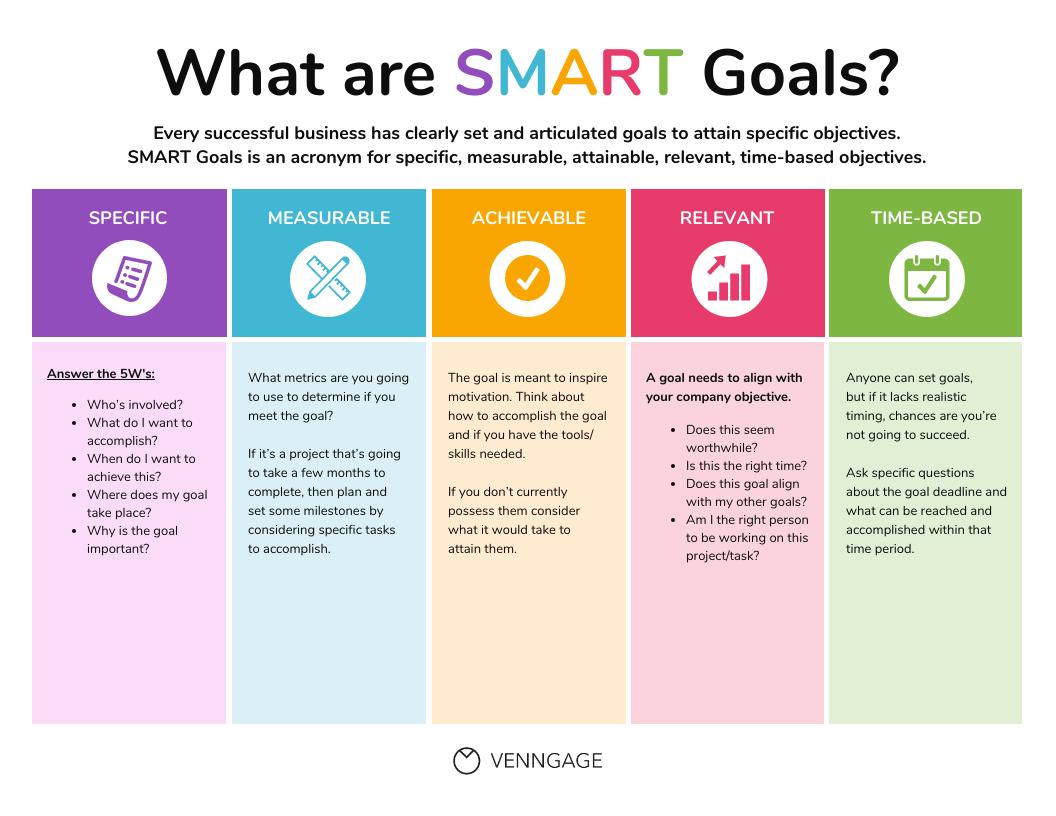 Source: Venngage
For instance, some common email marketing metrics include email open rates, click-through rates, and conversion rates.
If the goal is to improve CTR by X%, the marketing team can generate newsletter ideas that will encourage subscribers to click on links in the email.
2. Customer Personas
For content to be effective, it needs to be personalized to the specific needs of the consumer. As mentioned earlier, brands can conduct user research to find their ideal audience is.
Once the research is complete, create up to three buyer persona profiles, like this example.
Source: WindChime
It can take some time to build out these personas. But including them in the content strategy will make it easier to create content that reaches the right audience and produces results.
3. Understand the Customer Journey
While it's important to know who the audience is, marketers also need to understand the target audience's relationship with the brand.
No customer goes from discovering they have a problem to becoming a loyal advocate for a brand. There are multiple steps in that journey, as can be seen in this process graphic.
Source: GlideApp
A customer in the awareness stage needs content addressing their problem. Whereas one in the acquisition stage will want content about how to use a particular product.
Content needs to be created according to where in the buyer journey the consumers are to have a positive impact on marketing goals.
4. Content Formats
Content success is impacted by the customer persona, journey, as well as content formats. Not all content suits every format. And not all customers engage with the same formats.
When developing the personas, marketers can find out what their consumers' interests are. This will help define preferred formats, and what kind of content fits those platforms.
For instance, a consumer who enjoys reading the Economist might enjoy long-reads like whitepapers or eBooks. Others may prefer visual content like the types outlined below.
Source: Venngage
On the other hand, younger consumers may prefer ephemeral or shorter content on social media, such as Instagram Stories or TikTok videos.
Note the formats that customers prefer so you can create content that they will be able to access and engage with.
5. Content Promotion
The content creation process does not end when a piece of content is published. You still need people to see the blog post, video, or infographic. How will anyone see it?
That is why content promotion is a crucial part of the strategy. Marketers must know what to do with their content once it goes live. This will help marketers reach the aforementioned goals.
By promoting published content, marketers can reach millions of people, as this graph illustrates.
Here are the most common platforms for marketers to promote their content:
Emails
Paid ads
Repurposed content
Social media
Content syndication
Remember, every piece of content doesn't belong on every platform. Determine the content that will have the biggest impact on your goals to choose the top candidates for promotion.
6. Content Analysis
Once the promotion cycle is complete, it's time to analyze the content. Here are a few metrics associated with content creation:
Bounce rates
Conversions
Engagement
Follower count
Leads generated
Organic traffic
Pageviews
Not all metrics are relevant for every type of content or user persona. This graphic explains which metrics impact particular content goals.
These are the common KPIs that brands can track to understand how to improve their content creation.
What is the Content Creation Process?
Once the strategy is in place, marketers can begin the content creation process. There are four key steps in this exercise that remain consistent no matter the type of content.
1. Researching and SEO
The first step in the content process is finding the right keywords. While you may want to create content around high-volume keywords, are those terms relevant to your brand?
Instead, determine the search intent of keywords. What are users asking around these keywords? What are the top search results? How can you improve existing content?
Once the research is complete, you can start ideating topics.
2. Defining Content Topics
You know the audience you are creating content for, so what is your topic? Look at current content trends to determine what your audience needs to learn from your brand.
Also, keep in mind the goals your team or company is aiming to achieve. This makes the content more actionable and measurable.
You should be addressing specific problems with your content. Don't stretch the content to answer too many questions or it will confuse your audience.
3. Content Production
Rule one of content creation is: don't sell your product or brand. Build a narrative around it that will help users see themselves living better lives by using your product or service.
Consumers are wary of advertising and the hard-sell approach. They want brands to see them as human beings and treat them as such.
This is why brands have pivoted their content strategy to create content that educates customers or addresses their pain points, as this company infographic template outlines.
Source: Venngage
At the production stage, marketers can bring in content creators, if they don't have the bandwidth to take on the work in-house.
When external creators are involved, they need to have a complete idea of the goals of the company and the content. This is to ensure that there is consistency in production.
Once the piece is produced, you can move onto the next stage.
4. Editing and Revising
The final step in the content creation process is to edit your work and revise it before distribution.
This is important because you don't want error-filled content being shared. Typos and mistakes happen to everyone but they can negatively affect brand reputation.
If the content creator isn't sure about some aspect of the content, it is always helpful to get a second or third opinion.
At this stage, you should also be double-checking your keyword use as well as accompanying graphics. Use this image optimization checklist so the visuals in your content also rank.
Source: Venngage
Once the revision is complete, the content is ready to be published and promoted.
What are the Best Tools for Content Creation?
Marketers know that creating content is a time-consuming process. That is why they need content creation tools that make it easier to create great posts that reach audiences.
Below is a list of the top content creation software that marketers can use.
Design Tools
Visuals make for attractive content. In a sea of text, a visual element immediately holds users' attention. Graphics like charts, icons, and infographics have been popular for over a decade.
But creating graphics can be challenging for marketers without design experience. Fortunately, there are design solutions available online.
Venngage is an infographic maker that offers thousands of easy-to-edit templates so marketers can design compelling content that converts.
Writing Tools
Writing and illustrating still need to be done by a marketing team. But when it comes to writing tools, content creators have the pick of writing software online.
These tools include Google Docs, which is free and can be accessed via a Gmail account. You can also collaborate with teams using Docs.
Free versions of Grammarly and Draft can help catch typos and grammatical mistakes while writing. You still have to write, but these tools make it more productive.
Project Management Tools
Marketers are busy people and have multiple tasks on their plate. Juggling everything can be a challenge.
Instead of making notes or sheets tracking your tasks, use project management software like Monday, Trello, or nTask.
These tools make collaboration and task tracking painless. They also give you timely reminders so you don't miss deadlines or follow-ups.
Analytics tools
We have mentioned the importance of analyzing your content to get the best results. Some online tools make analysis an effective process.
For example, when you distribute content on numerous channels, you can analyze multiple sources using a tool like Pocket Insights.
A user behavior tool helps marketers understand how users are engaging with their content. This makes it possible to understand what design or UX improvements are required.
Most tools do require some monetary investment but getting automated results makes the analysis process easier.
Conclusion: Design a Content Creation Plan
In this guide, you have learned what content creation is, why it is important for businesses, how to create a strategy, and what the content creation process entails.
By following the above, you can create a digital content creation plan. Your marketing team can use the plan to ideate, strategize, and create content that attracts and converts audiences.
About Ronita Mohan
Ronita Mohan is a content marketer at Venngage, the infographic and design platform. Ronita regularly writes about digital marketing, data visualization, design, and small businesses.
Twitter: @Venngage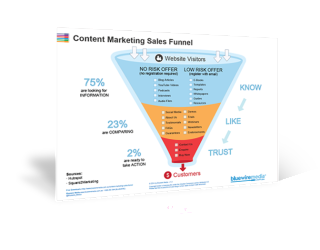 Content Marketing Sales Funnel
Your content marketing sales funnel is all about getting people to know, like and trust you by nurturing them with the right information at the right time.