Launch of our new podcast Web Marketing That Works
Updated on November 2nd, 2019
Toby and I are pleased to announce the launch of our new podcast called Web Marketing That Works.  We've just been approved by iTunes and have our first five shows ready for you.
If you'd like to support the show, here's what you do.
Here's how to check it out (and help us out)
1. Click this iTunes link
Click this link to take you to Web Marketing That Works podcast on iTunes >>.
https://itunes.apple.com/au/podcast/web-marketing-that-works/id867351184
2. View in iTunes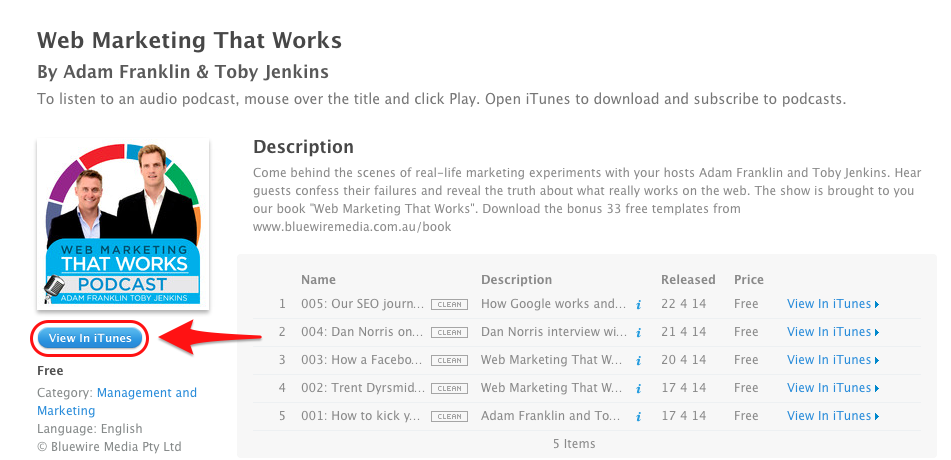 2a. Launch application (if using Chrome)

3. Subscribe
4. Listen to a show
5. Leave a rating (hopefully 5 stars!)
6. Write an honest review
Thank you, that's it…!
But if you leave a 5 star review…
We will link to you from an upcoming blog post. Simply leave your website URL in "iTunes review" or leave a comment below and we'll link to you, to say thanks.
Plus one lucky person will receive a prize….
The prize.. a signed book
Toby and I will be giving away a signed copy of our new book Web Marketing That Works to one listeners who leaves a 5 star reviewer.
Finally thank you to:
Thanks to these podcasters for their help and amazing free online resources John Lee Dumas, Pat Flynn, Cliff Ravenscraft, Jaime Tardy, Billy Murphy, Dan Norris, Timbo Reid and Trent Dyrsmid.
And also to Chris Ducker, Brian Clark and Michael Stelzner for the recent podcast chat that was spark to launch the podcast to help launch the book.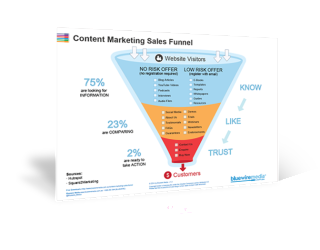 Content Marketing Sales Funnel
Your content marketing sales funnel is all about getting people to know, like and trust you by nurturing them with the right information at the right time.