Principles for Effective Blog Design (Infographic)
I sat down a few weeks ago to research a post about effective blog design. It was an eye opening experience.
I started out on Google, searching things like 'blog design' and 'effective blog design' – consuming as much information as I could find on the topic.
Then I took a different approach. I went back to all of my favourite bloggers and companies and started from the beginning. Going from their home page, and trying my best to experience their site as a new user. I wanted to find out what they were doing deliberately with their design – both visually and functionally.
How were the best people designing their blogs? What consistent themes were popping up?
As it turns out there was a whole lot of stuff that I was taking for granted. The experience I was having on these sites was reinforcing the information I was reading in the articles.
Blog design needs to be deliberate and to be deliberate you need to know what you want your visitors to do on your site.
People are busy, they have short attention spans and are flooded with a sea of content every day. So first impressions matter more than ever. You only have about 3 seconds to draw a website visitor in, tell them what you do and make them take action.
Given I had learnt so much from researching and writing that post, it turned into a massive resource of over 6,000 words. But not everyone consumes information in that way. Some people are visual. So I took the information and turned it into an infographic using Piktochart.
Here's the end result.
Feel free to use this on your own site – I've made it easier by including a pre-crafted text box below the graphic.
Share this Image On Your Site (copy code below):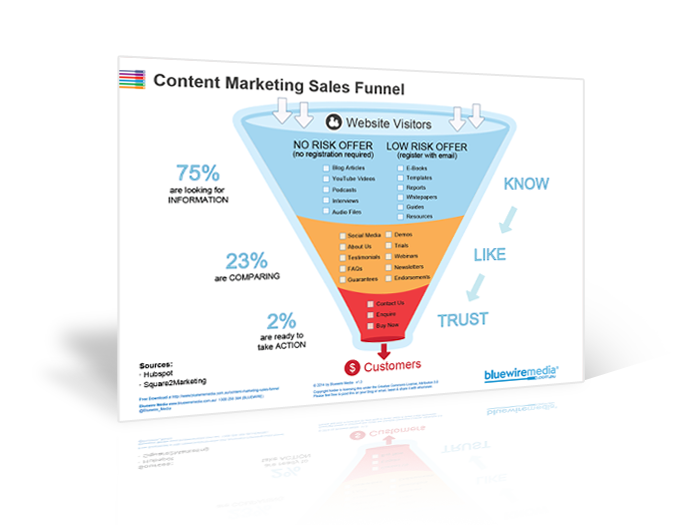 Content Marketing Sales Funnel
Your content marketing sales funnel is all about getting people to know, like and trust you by nurturing them with the right information at the right time.