Q&A: Web Marketing That Works
Thank you to everyone who has bought a copy of Web Marketing That Works.
If you are still considering whether the book will be valuable to you, check out this short video where we answer some common questions.
The common questions
Who's it for?
What's in the book?
Where can you get the templates?
What are some of the confessions?
How do I get the bonuses?
Is it a good read?
Buy the book
Buy online for $29.95
Or walk into your favourite book store and ask for Web Marketing That Works.
Bonuses
Email your receipt to [email protected] and we'll you send you the goodies.  If you order in bulk, you will receive even more bonuses. Here is full list of landrush bonuses on offer.
33 Free Templates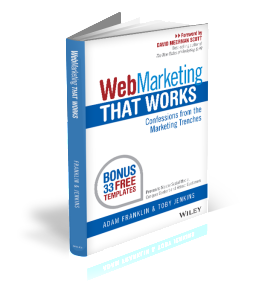 This podcast is brought to you by our new book Web Marketing That Works. You can download the bonus 33 free templates (11.2 MB – zip file).
Read the free, 28 page sample chapter (948 KB – PDF)
Or order the book online: Web Marketing That Works: Confessions from the Marketing Trenches (Wiley 2014).