Quality Content Marketing vs Content for the sake of it [#30]
[Busselton, Margaret River area, Western Australia]
Question:
Is it better to just post quality content or content for the sake of it?
VIDEO
TRANSCRIPT
Good day guys. It's Adam Franklin. I'm on the beach down in the Margaret River region of WA. It's a beautiful time of day. It's just sunset. The question I'm going to talk to you about today is quality content versus content for content's sake. Let's quickly pan around and hopefully it'll do it justice. Maybe if I'm not in the shot. There we go. Beautiful. Beautiful.
The question, quality content versus content for content's sake, you could argue … And it's a fair call … that this 100 videos in 100 days challenge is simply content for content's sake. In some respects it is, the reason I'm doing it, though, is because, one, it helps me get in the habit of doing it every day even if I don't always feel like it. Two, to actually share what's on my mind and show people behind the scenes of where I am and what's going on in my life.
Now, I guess the commercial marketing benefit if you like is that the more people can get to know you, the more people can then … or the right people people hopefully get to look you and trust you. These behind the scenes, 100 videos in 100 days serves that purpose. That's it. I don't recommend everybody do it unless you really wanted to get in the habit of practising this.
What I think is a better starting point is aiming for one quality video each month or thereabouts where quality means not so much the production quality or how much makeup or hair or whatever you've got done. Obviously, that doesn't matter so much at least in my opinion, but more the message that you're sharing and the value that you're adding in terms of say give away or something else that you're offering.
I would always suggest quality content over content for content's sake. That's it from me today. I hope to see you on the next video. I'll probably be somewhere in WA. Take care. Until the next time.
100 videos in 100 days. Want more?
This is part of my 100 videos in 100 days challenge.
For all my videos, join my Facebook page
For more videos and tip, let's connect on LinkedIn:
Or subscribe via my website and download my popular Web Strategy Planning Template.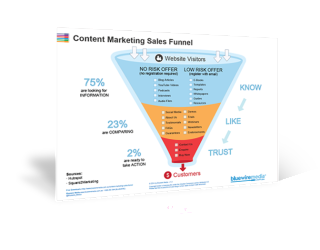 Content Marketing Sales Funnel
Your content marketing sales funnel is all about getting people to know, like and trust you by nurturing them with the right information at the right time.