How to rank on Google [#36]
Updated on May 4th, 2019
[Crawley Edge Boat Shed, Perth, Western Australia]
Learn how to get your business found on Google. Follow my simple SEO strategy template which has helped me rank for many valuable keywords over the last 10 years.
At a high level there are 2 major factors at play with Search Engine Optimisation:
1. Content (ie. having the right keywords or topics)
2. Authority (ie. having reputable websites link back to your domain).
This SEO Planning Template shows you how it works.
It's one of my most popular templates and it ranks #2 on Google (AUS) for:
– 'SEO strategy template'
– 'SEO plan template'
Type 'SEO' for my free SEO Planning Template. *No opt-in required*
VIDEO
TRANSCRIPT
Good day. It's Adam Franklin at the Crawley Beach House in Perth. Today I want to talk to you about SEO. In fact, I've got an SEO Planning Template. If you'd like that just type the words SEO in the comments.
But I'm here in Perth, which is actually the most remote city in the world. And if I sort of pan around here, you can see into the city over there. But this is a very popular spot for photographs and tourists and whatnot.
What got me thinking today is that Perth is actually the most remote city in the world. And I was thinking that with digital marketing, it doesn't matter where in the world you are, people can find you, especially if you do it properly. So SEO for me has been one of the most powerful digital marketing tools in order to get found.
There's two major components, and of course there's hundreds of variables and it can get awfully complex at times. But at a high level there's really only two things that, at a high level that are important.
First is having the right content. So obviously people are turning to Google to find information. SEO stands for Search Engine Optimisation, so essentially getting found on Google. So if you've got the right content that people are looking for, that's one of the key factors.
The second key factor is how much or authority you have. Just like in real life there's companies and people with high levels of authority or profile and not so high levels of authority and profile, same deal online. So there's a couple of things that contribute to your authority online, but the main one is the number and quality of back links pointing to your site. If you've got good content and high authority, they're the things that are going to impact your search engine optimisation and is going to mean that you're found regardless of where you are in the world, even if you're in the most remote city in the world, which is Perth.
That's it for me. If you want my SEO Planning Template, type SEO in the comments and I'll shoot it off to you. Thank you.
100 videos in 100 days. Want more?
This is part of my 100 videos in 100 days challenge.
For all my videos, join my Facebook page
For more videos and tip, let's connect on LinkedIn:
Or subscribe via my website and download my popular Web Strategy Planning Template.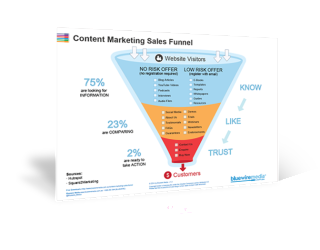 Content Marketing Sales Funnel
Your content marketing sales funnel is all about getting people to know, like and trust you by nurturing them with the right information at the right time.