6 Actionable Tips To Rank Videos on YouTube
How to rank videos on YouTube
Here's the thing:
We're officially in the age of video, and if your brand isn't on YouTube publishing content, you're hurting your business.
The fact is, more companies committed to video this year, and because it's a crowd-puller, there's little chance that they won't double-down.
Sure, YouTube is competitive, and while getting in front of your audience can seem almost impossible, it's not if you know how to optimize your videos to rank on YouTube.
In this blog post, I'll show you how to do just that.
I'll share six actionable tips. You'll learn how to find topics and keywords, which aspects of on-page SEO to pay attention to, what goes into creating an attractive thumbnail, how to use tags effectively, and a crucial and final step to drive as much traffic as possible to your video.
Ready to start producing and ranking more of your videos?
Let get started!
1. Find the Keywords and Establish Intent
Got a great idea for a YouTube video? Before you hit record, put it through a stress test.
First, find out which keywords to go after. There are many tools out there, but here's a list of four I recommend using to identify search terms, amount of interest, and search volume.
The tools are:
1. YouTube Suggestions
YouTube, like Google search, also offers a collection of terms your audience may be searching for. To see similar terms, head to the search bar and start typing the term you're considering.
While seeing your term, along with a list of related terms may inspire some confidence, YouTube suggestions don't show search volumes. To get a more quantitative view of your term's popularity, head over to Google Trends.
2. Google Trends
Google Trends shows the popularity of the term over time.  This will help you rank videos on YouTube.
An important note: Google Trends shows search interest relative to the highest point on the chart for the given region and time. A value of 100 is the peak popularity for the term. A value of 50 means that the term is half as popular, while a score of 0 means there isn't enough data for your term.
Also, when turning to Google Trends, be sure to select YouTube Search to get YouTube-specific results, because it is different from Google web search results.
3. Ahrefs
Ahrefs offers search volume, related phrases and search trends, clicks and more. Again this will help your video rank on YouTube.
For example, they've also rolled out a new feature called the "Recently Added Report." It includes new terms added to the Ahrefs database that includes your keyword. These can help you create new content ideas based on terms that have started to generate more search volume.
4. TubeBuddy
TubeBuddy provides insights on competition, search strength, and ideas for video titles you can use. Altogether, it offers a different perspective to Ahrefs by using a color grading scale (red, amber and green) to indicate the levels of competition and difficulty you may encounter when trying to rank your videos on YouTube.
Image: TubeBuddy
Once you've identified your keywords, focus on why people would search for your term.
Intent is Key
Chances are good that your idea is sound, but often, most videos don't rank well because they don't satisfy audience intent.
Intent is all about giving people what they want. To stress-test your idea, make sure it answers at least one question that your audience is interested in. But don't make it any question, make it one related to a search term with keywords you plan to rank for.
For example, if you were looking for instructions on setting up a video studio, you'd likely use "how to set up a video studio" as your search term.
Results that match your term are likely to be the videos you click on because they are most aligned with your intent.
Ranking on YouTube is greatly affected by engagement. The more engagement (think click-throughs, watch-time, likes, comments, and shares) your videos receive, the more YouTube suggests your videos. Videos that address intent, therefore, are more likely to rank higher in YouTube search results.
2. On-page SEO
On-page SEO is often misunderstood. When trying to rank, people tend to stuff keywords in titles and descriptions.
Instead, balance your keyword use as follows:
Front-load Your Title
Front-loading titles work well for both search and viewers. In search, YouTube will quickly identify your keyword, and when your audience sees the search results, your keyword will stand out clearly.
Also, limit titles to 60 characters. This makes it easy to read and search, and YouTube favors shorter titles.
Create Curiosity
Create titles that evoke a sense of curiosity. Click-through rates influence rankings and the higher yours, the greater the probability that your rank higher results.
Write for Humans and Robots
Create helpful descriptions and include your keyword, but use it sparingly to avoid being penalized.
A smart rule of thumb is to focus on weaving your keyword into your description as if you were having a conversation. The chance of repeating your keyword several times is unlikely. So, as you share what your video is all about, keep that in mind.
3. Design Attractive Thumbnails
Standing out on YouTube is important, especially because of the amount of competition today. Optimizing your thumbnails to grab attention is both easy and helps capture clicks.
To make your thumbnails more attractive, use colors that contrast with YouTube and what you've seen to currently rank for your term. The brighter, the better.
Here are a few YouTube thumbnail design tips and tricks to make your video stand out from the crowd:
4. Focus on Boosting Engagement
Engagement is likely the most weighted ranking factor YouTube considers. The more people that click-through, watch more of your videos, share and comment on your content, the higher the probability that YouTube will rank your content higher in search results.
Boosting your engagement can be achieved by structuring your content to be more appealing to viewers. Here's a formula that will help you create the perfect YouTube video. You can use it to grab attention, hold it, and still ensure that you deliver great content.
Hook Viewers at the Start of a Video
The first 15 seconds of your videos matter. In fact, YouTube has found that if your video doesn't capture attention (hook your audience) in that very small window, you'll lose them.
To hook your audience, lead with a strong introduction. But don't introduce yourself, use a powerful statement or question. Immediately after, share how you'll help them by elaborating on your introduction.
For example, Nick Nimmin is a popular YouTuber we work with to create content for our channel. Nick does a great job of hooking viewers from the start of his videos. One of his signature intros involves him cutting straight to the chase and telling the audience exactly what they'll get by watching his video.
Plan a Cohesive Story
Planning a new video can be exciting but also stressful. Sure, you know what you want to talk about, but creating a cohesive story may be a little tough, especially if you want to video rank on YouTube.
The solution?
Arrange your ideas first, making sure they flow. Next, document all the more salient information around each idea. Anything else that feels like too much to offer or unrelated should be left out, or consider dedicating an entire video to that idea.
Once you've structured your idea and the scope of information you'll share, create a script.
Scripts save time (and the hassle) of rerecording content as you try to find the right words or gesticulation.
Hold Attention With Pattern Interrupts.
Pattern interrupts gained popularity in the field of neuro-linguistic programming. A pattern is the sudden introduction of a new idea. When taken by a new idea, the mind can't help but pursue it.
They're also highly effective. To help grow their YouTube channel, Buffer began introducing pattern interrupts in their videos. In just 30 days, they were able to boost their channel subscriber count by 59%.
But your pattern interrupts have to be interesting and/or captivating to work. The great news is that they can be introduced in various ways, from camera or subject positioning to the use of humor and graphics.
For example, Nick uses a close-up shot and then switches to an extreme close up. It's subtle but effective.
5. Use Tags
Tags have been a feature on YouTube for a while. They help the search engine categorize and locate relevant content.
If you're not using them, it's time to change that.
But don't use too many or YouTube won't know what you're video is all about.
To use tags effectively, follow Brian Dean's TAB rule. It's based on using tags that are:
Targetted – use the exact keyword you want to rank for.
Alternatives – similar terms to your keyword. Here, use two-to-three of the most appropriate YouTube suggestions uncovered earlier.
Broad – terms used to describe the large topic your video is related to. Use one-to-two that are appropriate.
Together with other tactics, Dean has found this approach to work really well when ranking on YouTube.
6. Promote Your Video to Drive Traffic
The last tip I'll share is all about traffic.
YouTube values click-throughs and if you can generate more views, the better you're videos will rank in search. Here are three simple ways to drive traffic to your new videos:
Go Social
Social Media, while also highly competitive, still drives traffic for video. So, share your content on all accounts.
Share With Your List
Create an email broadcast for your list and invite them to view your latest video. Here, you can elevate the design of your email by including the word "video" in the subject line. We've found that using the term boosted open rates by 80%.
Also, include a graphic in the body that gives your audience a glimpse at what they'll watch.
Image: Campaign Monitor
Partner With Relevant Brands
Get the word out with as much help as possible by sharing it with friendly brands. These are brands with similar audiences but non-competitive products or services.
Summary
YouTube is where every brand needs to be. But you'll need to be smart about how you optimize your videos to rank them competitively. Take the time to find relevant keyword terms and establish your audience's intent. Optimize your titles, descriptions, tags, thumbnails, and create captivating videos that help boost engagement. Lastly, promote your videos feverishly to drive traffic to your new content.
In no time, you'll start to see results and find smarter ways to share even better content with your audience.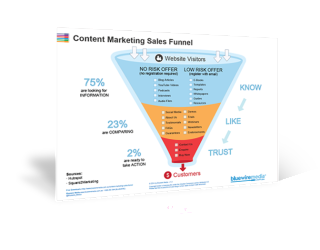 Content Marketing Sales Funnel
Your content marketing sales funnel is all about getting people to know, like and trust you by nurturing them with the right information at the right time.