Remote work is here to stay, is your business ready for it?
Updated on April 16th, 2020
Remote work for business in 2020
In today's digital and modern world, the traditional ways of working no longer apply.
Technology has spurred many changes in the workplace and has disrupted the way businesses view fixed offices, work devices, and even the 9-to-5 workday. One of these changes that have risen in prevalence is remote working.
Remote work for business is not a new concept
Many of us have logged in to work at home or from a location outside of the office environment.
However, it extends beyond just 'working from home.' It also includes virtual teams working together from different sides of the country or across the globe, as well as roving freelancers.
In recent and unfortunate times, schools are forced to shut and workforces are driven to work from home due to the concerns over the COVID-19 virus outbreak.
The pandemic has shown us that it is more important than ever to have in place remote work policies because you never know when the situation calls for it.
Australia is embracing remote working due to its many benefits
Businesses in Australia are already taking advantage of the opportunities of remote work.
Research from Indeed states that in 2019, two-thirds of Australian offices already have remote work policies, with half of those offering remote work for their entire workforce. The advantages are clearly outlined in the research as well – businesses who had remote work policies reported increased productivity, improved morale, as well as reduced employee absenteeism and turnover.
Advantages of remote work for business
Businesses can also improve recruitment and cash flow with remote working. By hiring virtual teams and freelancers, offices can be downsized without sacrificing human capital. Fewer dedicated desks will result in less office space required and less money spent on facilities. Remote roles, especially those that are undertaken by freelancers, can reduce hiring costs too.
Benefits of working from home for employers
Remote work also provides access to a wider and more diverse talent pool. It opens up opportunities to potential employees who are highly skilled, but who are not geographically local.
Some employees also prefer jobs that allow them to work remotely so as to escape the rising living costs and long commutes.
How businesses can implement remote working successfully
Remote work business tools
We cannot just send workers out to remote locations. Or ask an entire workforce to work from home without the right infrastructure in place. Thankfully, the solution is not difficult to implement. There is a plethora of useful tools that can help remote teams remain engaged, connected and empowered.
Virtual Private Network (VPN):
It is crucial to provide a VPN for remote teams to connect to your corporate network for greater security and privacy.
Communication tools:
Apart from email, there are video conferencing programs like Zoom and communication and messaging tools like Slack.  They do well in bridging distances between remote teams.
Collaboration tools:
The rise of cloud computing has given us a suite of online collaboration tools with real-time updating, such as the Google Suite, Basecamp, and Asana.
Project management tools:
Digital whiteboards, or platforms like Trello, are helpful in keeping remote teams organised and on track, no matter how far they are geographically.
Finance tools:
Online finance tools like the Airwallex Borderless Cards are designed to empower remote teams to make purchasing decisions, wherever they work. Staff can issue with individual virtual cards, overcoming geographical barriers. You can set spending limits which means staff are empowered to work within their own budgets, while still holding accountability for the broader budget.
Finance teams can also use Airwallex's batch payments capabilities. This saves time and money on payroll to remote teams that operate internationally.
How businesses can implement remote working successfully
Why remote working will not die
It is evident that remote work is not a fad, and it is truly here to stay. The continual advancement of technology will enable remote work to become even more seamless.  Eventually, it will be the norm at workplaces. Businesses should start planning before they get left behind.
It is perfectly normal for some businesses to be uncertain and nervous about this phenomenon as it requires a significant change in the company's culture. Managing remote teams successfully also takes time and practice.
More importantly, it starts with a shift in mentality. The shift is from a strictly office-based culture to a more outcome-driven approach. In this environment employees are empowered and trusted to deliver on results, no matter where they are.
About Neil Luo
As Airwallex's Head of Growth, Neil leads the company's international growth and user acquisition strategy.
He has over a decade's experience working across marketing, strategy, technology and data science.  He previously holding roles at SEEK, Hotels.com, Expedia and The Boston Consulting Group.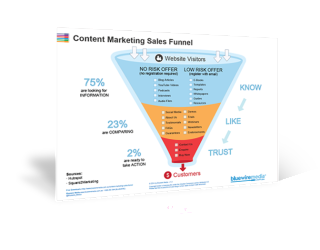 Content Marketing Sales Funnel
Your content marketing sales funnel is all about getting people to know, like and trust you by nurturing them with the right information at the right time.