Sales and marketing in the digital age [#40]
Updated on May 16th, 2019
[Brisbane River, Queensland, Australia]
Here are some observations of the relationship between sales and marketing in the digital age versus in the pre-internet days.
VIDEO
TRANSCRIPT
Hello, it's Adam Franklin and today I want to talk about the relationship between sales and marketing and particularly how that's changed over the last few decades.
I think you remember back to the pre-internet days, if you're my sort of age or older, that sales and marketing were quite distinctly different functions in a business. In fact, it was marketings job to raise that awareness and basically to provide leads for the sales team to them close. But obviously, since the internet has come onto the scenes over the last two decades, its become a lot more of an overlapped and blurred environment between sales and marketing. Whereby these days, a lot of buyers, in fact most buyers, are very well educated. They may well have known about you and your company and your offering for a long time before they physically met you or before they reached and connect with you online.
And in fact, if you're doing digital marketing well, there's a higher likelihood these people will already know you and hopefully have some sort of relationship with you even if you don't know about it yourself as the business owner because they've seen you, because they've read about you or because they've maybe heard you on a podcast. So that is a really useful technique for accelerating that know, like and a trust process. It can happen before you physically meet.
In the old days, typically, not that I was actively in business probably in pre-internet days so take it with a grain of salt. But pre-internet days, you would be very much meeting for the first time and then having to accelerate or nurture that know, like and trust process. Whereas these days, people can know, like and trust you before you physically met.
100 videos in 100 days. Want more?
This is part of my 100 videos in 100 days challenge.
For all my videos, join my Facebook page
For more videos and tip, let's connect on LinkedIn:
Or subscribe via my website and download my popular Web Strategy Planning Template.
PS. When you're ready, here are 6 ways we help
consultants & advisors

grow:

1. Web Strategy Planning Template (PDF). Our flagship 1-page tool we co-created with David Meerman Scott. It's been downloaded over 1 million times and featured on Forbes.

2. Read a free chapter from our book. Web Marketing That Works --- an Amazon #1 best seller.

3. Join the private group on Facebook. Access free training resources, and hang out with 2,300+ peers.

4. Discover your marketing score. Take the 40 point Marketing Scorecard (in < 6mins) and get a customised report.

5. DIY for $7. Get the Complete 50+ Script Library for connecting with people to winning clients.

6. Let's brainstorm how to fill your marketing funnel.

DM the word "INTERESTED"

via Messenger

 or 

book a 20 min slot to talk

 on Zoom.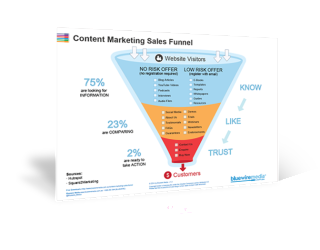 Content Marketing Sales Funnel
Your content marketing sales funnel is all about getting people to know, like and trust you by nurturing them with the right information at the right time.