WMTW 103: Sam Horn, Author of "Got Your Attention?" [Podcast]
Podcast: Play in new window | Download
Subscribe: RSS
"Replace infobesity with intrigue." Sam Horn (Tweet this)
In this episode I chat to Sam Horn about being intriguing online and elevator connections.
Show-notes:
Key points
Sam is the author of the book "Got Your Attention? How to Create Intrigue and Connect with Anyone".
Use the eye brow test: are people interested?

Cringed up eyebrows = Confused
Unmoved eyebrows = Unmoved people
Uplifted eyebrows = Interested

Get people interested on your product/website/service:

Avoid "Infobesity", replace it with intrigue.
Know what the product is that you are trying to promote
Start with 3 "did you know" questions that will get them interested and intrigued.

Have your customers "wondering"
Create a meaningful conversation and elevate connections with these steps:

What are the results of what you do that people benefit and experience from?
Turn them into 3 questions and then observe their answers
Make the questions relatable

A sense of urgency is the number one prerequisite of change.
People mentioned
Links mentioned
Get in touch with Sam
Did you like this podcast?
If you liked this podcast, please click to tweet this show >>
Subscribe
We would love you to subscribe to Web Marketing That Works and please leave your honest reviews via:
Stitcher radio
iTunes
SoundCloud
Bonus 33 Free Templates
Download the 33 free templates from our new book.
Or order the book online: Web Marketing That Works: Confessions from the Marketing Trenches (Wiley 2014).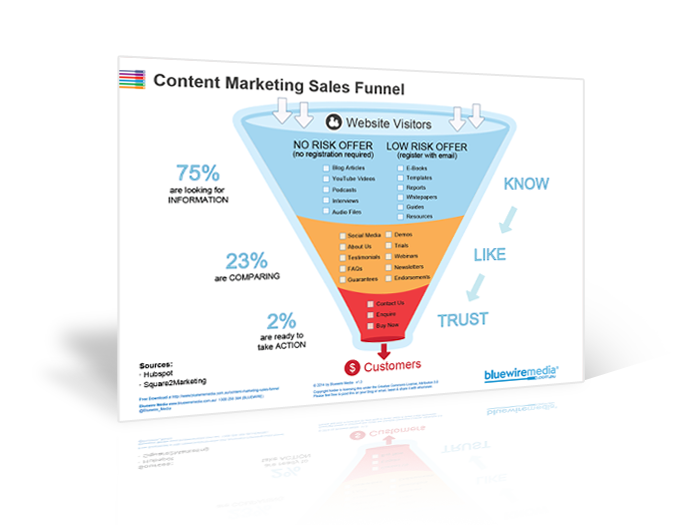 Content Marketing Sales Funnel
Your content marketing sales funnel is all about getting people to know, like and trust you by nurturing them with the right information at the right time.