The truth about scarcity with Chris Brogan
Updated on October 20th, 2015
Chris Brogan is someone I go out of my way to learn from (and I recommend you do too!).  I caught up with Chris after his session at Social Media Marketing World recently.
I asked Chris to recount a story he told about the impact of scarcity on sales and marketing. Watch the video to find out how Chris made 46% of his sales via one email, and blew his sales predictions out of the park!
Scarcity in sales & marketing
The truth is if you set a date to close enrolment for a course or decide on a deadline for a price increase, it forces people to make their decision.  In Chris's example he announced a couple of impending price increases which drove people to take action.
Moral of the story
If you've done the hard work of building trust and delivering value over a long period of time lie Chris has, then you earn the right to deliver even more value by making commercial offers. And if you want to convert like crazy, firstly have a compelling offer and secondly help people reach a timely decision by only opening enrolment for certain periods of time or have price increases at set times.
Owner Course Maker
Owner Course Maker is Chris Brogan's latest training program (and what he is referring to in the interview above).  I have enrolled and going through his material because there is always plenty to learn from Chris.  So far it's very good and once I've completed the course I'll report back to you on it so you can see if it's right for you.  In the mean time, I suggest you get on the waiting list for when Chris opens it up again.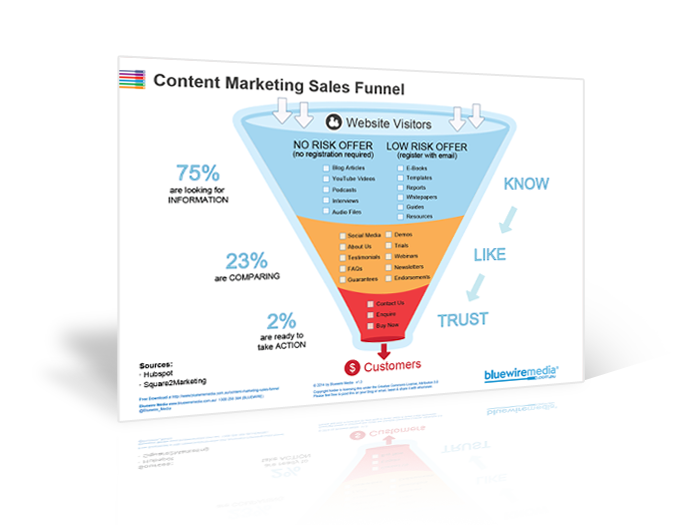 Content Marketing Sales Funnel
Your content marketing sales funnel is all about getting people to know, like and trust you by nurturing them with the right information at the right time.