7 Reasons Why SEO can Contribute to Business Growth
Updated on February 5th, 2021
SEO can contribute to business growth
No matter the size of the business, they need some kind of online exposure in order to grow. Digital marketing has a lot of moving parts to contend with and can get confusing pretty fast. A good way to start your online marketing journey is through Search Engine Optimization.
Below are the top reasons why SEO can help business growth.
1. Boosting Inbound Traffic
Generating more business means getting the right kind of exposure to let other people know what you're offering. This entails focusing on different marketing strategies in order to get more site traffic that you can then convert into sales.
But simply running ads or going the route of traditional outbound marketing tactics like cold-calling or printed media can be expensive and not at all that effective in our digital age. This is especially true for businesses that have just started their operation.
The main goal should be to reach your target audience in such a way that is efficient and cost-effective. It should come as no surprise that many businesses turn to SEO in order to market their business for the reason that it actually helps attract inbound traffic.
And because inbound traffic is targeted, it will grow organically in the long run, especially when the effort is put into maintaining the stream.
In order for SEO to generate the desired level of traffic, extensive research on keywords has to be made. The site should also be optimized to make crawling and indexing by search engines effective and efficient.
2. Attracts Customers
A well-structured and organized website that is also informative is how you want to set your business apart from your competition and get more customers. However, no matter how beautiful and professional-looking your website is, if people don't find any value in it, no amount of effort is going to get customers into it.
Any business, whether a well-established one or one that has recently started, relies on a consistent flow of customers to survive and thrive. Having an effective website is one tool to ensure that stream of potential customers doesn't stop.
So how can SEO help ensure this business growth?
People who are looking for your business are currently online, searching for the exact products and services you are offering. The problem only comes when they can't find your business. You want to be front and center the moment they start keying your keywords and this is where SEO comes into play. It brings those potential customers closer to your business.
3. SEO Helps Build Credibility
Establishing authority is another sure-fire way to attract customers to your business. However, this takes time. You have to work to earn the respect within your industry.
SEO can make sure the process happens as quickly as possible by ensuring that Google, and other search engines, see that your brand can be trusted and is highly credible. This in turn leads to more traffic.
Many users also have this notion that the ones that show up on the first pages of Google are to be trusted. It is, therefore, in your business' best interest to make it to the first page of search engine results pages and that can be done with SEO.
4. Tapping Local SEO for Business Growth
No matter what niche you are targeting, local seo can help make sure your business grows. This is because more and more people are turning to mobile devices to look for businesses within the area. With this in mind, it is crucial that local search is part of your overall online marketing strategy.
Focusing on local SEO means your business website has to be optimized for the specific geographic location to make it easy for people nearby to find you. You also need to build citations which involve being mentioned in reviews or listed in online directory websites to boost your business's visibility.
A few tips to include boosting local SEO include:
List your business on Google My Business.
Make sure your contact details are up to date and synced across your website.
Encourage customers to leave reviews.
Create high-quality content related to your market.
5. Business Referrals
The higher you rank in the first pages of Google, the more potential customers you attract, that is a fact. But besides attracting a new audience to your business, SEO can also put your business on the radar of other businesses. It should be noted that these are not your direct competition but a complementary one. They could have a customer base that complements the one your business has.
There is potential for referrals and it goes both ways. Building a network of connections means you can pass customers to one another and since it is a referral, customers are much more willing to follow your recommendations.
6. Lasting Results
A big challenge when it comes to traditional marketing strategies like print ads, outdoor posters, or TV and radio broadcasts are its effects are limited by time. In other words, the moment you take down the ads or stop the broadcast, then inbound traffic to your business also stops.
SEO, on the other hand, not only delivers results the moment the strategy is implemented, but it continues to deliver results even after the completion of the project. This is because SEO is more about establishing a strong foundation for the business to thrive online and less to do with getting instantaneous results.
The content created for your site is not going to be taken down. The keywords specific to the industry will still be the same keywords people are going to look for. The video content you publish will still be viewed by others after a couple of years. SEO truly delivers results that last.
7. User-Friendly Site
SEO is not just focused on finding the right keywords and creating the best content. It also works to make sure that your website is optimized for search engines and user-friendly for your audience.
In order for a website to rank, it should have a low bounce rate or the number of people who visit your site and leave immediately. This can be done by making sure the site is clean and appealing, easily navigable, and fast loading. Visitors will engage more with a site conforms to the device they are viewing it in and with content, they find a lot of value from.
About Leanne Brooks
Leanne Brooks is an informative content writer who is passionate about writing on digital marketing, search engine optimization, social media, and more.
She is currently working with Treasure Valley SEO, one of the leading Idaho SEO and digital marketing agencies.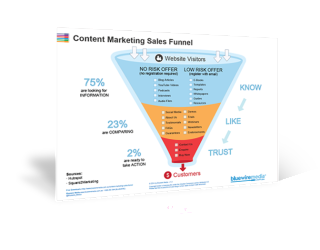 Content Marketing Sales Funnel
Your content marketing sales funnel is all about getting people to know, like and trust you by nurturing them with the right information at the right time.