First SEO Steps For Launching a New Website
Updated on June 12th, 2020
SEO for a new website
Launching a website is only half the battle. The next big step you need to take is to attract visitors and get your site on top of search engine results pages (SERP). To achieve that, you need to improve your SEO at the earliest opportunity. 
In this article, I will uncover everything you need to know about SEO. To top it off, you will also learn the first five SEO steps you need to take after launching a new website.
If you're up to the challenge, then let's get started!
What is SEO?
Search engine optimization (SEO) is a process of improving your website by optimizing its visibility on search engines. There are two kinds of SEO — on-site and off-site SEO.
As the name implies, on-site SEO refers to the optimization of elements within your website. These elements include, but are not limited to, page titles, headings, meta description tags, and content.
Meanwhile, off-site SEO focuses more on the optimization of external processes that affect the quality and quantity of your website traffic. Two of the many possible improvements include social media optimization and link building.
5 SEO Steps After Publishing a New Website
Now that you know the importance of SEO for your new website, let's dive into the steps of improving your search engine ranking. Not to worry — you can easily perform these steps without having to rely on IT professionals.
1. Use Relevant Keywords
High-ranking websites generally have one thing in common — they incorporate target keywords into their content. Adding relevant keywords to the content allows search engines to identify the type of content, which leads to them suggesting it to visitors who look for related search queries.
To perform keyword optimization, you need to identify the keywords that align with your site's niche and overall content first. The keywords should then appear in the content and other on-site SEO elements. That way, you help search engines index the site and make yourself more discoverable on the web.
That being said, you should avoid keyword stuffing at all costs. Besides adding no value to your content, this practice also harms your ranking. 
Researching high-quality keywords isn't as hard as it sounds. You can do it manually by looking up your site's niche or purpose on the search engines. The suggested keywords will appear at the bottom of the result page.
Alternatively, you can utilize keyword tools to expand your search. There are many free tools available online, such as Google Keyword Planner, WordStream Keyword Tool, and keywordtool.io. They can help you gather high-quality keywords based on search volumes, competition, and cost-per-click.   When you do this keyword research properly it makes it much easier to do SEO for a new website.
2. Make Your Site Responsive
Responsiveness contributes to creating a good user experience. It allows visitors to navigate through the site on all kinds of devices, thus making their stay more comfortable. By creating a good user experience, you get to reduce your bounce rates. As Google deemed websites with low bounce rates to be trustworthy, you're likely to rank higher on the search result pages.
To make your site responsive, you need to use responsive web design that is adaptable to all screen sizes. Additionally, you'd want to make sure the template is mobile-friendly as well. If you own a WordPress site, the WordPress theme directory and Themify provide plenty of great options to choose from.
To help you pick the right one, the Google Mobile-Friendly Test tool is ready to verify whether or not your chosen design is mobile-friendly. Add the web design demo site's URL to the appointed search field and click Test URL. If it's mobile-friendly, the following message will show up.5
Having a responsive website will do you no good unless it's accessible to all users. To make sure your site is always available, you need to purchase a hosting plan with guaranteed uptime. There are plenty of great hosting providers like 000webhost hosting that offer excellent services for an affordable price, if not free. 
3. Keep Track of Your Website's Growth 
Conducting data analytics is another essential step in improving your SEO effort. By keeping track of your site's growth, you're able to make better SEO strategies and business decisions. 
Despite sounding complicated, many analytics service tools can help you process the data into useful information. Google Analytics, for example, has a reporting tool for analyzing various elements like visitors' behavior, top-performing content, and website traffic. Thus, it's easier to identify what sort of improvements you must make to fix the bottlenecks.
To get a better understanding of your site's traffic, you can use the Google Search Console alongside Google Analytics. Unlike the previous tool, Search Console focuses more on your website's performance on Google's results page based on the impressions, clicks, and ranking. It allows you to identify and address the issues within your site much easier.
4. Create High Quality Content
High-quality content is one of Google's top three search ranking factors. This should be a key focus as you take your first SEO steps for a new website.
As Google loves content that benefits its users, your site will get a better chance of ranking high on SERPs if you produce informative and useful content.
Furthermore, high-quality content also tends to get linked to more often. As it contains share-worthy information, other websites are likely to link to your site unprompted. The more other users share it across the web, the better your overall SEO rank becomes. 
On top of that, content is the best medium to incorporate SEO keywords. You can strategically place them in the content with a similar niche. Besides appealing to search engines, this practice also helps you build a solid audience with matching interests.
To create high-quality content, you need to pay attention to several factors:
Type of content

— it can be news, media, or informational content.

Topics

—  create comprehensive writing based on interesting and topical subjects.

Keywords

—  search for keywords that are relevant to your type of content and topic.

Length

— make sure your content has an

ideal length

.
5. Promote Your Website
Promotional effort is an off-site SEO method that you can easily do to gain more traffic. The most common practice involves sharing your website address on various digital platforms like popular social media sites.  This is the best thing you can do to 'SEO' your new website.
Networking with fellow website owners is another way to promote your site. If you produce share-worthy content, this may even earn you backlinks to your site. Alternatively, you can write guest posts for other websites in exchange for backlinks to one of your web pages. It helps if you do this for high domain authority websites as they help establish your site's credibility.
Conclusion: SEO for a new website.
SEO is a continuous process that requires consistent improvement. By making all the necessary on-site and off-site SEO efforts, you'll be able to drive traffic to your brand new website in no time. 
In this article, you have learned five SEO steps you can take after launching your site. Growing a website may take time and hard work, but the results will be worth the effort. With the proper SEO strategies, your success is only a matter of time. Good luck!
About Simon Dwight Keller
I am a digital marketing entrepreneur eager to drive tons of traffic to your website with creative and compelling content.  After three years of hard work as a freelancer, I decided to take up my services to the next level, I co-founded a digital marketing company PRable.
Eventually, I felt that in order to achieve more, I had to start my own company – SDK Marketing. With my small albeit professional team, I am ready to take on new challenges, increase your traffic and drive more revenue. Besides my burning passion for SEO, I am interested in ice hockey and traveling.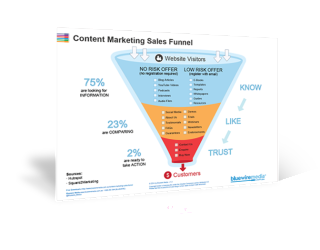 Content Marketing Sales Funnel
Your content marketing sales funnel is all about getting people to know, like and trust you by nurturing them with the right information at the right time.