SEO for beginners – 5 part process
Updated on May 31st, 2015
PART ONE:
Keywords are the words or phrases that your prospective customers & clients type into search engines (like Google) to find companies like yours. It is important to know what keywords your potential customers are searching for so you can optimise your website appropriately.
TIP #1: People will often search for lay-terms & not industry jargon – make sure you find out or test which keywords your prospective customers use.
TIP #2: Use these keywords in your website copywriting.
EXAMPLE: people may not be googling for "financial advisor" (because to them that sounds boring and expensive), instead they may be googling for "good investments" or "wealth creation" (because these are the things they really want!)

PART TWO:
Page Title is the 'tag-line' part up the very top of the browser on your web page.
TIP #1: Put your company name first for higher click through. Then put in the most relevant keywords after that.
TIP #2: You can use up to 110 – 120 characters. Mind you, some SEO people argue short & sweet is better and suggest 60-70 characters, so it's up to you really!
TIP#3: Putting in geographic keywords is a good idea too since most people search for local suppliers.
EXAMPLE: Bluewire Media – Professional Web Design & Development | Brisbane, Queensland, Australia
PART THREE:
Meta keywords (aka meta tags) are words that developers enter 'behind the scenes'.
TIP #1: Put the keyword you most want to optimise that page for first. Put your company name last since you should always rank well if your business name is searched for.
TIP #2: Optimise each page of your website differently & make sure the meta keywords MATCH the actual content on the page!
TIP #3: It's best to use 15-20 keywords. NB. Google doesn't read commas so don't worry too much where you place them
EXAMPLE: web design, Brisbane, web site development, web, internet strategy, usability, interaction design, IxD, user experience, UX, web site design, web site development, web 2.0, Queensland, Australia, Bluewire, Bluewire Media
PART FOUR:
Description is what Google displays on your organic search listing.
TIP #1: Best to use 250 characters
TIP #2: To get a higher click through rate, it is best if this description reads as a sentence. 'Keyword-stuffed' descriptions really don't explain why people should click through.
EXAMPLE: Bluewire Media Web Design and Web Development Brisbane – Professional provider of ISO9001:2008 quality assured web design, internet strategy & online marketing for the property, health & finance sectors. Call +61 7 3846 7687.
PART FIVE:
Link popularity refers to how many other websites link to yours. It is very much like getting endorsements or references from other people. Naturally, if your endorsement is from a respected, well known expert it is much better than getting one from a nobody. Same goes for link popularity.
TIP #1:submit relevant articles or white papers to industry news websites & you generally get a back-link if they publish your content.
TIP #2: Just be aware that backlinks from posting comments on blogs don't count anymore since anyone (read: black-hat spammers) can do this to warp SEO rankings.
TIP #3: Submit your website or blog to directories like:
Technorati.com,
Best Directory – Submit your Website
Blogged.com – Submit your blog
GeekySpeaky: Submit Your Site!
Blog Listings
Australian Article and Links Directory
EXAMPLE: It would be pretty much useless if a cooking website or a gardening website linked to a web design website, but then again if a relevant industry news site like Digital Ministry linked to you it would be great!
SEO Secrets e-book:
Glenn Murray from Divine Write has written a popular ebook called SEO Secrets which sells for $79 USD on his website.
I will reviewing the book in the coming weeks, but if you are interested, go to Divine Write's website to check out Glenn Murray's 'SEO Secrets' e-book
Other good SEO blog posts:
Top 10 SEO Best Practices from our Melbourne team – Wiliam
SEO Tip – How to Make Your Google Search Result Attractive to Users -Search Strategy blog
Small Business SEO – The Great Equaliser – Search Strategy blog
SEO vs PPC – Which Is Better For Lead Generation Websites? – Marketing-Results
Postscript: Thanks also to Craig Somerville at Reload Media for sharing his expertise with me
****
SEO Brisbane: for professional SEO call Bluewire Media on 1300 258 394.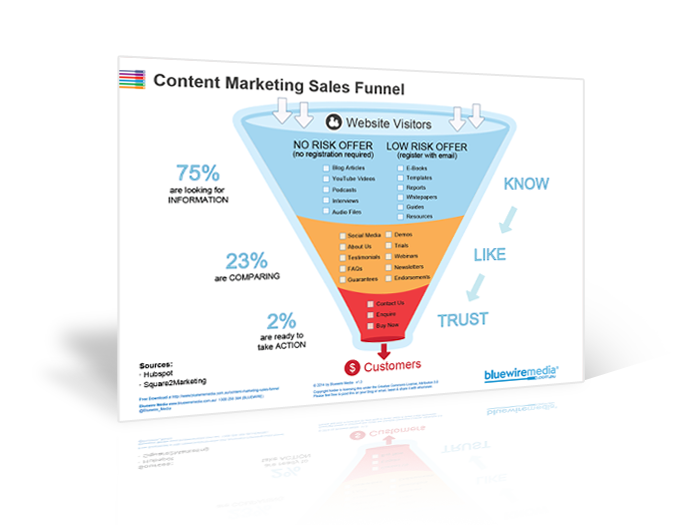 Content Marketing Sales Funnel
Your content marketing sales funnel is all about getting people to know, like and trust you by nurturing them with the right information at the right time.